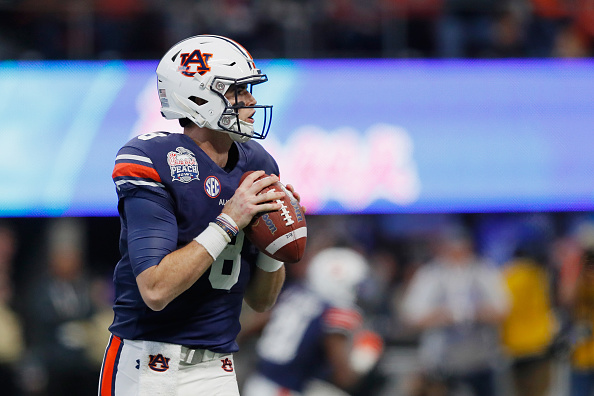 College football is back! Now you are probably wondering who is the quarterback to watch this year for your favorite NFL team to draft. Who is going the be the big riser this year? Who is that player coming out of nowhere? I will separate the pre-season quarterback rankings into four tiers.
This year there isn't the same hype as last year. No Josh Rosen, no Sam Darnold, no living highlight reel Josh Allen or Heisman winning Lamar Jackson. But the talent is there, I have no doubt about it. This isn't 2013 all over again.
A lot of teams went with a quarterback in the first round in the last two years and its a trend that can't go forever (especially if his bust % is low), but teams are looking for the heirs for all-time greats like Tom Brady or Drew Brees. The 2004 class is getting old too, and only Ben Roethlisberger has an heir apparent in place (drafted early). The Jacksonville Jaguars might bring in someone to challenge Bortles. The Miami Dolphins could do the same for Ryan Tannehill. This class doesn't seem to be star heavy right now, but man it has a lot of depth.
In my mind, each and every one of these top 8 could make a case as an early pick with the right scenario.
Note: This is by no means a final ranking. By the end of the year, I expect these players to progress and the board to look differently. There are some players who don't have a scouting profile up yet (Riley Neal, Trace McSorley, Jake Browning, Nick Fitzgerald and Jake Bentley, but clicking their name will lead to their stats), but I did watch their tape (at least 3 to 5 games). For those who do have their scouting profile, clicking their name will lead to their respective scouting reports with all their strengths and weaknesses.
Pre-season Quarterback Rankings: College Football
Tier 1:
1) Jarrett Stidham, Auburn, Junior, 6'3 215 lb
2) Brian Lewerke, Michigan State, Junior (RS), 6'3 215 lb
Tier 2:
3) Will Grier, West Virginia, Senior, 6'2 223 lb
4) Justin Herbert, Oregon, Junior, 6'6 233 lb
5) Drew Lock, Missouri, Senior, 6'4 225 lb
6) Nathan Stanley, Iowa, Junior, 6'5 215 lb
7) Brett Rypien, Boise State, Senior, 6'2 210 lb
8) Ryan Finley, North Carolina State, Senior, 6'4 215 lb
Tier 3:
9) Easton Stick, North Dakota State, Senior, 6'2 220 lb
10) Tyree Jackson, Buffalo, Junior (RS), 6'7 245 lb
11) Riley Neal, Ball State, Junior (RS), 6'6 225 lb
12) Clayton Thorson, Northwestern, Senior, 6'4 225 lb
Tier 4:
13) Daniel Jones, Duke, Junior (RS), 6'5 220lb
14) Jake Bentley, South Carolina, Junior, 6'3 220 lb
15) Trace Mcsorley, Penn State, Senior, 6'0 202 lb
16) Nick Fitzgerald, Mississipi State, Senior, 6'5 230 lb
17) Jake Browning, Washington, Senior, 6'2 220 lb
What did you think about these pre-season quarterback rankings? Leave your thoughts in the comments.
Main Photo:
Embed from Getty Images