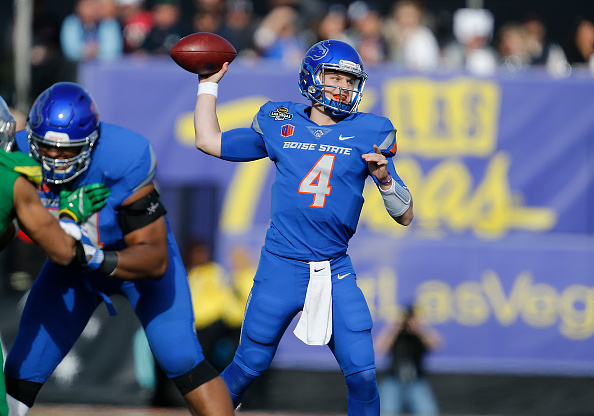 The next quarterback analyzed in this series of way too early scouting profiles is Brett Rypien from Boise State. So far Rypien has flown under the radar from most media outlets. While Rypien might be playing like a game manager, with low volume passing, he has some traits that can't be denied and overall he has very good potential.
Brett Rypien, Boise State:
Games Watched:  Oregon (2017), Virginia (2017), Fresno State (2017).
Positives:
– Footwork: His footwork isn't perfect but it is particularly clean in play action fakes in which his feet end up in prime position to make a throw.
– Throw on the run: Rypien's accuracy on the run is impressive, he manages to put the ball between the numbers like it's no big deal.
– Poise: Rypien waits untile the last second if needed and it's not afraid to take a hit to make a play happen, he also looks very calm when facing pressure.
– Pocket movement: Rypien knows how to move inside the pocket to buy those precious extra seconds when he has some heat on him. Uses teh pump fake well to bait lineman to bat the pass and stop chasing him for a second.
– Progressions: Like a good pocket passer Rypien goes nicely through full field progressions.
– Accuracy on short and mid throws: Rypien puts the ball on the money on plays that travel less than 40 yards, very good touch too.
– Accuracy on deep fades towards the sideline: One of Brett Rypien's delicacies are his back shoulder throws towards the sidelines, hitting his receivers in very small windows.
– Quick release: Rypien's got a nice quick release, he was blessed with good offensive line play, but when rushed he was able to get rid of it quickly and most of the times accurately.
Negatives:
– Decision Making: He will trsut his pre snap read too much and sometimes end up throwing directly towards a defender.
– Deep accuracy to the middle of the field: This is an area in which he struggles, routinely overthrowing his receivers even when they are wide open.
– Too much touch?: We hear a lot about players who only throw bullet passes, well Rypien is the complete opposite of that. Arm strenght doesn't seem like the issue here but he throws touch passes in 5 yards of less when he should be throwing lasers to take advantage of the separation his receiver got. In the pros this would lead to incompletions and his receivers getting killed over it.
– Sensing pressure: I said earlier that Rypien was calm in the pocket, well sometimes he is too calm and doesn't sense a defender coming directly at him. If he didn't recognise the rusher pre-snap, he won't be able to sense him and he will get hit.
– Athleticism: In a class with a lot of athletic quarterbacks, Rypien isn't one of them. He doesn't offer much in terms of athleticism but he can still work well out of the boot, he just doesn't scare you with his legs to take off.
– Escapability: Brett Rypien is no Manziel, when protection breaks down in front of him he won't make a magical escape, he will get sacked.
– Weight: At 6'2 he has not the prototypical size but he won't get too much heat because of it because he is right over the "threshold", but weighing 208 pounds is far from ideal and teams will question if he can take an NFL pounding, even more considering he isn't particularly fast or good at escaping the rush.
– Scoreless games: Rypien's had a lot of scoreless games in 2017, in fact he had 6 games in which he had 0 TD and 2 games in which he scored only 1 TD. He needs to score more and have less pedestrian stats
What I want to see from him this year:
In 2018 Rypien needs to throw harder on short throws and work on his timing on his deep throws over the middle. He should also try to make better decisions regarding some very ill adviced throws and he should absolutely gain some weight.
Rypien's stats were also quite pedestrian throwing only 16 TDs on the year went scoreless almost half the games he played, if he is going to hear his name called early those number s need to get better or else he will be some team project late in the draft or in the undrafted pool.
Check out the other articles of the way too early scouting profile series:
Easton Stick, Justin Herbert, Will Grier, Drew Lock, Ryan Finley, Clayton Thorson, Tyree Jackson, Brian Lewerke, Daniel Jones and Jarrett Stidham.
Main Photo: