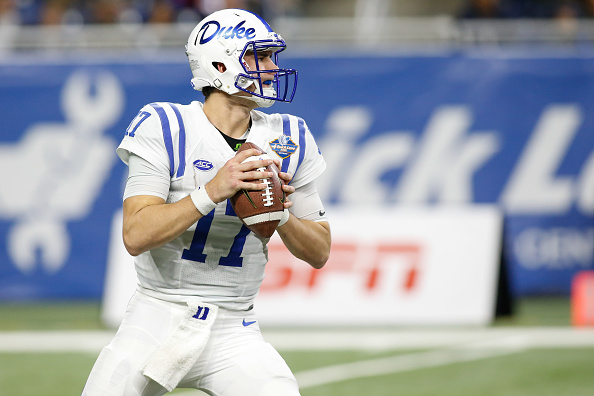 The next quarterback analyzed in this series of way too early scouting profiles is Daniel Jones from Duke. Is he yet another toolsy but raw quarterback prospect from a small school or is he the real deal?
Daniel Jones, Duke:
Games Watched:  Miami (2017), Georgia Tech (2017), Virginia Tech (2017), Florida State (2017).

Positives:
– Size: At 6 foot 5 and 215 pounds, Daniel Jones has the size that scouts covet for the quarterback position, altough he is a bit light. I'm sure NFL scouts would like him more if he was weighting in the 225-240 pounds range.
– Athleticism: This quarterback class has a lot of good athletes and Jones isn't the exception. He ran for 518 yards and 7 touchdowns in 2017.
– Pocket Movement: Jones moves well within his pocket, whenever the offensive line can give him some time to settle and not face a complete jail break up front.
– Toughness: He is one tough player, given his offensive line woes and the amount of times he is being hit. Not only he can mantain a decent level of accuracy while getting hit he also waits until the last second to throw if needed. When on the run he seeks contact and never slides (which isn't really a good thing in terms of health but he gets a couple more yards).
– Arm Strenght: I didn't see the cannon other analysts see. Although, he definetely has a strong arm, specially considering he doesn't use his lower body to throw that much.
– Can play in bad weather: In the game against Virginia Tech he showed he can maintain his level of accuracy even during heavy rain.
Negatives:
Footwork when throwing left:  Overall Jones's footwork isn't great, there is little effort and it's mostly stiff. Though when throwing right or towards the middle he keeps a wide base. What is curious is whenever he is throwing to his left. His feet get weird and he ends up throwing from a flat base across his body. Not only this make him very easy to read (as a safety you only need to watch his feet and you know if he is going left or not), but it also affects his passes. Those when thrown to his left lose accuracy and velocity. This often results in an inaccurate lob past 15 yards or a less than accurate bullet pass when short.
Timing and anticipation: This is an issue for most passers, that's why when a player can do it correctly it's considered an elite trait. Daniel Jones is a little late on reads and that translates to some timing issues. For the anticipation part, Jones rarely throws with anticipation and the need to SEE his guys open is really holding him back. Specially considering he is not playing with anyone with NFL starting potential. His receivers aren't going to create big separation on a down basis, so he needs to throw it just before and not after the receiver makes his break.
Escapability: Daniel Jones is no escape artist, by no means, if he can't outrun you to the side (which he usually can't because he stayed until the last second in the pocket) he gets sacked.
Eyes up when extending the play: Whenever he leaves the pocket to extend the play, he rarely keeps his eyes up to look for a receiver. (regardless if they would be open or not) Instead he runs without thinking twice.
Inconsistent when throwing on the run: In the games I've watched him he had only two good throws on the run. (and you can even say that if the one against FSU was a bit better placed that it was an easy TD) Other than that his accuracy on the run was really shaky and not at all to be trusted.
What I want to see from him this year:
Daniel Jones is really raw. He needs to correct a ton of things if he wants to go pro this year. He also gets little help from his teammates. A lot of people will use this as an excuse for his game.
On the flip side he has good size, very good athleticism and he is really tough. These are attributes that do not disappear, so he can really only get better.
In terms of his comparison with Josh Allen, he is no Josh Allen yet. Allen was a human highlight reel, while Jones isn't at all. A main difference was Allen had basically the same talent around him but played in the MWC. Jones on the other hand, plays in the ACC and faces really tough teams like Miami, FSU, and Virginia Tech among others. In terms of arm talent, Allen was far superior. Even if Jones has an above average arm, Allen's arm was historically strong.
Check out the other articles of the way too early scouting profile series:
Easton Stick, Justin Herbert, Will Grier, Drew Lock, Ryan Finley, Clayton Thorson, Tyree Jackson, Brian Lewerke and Jarrett Stidham.
Main Photo: