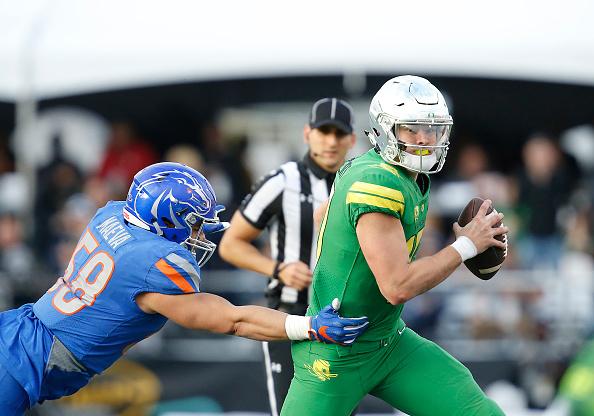 The NFL preseason is getting close and the football hunger is getting really high. We watched some CFL, some even watched some Flag Football, no judgments here. I'm going to give a little preview of the top quarterbacks entering next year who might declare for the 2019 NFL Draft. It's nice to know how a player is right now, but what we really care about is how these players are going to be in January. Their 2018 tape is going to be much more important than 2017. It's important nevertheless, to show growth and progression from one year to the next. Below is the way too early scouting profile: Justin Herbert edition.
Scouting Profile: Justin Herbert, Quarterback, Oregon
I'm going to start this with Justin Herbert, who may be the biggest name in a year where quarterbacks are coming with little to no hype. There is no Sam Darnold, who eclipsed NFL prospects while ineligible for the Draft. There is no Josh Rosen, who had been on NFL radar since the first moment he took the field or a returning electrifying Heisman winner Lamar Jackson. This is not another 2013 class. The talent is there whether you believe it or not. They are just not hyped enough, yet.
Games watched: Boise State (2017), Arizona (2017), Arizona State (2017)
Positives
Size: At 6'6 230 pounds, Herbert has the ideal size to play the position, bigger than that even.
Active feet: His footwork isn't impressive but it's good, especially for a sophomore. What I do like about him is how he always keeps his feet bouncing in the pocket, rarely planting his feet.
Calm under pressure: For what I've seen from him so far, he keeps his eyes down the field and doesn't rush the play in the heat of pressure. He can also take a hit and still throw it where it needs to go.
Athleticism:  He's a very good athlete, moves well and can get a first down with his feet. And at his size, he should be very hard to bring down.
Pocket movement: He impressed me with how well he moved inside the pocket evading rushers and keeping his eyes down the field. He climbs the pocket very well and he even has the athletic ability to outrun the pass rushers sometimes.
Efficient: His stats tell the story of an efficient quarterback who doesn't put up gigantic numbers but doesn't make too many mistakes. Oregon didn't rely on him to win either, it was running back Royce Freeman's show last year.
Arm Strength: We hear this about just about every prospect, but Herbert can make every throw. He doesn't have a cannon like Drew Lock but he has an above average arm in terms of strength.
Good base: Herbert has a nice wide base on throws, which is an underrated part of the footwork.
Negatives
Field Vision: He often doesn't go through progressions and locks on the first read forcing the ball into tight windows even when there is a wide-open player elsewhere. While this is normal for a sophomore, he really needs to step it up if he wants his name called on day 1 of the 2019 NFL Draft.
Ball placement in mid and deep throws: He often under throws or over throws his receivers when the ball flies over 25/30 yards.
Forcing passes: I've seen a lot of his passes forced into tight windows. He got lucky in some of them and there were receivers open elsewhere when he did so.
Hold the ball: He holds the ball too long sometimes. This may be linked to his ability to read the field as of last year. Nevertheless, this leads to sacks and broken plays.
Weight transfer: Like in MMA, all your strength doesn't come from your arm or your leg, it comes from your hips. The weight transfer that the hip movement generates is what gives your punch, kick or in this case throw and strength. This is heavily related to his footwork but not entirely. Sometimes he forgets to transfer his weight with the throw (transferring your weight towards your target) relying only on his arm, which limits that throw's velocity. Although when his feet are right he doesn't seem to make this mistake.
Lack of WOW throws: While Herbert spins it well, without a doubt, after watching his tape I felt like there wasn't any jaw-dropping, "man, that was beautiful" type of throw, the kind that can make a prospect. The kind Andrew Luck did all the time and we still try to compare prospects to him seven years later. I think I've seen two from him, maybe three which is far from ideal.
What I Want to See From Him This Year
He lost Royce Freeman and Tyrell Crosby (two very important pieces from last year's team), so this year will be huge and challenging for him. I would like to see how he responds to being in the spotlight, now seen by many as the best quarterback in the country and a possible first rounder.
As it is the case with all underclassmen, there are areas where I would want to see him improve in 2018. Such as his ability to read a defense and go through progressions. I also want to see him be the focal point of the offense rather than a game manager for Oregon in 2018. After breaking his collarbone last year, it would be nice to see him play a full season without getting hurt, which is easier said than done.
Main Photo:
Embed from Getty Images