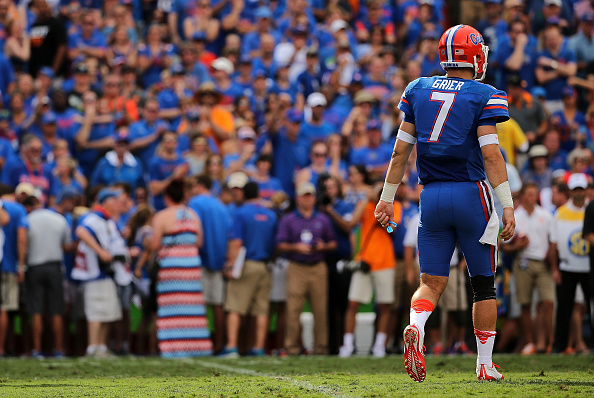 The next quarterback analyzed in this series of way too early scouting profiles is Will Grier. His early evaluation has the scouting community divided. West Virginia's fans will assure you he is the best quarterback in the nation. There are also some who still don't trust quarterbacks coming from the BIG 12, even after Patrick Mahomes and Baker Mayfield going high in the first round. Nevertheless he is still the leader among senior quarterbacks entering the season, and with another strong season he could catapult into first round consideration like Mayfield did.
Will Grier, West Virginia:
Games Watched: Kansas (2017), Kansas State (2017)
Positives:
– Elusiveness: Grier is very hard to bring down. He is always keeping plays alive by making defenders miss in expectacular ways and extending the play. He is always able to sense the pressure and has the athletic ability to run away from defenders.
– Ball placement: One of the things I love about his tape is his consitent well placed ball on short and medium passes. Even on incompletions, his passes are exactly were they need to go. He also very often hits his receivers in stride.
– Poise: Grier senses pressure, keeps his eyes downfield, makes the defender miss and then delivers the ball, rarely rushing the play or forcing something that isn't there.
– Active feet: When he is in the pocket he always keeps his feet active, this is one of the reasons he is so quick to evade blitzers.
– Pocket presence: Grier moves very well inside the pocket and knows how to exit it too. You often see a lot of quarterbacks who flee the pocket without a plan and crash into a defender. This doesn't happen with Grier he usually reads very well the direction his blockers are pulling, to see where to move next.
– Good athleticism: Not only has Grier enough athleticism to evade rushers and extend plays, but he also takes off sometimes for decent to big gains. He is by no means a burner, Lamar Jackson type but he can get a first down with his legs if needed.
– Arm Strenght: Grier has a big arm and can make just about every throw, the problem is sometimes he overthrows his receivers on deep throws, which isn't rare for a big armed guy.
Negatives:
– Footwork: Grier's footwork might be the worst aspect of his tape as of right now. He routinely walks backwards instead of taking the proper steps in his drop. Links to his inconsistent base because he doesn't have his feet set most times.
– Inconsistent base: Due to his footwork (in my opinion), Grier often throws from a flat base. While his strong arm can compensate at the college level, he is going to leave some floated passes in the pros. Defenders will catch up and be able to make a play, if he doesn't fix that.
– Touch on deep throws: Well, this is connected to him having a big arm. Sometimes puts too much arm into deep passes. Leads to overthrowing his receivers and missing a shot at a big time play.
What I want to see from him this year:
Will Grier is a senior so he needs to have his best season yet, stat and win wise. He will need to show improvement with his footwork and base and try to have a better feel for those long balls. There will be questions directed at his readiness coming from a BIG 12 spread offense. Playing under center and calling plays in the huddle willl be big challenges for him once he moves on to the NFL. Yet he is not the first and certainly not the last to have to make this adjustment.
Check out the other articles of the way too early scouting profile series: Easton Stick, Justin Herbert and Jarrett Stidham.
Main Photo: