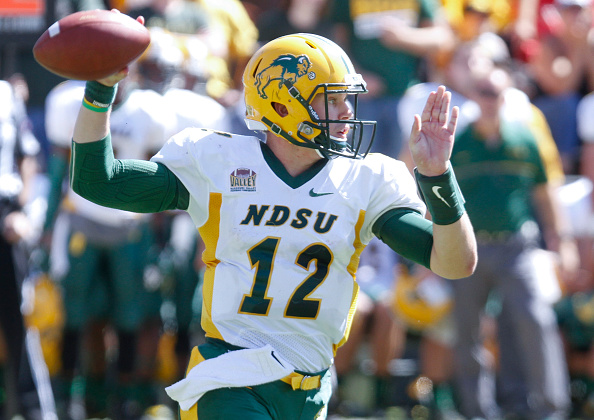 The next quarterback analyzed in this series of way too early scouting profiles is Easton Stick, quarterback for North Dakota State Bisons, and an underrated quarterback prospect fot the 2019 NFL Draft.
– Easton Stick, North Dakota State:
Games watched: Wofford (2017), James Madison (2017).
Positives:
– Toughness: His ability to throw while getting hit is impressive, what's even more impressive is he can still be accurate in those situations.
– Pocket movement: Stick moves well inside the pocket and can get out of sticky situations and turn them into a short gain on the ground.
– Anticipation: There are instances where Stick shows very good anticipation on his throws, which is a key trait to have if you are a serious NFL prospect. There is a flag route he threw against James Madison in the FCS Championship that was thown wide open with amazing anticipation.
– Accuracy: Stick is a natural passer, he is accurate at all levels of the field and seems to be comfortable throwing from every platform. Windows are bigger at the FCS level, yes, but he still shows good touch and delivers the ball at the right place.
–Mechanics: Easton Stick's upper body mechanics are a thing of beauty, which of course helps him be as accurate as he is. This shows that he has got a very good coaching staff at North Dakota State.
Negatives:
– Awareness on the move: Once he starts running he lowers his head and becomes a runningback, well behind the line of scrimmage, instead of looking for an open receiver. This often makes an incredible play, in which he escapes multiple defenders into a 2 yd gain.
– Indecisiveness: At times, Stick looks to a wide-open man and then keeps going through his progressions, not fully trusting that read. This lack of trust on his throws can cost him some plays, because there is no guarantee the other players are open, or that he has that much time.
Arm strength: This is an area where some scouts will tear him if they want to, it's not that he has a weak arm, but he doesn't have a BIG arm. Still he can make the throws needed but at the FCS level, defenders don't really catch up if the ball lacks velocity. In the NFL they do, so this will be a big topic regarding him, I think.
What I want to see from him this year:
Easton Stick plays in the FCS, so he will get the knock that he plays against lesser competition. If he wants to hear his name called early, he better DOMINATE or just put a highlight reel like former Wyoming quarterback Josh Allen. His biggest flaws are awareness -related which is fixable, so I would love to see improvement in those areas.
As long as he stays healthy, has another good season (maybe another championship run), and keeps progressing at the pace he is showing, he will be highly regarded come January after the season ends.
Check out the other articles of the way too early scouting profiles series: Jarrett Stidham and Justin Herbert.
Main Photo: