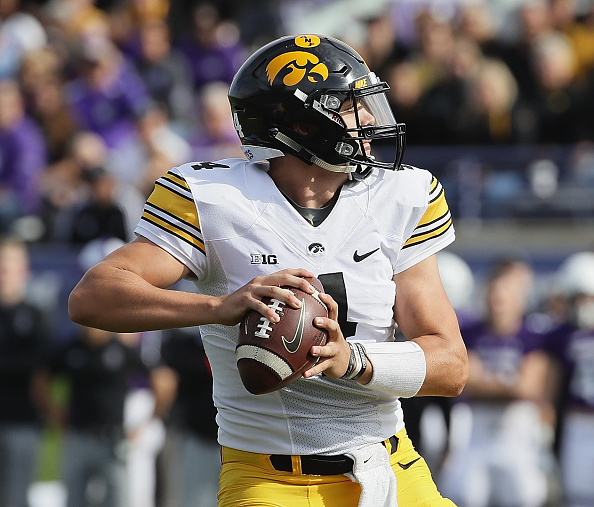 The next quarterback analyzed in this series of way too early scouting profiles is Nathan Stanley from Iowa. He put himself on the map after a huge upset win over Ohio State in which he played outstandingly. He might be the prospect who comes out of nowhere to contend as an early pick next year.
Nathan Stanley, Iowa:
Games Watched:  Iowa State (2017), Penn State (2017), Ohio State (2017).
Positives:
– Footwork: Clean footwork that results in a wide base. He transfers his weight correctly and has overall good body movement.
– Accuracy: Nathan Stanley has very good accuracy to basically all levels of the field. His short and mid throws are what really stands out, putting the ball into some really tight windows and the ball goes exactly where it needed to go. Altough this is also very incosistent Stanley is very hot and cold week to week.
– Head movement: He is really good at baiting the defensive backs with subtle head movements. Knowing defenders will stress a lot over Noah Fant (and rightfully so) he looks at him the whole way then delivers to other receiver who will be either wide open or without safety help.
– Decision making: Stanley doesn't put the ball in harms way very often, which results in his low INT totals and the fact that he didn't throw more than 1 INT in a game all year.
– Size: At 6'5 215 pounds Stanley has a very good build to play quarterback, and while he could use to add 5 pounds or so, I don't think that will hard for him.
– Arm Strength: Stanley has a very good arm, can hit with good velocity at most areas of the field and can really strech a defense.
Negatives:
– Athleticism: He is not a good athlete on the move, he looks like a bear with very heavy feet when he tries to scramble out of the pocket.
– Evade Rush: Given he has little athleticism and his acceleration is poor, he is not good at escaping the pressure.
– Throw on the run: Stanley is very inconsistent on the run, his accuracy dissapears at times.
-Throws towards the sideline: He has a hard time throwing towards the sideline, where he misses quite often.
– Facing pressure: He doesn't feel the pressure and ends up on bad situations in which the pocket collapses and there is nothing he can do.
(Worth noting that the game cuts available for Stanley were from his best games, and given his low completion numbers during most of the other games, I can make a safe assumption that he is inconsistent)
What I want to see from him this year:
Stanley needs to be more consistent with his throws on the run, he shows accuracy on some plays but then is completely off target on others. He needs to be able to have a feel almost that 6th sense when it comes to being pressured, it's about awareness. If his completion porcentage doesn't go up he is going to have a lot of questions regarding his accuracy, he showed he can be an accurate quarterback he just needs to be consistent.
Check out the other articles of the way too early scouting profile series:
Easton Stick, Justin Herbert, Will Grier, Drew Lock, Ryan Finley, Clayton Thorson, Tyree Jackson, Brian Lewerke, Daniel Jones and Jarrett Stidham.
Main Photo: