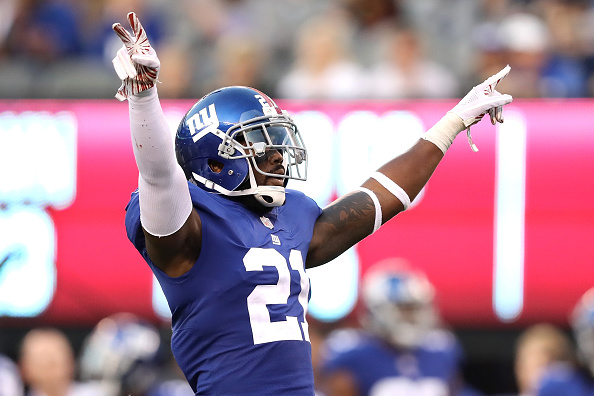 All off season there's talk of what teams and players will do in terms of free agency and the trade market. We are heading towards March 13th, which is the opening of free agency and the time where trades can be official. The franchise tag and transition tag deadline have passed us and there have been some interesting moves already. Fans are getting excited about the rumors and the moves they think will be made. Some make sense but there are also some don't make sense at all. Here are three moves/rumors that make no sense this NFL off-season.
NFL Off-Season Moves That Make No Sense 
The New York Giants Not Putting the Franchise Tag on Safety Landon Collins
Landon Collins has spent four seasons with the New York Giants but now they feel it's time to move in a different direction as they fail to franchise tag their star safety. It makes no sense to many as to why they wouldn't keep an elite safety in that backfield. Landon Collins is only 25 years of age, a three three-time pro bowler, and made the 2016 All-Pro First Team. He also was ranked in the top seven in defensive stops in each of his four seasons. The Giants will owe Eli Manning a lot of money so the guess is that they don't want to invest long term money in him. If you have a star safety at the position in their prime and could lock him up long term, you better believe they would get extended in a heart beat but the Giants obviously don't feel the same. Collins is one of many star safeties to enter free agency.
The Kansas City Chiefs Willing to Trade Linebacker Dee Ford
Dee Ford has spent half a decade with the Kansas City Chiefs and has been a big part of that line with Justin Houston and Chris Jones. When that defense has been atrocious, the defensive line lead by these three has been thriving. Ford had 13.5 sacks last season for the Chiefs and that gave him an impressive 30.5 sacks for his career. That trio had 38 total sacks last year and was a huge positive for the Chiefs. They want to trade Dee Ford for a second round pick. Although it might not happen, trading him for a second is not worth it when he has been 1/3 of one of the best trios up front in the league. The Chiefs to trade a big part of what has been a bad defense, for the most part, would not be a smart move.
The Arizona Cardinals Shopping 2018 First-Round Pick Josh Rosen
The Arizona Cardinals for the better part of the offseason have been rumored to be shopping quarterback Josh Rosen. The Cardinals hired another head coach in Kliff Kingsbury in the offseason. A while ago, Kingsbury said that he would pick quarterback Kyler Murray with the number one overall pick in the draft. This was way before he knew he would ever be in the position to do so. Well, now he does have the number one pick and people are wondering if they will pick Murray at number one. I don't think it would be smart to move on from Rosen after one year. He is a rookie that got put into a bad position in Arizona that had one of the worst offensive lines in football, had a horrible run game, and had a first-year head coach that didn't even get a chance to build his team. The Cardinals have their future quarterback in Rosen but it will take some time. Not every rookie needs to be a Hall of Fame player in their first year so they should just trust the process.
Main Photo:
Embed from Getty Images