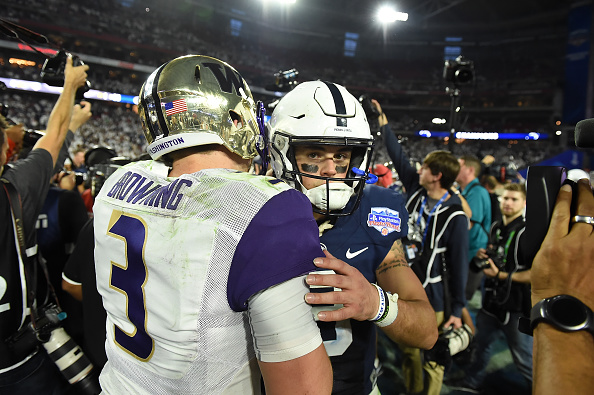 College football is certainly one of the most exciting sports on the national level. The energy, the hype, and the atmospheres to every college football stadium is why we love it and consume it for the four months out of the year it is available. College football is almost a lifeblood of America. It is one of the major veins to our country. Because there are so many schools competing across America, it takes devoted individuals to keep you, the fan, updated and posted on the hottest college football players across America. This is my project: College football tiers, where I break down the top four tiers of players going into the 2018 season and let you know who you need to be watching.
The tiers are relatively simple. The first tier are All-American prospects who will potentially be first round picks in the NFL Draft. The second tier are prospects who can be All-American, but will probably go in the 2nd or 3rd round of the NFL Draft. The third tier are players who will potentially be all-conference players and later round picks. The fourth tier is the best of the rest, either 2nd or 3rd all-conference players who will probably play in the NFL.
Without further ado, we at Last Word On Sports present the tiers of quarterbacks in college football 2018!
College Football Tiers 2018: The Quarterbacks
The Quarterback is the most important position on the field. They command the offense, distribute the football and are called upon to be leaders of the team. The last two Heisman Trophy winners have been quarterbacks.
Tier One
Trace McSorley, Penn State
Watch out, Big Ten fans. Trace McSorley enters his senior season as one of the most experienced quarterbacks in college football. While slightly undersized (6'0″, 198) and coming off the loss of his star running back, Saquan Barkley, McSorley is a very talented and accurate thrower with the football in his hands. Last season, he completed 66.5% of his passes while throwing for 3570 yards and 28 touchdowns. He's efficient too, and is the conference leader in returning players in efficiency rating (153.7).
Don't forget that he is a dual threat guy either. Trace ran for 491 yards last season and 11 touchdowns, and is elusive in the pocket. Head coach James Franklin designed a lot of zone reads for the offense to run last year with Barkley in the lineup, so don't be shocked in Penn State continues that trend. These are all good traits to see in your quarterback, which is why McSorley tops this list. He has a good shot to win the Heisman this year while playing in a very challenging conference.
Jake Browning, Washington
Jake Browning has championship pedigree. As a sophomore and second year starter, Browning led Washington to a Playoff appearance and a 12-1 season. He's 29-10 as a starter in college ranks, and is hands down now the most experienced quarterback in college football.
Browning has a very good arm, and can whip a ball downfield. The best part? He is very accurate. Browning completed 68.5% of his passes last season, the highest among qualifiers in the PAC-12. Browning's sophomore season saw a 43-9 TD-INT ratio, which dropped to 19-5 last season.
He's mobile, but not explosive. Browning gained 197 yards when getting past the line of scrimmage last season. He moves well in the pocket, which is good for any quarterback. However, you cannot gameplan him into the running game as he is simply a pro style quarterback with a great arm.
Jarrett Stidham, Auburn
Jarrett Stidham's rocky ride to Auburn is one of the most interesting stories in college football. Stidham was originally a commit to Baylor, where he enrolled and played his freshman season. However, Art Briles was caught with a horrific scandal, and Stidham transferred out of the program. He spent the season practicing with a group of high school football players while taking classes at a local community college. Stidham entered JUCO recruiting as a three year prospect and the #1 overall player.
He has a cannon of an arm and completes some great passes down the field. His awareness and understanding of the game makes him very difficult to defend. While he isn't the typical Gus Malzahn type quarterback, Malzahn has designed an effective offense for Stidham that seems to be one of the most powerful he has had his entire career.
Stidham threw for 3158 yards last season, his first in Auburn, and 18 touchdowns. He completed 66.5% of his passes and netted an additional 153 yards on the ground and 4 touchdowns.
Jake Fromm, Georgia
Jake Fromm wasn't suppose to start last season. Jacob Eason was. Eason started the Bulldogs first game against Appalachian State and left late in the first quarter with an apparent ankle injury. He would miss a month of time, and Fromm took over.
Fromm never gave up the starting job, appearing extremely poised in every game he played. He has a good arm, but his release is lightning fast. He completed 62.2% of his passes as a true freshman, and notched signature wins at Notre Dame, his first start, against Auburn in the SEC Championship and out dueled Baker Mayfield in the Rose Bowl.
Fromm looks like a pro quarterback. At 19 years old, he already has the NFL body standing 6'2″ and 225 pounds. Fromm has nowhere to go but up in his career, and could be potentially the 1st overall pick in the 2020 NFL Draft.
Tua Tagovailoa, Alabama
This is the most interesting story you will hear out of the bunch. Tua Tagovailoa was the backup quarterback in Alabama behind Jalen Hurts for the entire 2017 season. When Nick Saban and his team went down 13-0 in the National Championship, Saban benched Hurts and Tua entered the game. He led them to a comeback victory and threw for 3 touchdowns.
Tua is a left handed quarterback, and has the explosiveness that reminds you of Russell Wilson. He's quick, fast, elusive and can throw a football on a dime. Last season, in limited time, Tua almost outgunned Hurts, throwing for 636 yards and 11 touchdowns to just 2 interceptions, one of those in the National Title game. His efficiency rating sat at 175. He added 2 touchdowns on the ground, alongside 133 yards.
Tagovailoa has so much potential, it's almost frightening. Now that Nick Saban has an NFL caliber quarterback, it will be interesting to see how well they perform the next couple of years. Who knows, Tua could be the first pick in the 2020 NFL Draft.
Tier 2
Embed from Getty Images
Will Grier, West Virginia
Deondre Francis, Florida State
McKenzie Milton, UCF
Shea Patterson, Michigan
Khalil Tate, Arizona
Drew Lock, Missouri
Will Grier played six games of his freshman season at the University of Florida, starting five and looking like the man of the future before he got caught taking a drug he wasn't suppose to and was suspended the rest of the season by the NCAA. He transferred out and went to West Virginia, and now as a senior is the best quarterback hands down in the Big 12. He comes off of a season where he threw for 34 touchdowns and missed the last 2 games of the year with a broken thumb. Almost the entire receiving corps returns, and Grier is primed for a huge year.
Deondre Francois played about 55 minutes of 2017 before leaving the Alabama game with a torn ACL. He missed the rest of the season and looks to return big in 2018. He's a mobile quarterback, and has a big arm. Don't sleep on Florida State this year.
No one has ever heard of McKenzie Milton on the national scale before last season. Coming out of high school, he was an undersized, underrated quarterback. Put into Scott Frosts system, and he shined. Coming off of a 4037 yard season and 37 touchdowns, Milton is a dual threat deal with a lot of potential because of his accuracy and efficiency when throwing the football.
Shea Patterson is the closest thing to Johnny Manziel that college football has seen since Manziel himself. Patterson is downright explosive. At 6'2″ and 203 pounds, he is bigger then Johnny Football was, and has a little more command with the football. Very elusive, very explosive, and a rare type of prospect, Patterson will flourish in Ann Arbor.
Embed from Getty Images
Khalil Tate is one of the most explosive quarterbacks in college football. Tate ran for an FBS record 327 yards last season against Colorado, and then ran for 230 the next week against UCLA. He is a very special player with a head coach now in Kevin Sumlin who has a Heisman winner on his resume.
Drew Lock is a strong armed pocket passer. His career has been dwarfed by the fact that he plays at Missouri, but has now been the starter since four games into his freshman season. He quietly threw for 3964 yards and 44 touchdowns last season, and appeared in his first bowl game against Texas. Don't sleep on Lock, with one more good season he could be a first round pick next year.
Tier 3
Jake Bentley, South Carolina
Entered college while he should have been at prom, Bentley has matured quickly into one of footballs finest young quarterbacks.
Ryan Finley, North Carolina State
Finley is a game manager, and one of the best in college football.
Nick Fitzgerald, Mississippi State
Fitzgerald is a duel threat quarterback and could have a great season in 2018.
Justin Herbert, Oregon
Herbert is one of Phil Steele's top ten favorites to win the Heisman trophy.
Trevor Lawrence, Clemson
Embed from Getty Images
Lawrence has only played in a Spring Game, but is poised already to be a very good quarterback for the next three years.
Brett Lewerke, Michigan State
Lewerke has been a very good quarterback, and could be the next Kirk Cousins.
Brett Rypien, Boise State
Boise State has a tradition of finding good quarterbacks. Rypien is no exception.
Clayton Thorson, Northwestern
Thorson has been a very consistent threat in college football for two years now. Efficient and smart.
Tier Four
Blake Barnett, USF
James Blackman, Florida State
Shane Buchelle, Texas
Joe Burrow, LSU
KJ Costello, Stanford
JT Daniels, USC
Eric Dungey, Syracuse
Embed from Getty Images
Sam Ehlinger, Texas
Mason Fine, North Texas
Justice Hansen, Arkansas State
Dwayne Haskins, Ohio State
Alex Hornibrook, Wisconsin
Adrian Martinez, Nebraska
Kyler Murray, Oklahoma
Malik Rosier, Miami (Fl)
Brent Stockstill, MTSU
Kyle Shurmur, Vanderbilt
Main Image:Embed from Getty Images