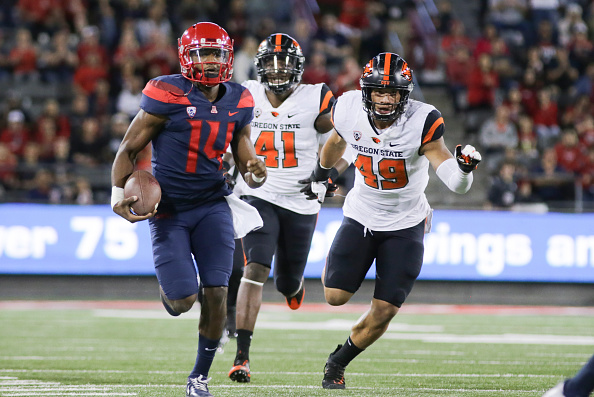 The Heisman trophy is the most coveted award in all of college football, perhaps in all college sports. It certainly has the most prestige to it, the most familiarity. In this ten part mini-series, I am going to introduce to you the top ten Heisman Hopefuls in America so that you can get familiar with them just in time for Spring Football.
QB Khalil Tate, Arizona
Khalil Tate is a dual threat quarterback who didn't receive much attention coming out of high school. Now, entering his junior season, Tate has a new head coach, former Texas A&M head man Kevin Sumlin, who has experience working with a Heisman trophy winner, Johnny Manziel, who plays very much the same style as Tate.
Tate got on the Heisman train halfway through last season with a monster 327 rushing yard performance in Colorado. He scored 4 touchdowns on the ground and threw for another one. He didn't stop there, turning in a 230 yard game the next week against UCLA. Tate then ran for over 130 yards in ther next five games, including another 200 yard performance against Oregon State.
Tate finished the season with a monster Bowl Game against Purdue, throwing for 302 yards and 5 TDs. He would finish the season with 1417 rushing yards and 12 rushing TD's.
So what exactly gives Tate a chance at winning college footballs most prestigious award?
Dynamic rushing ability
Tate can work wonders with the football. Remember how Louisville's Lamar Jackson could work wonders with the football in his hands? Tate may not be as tall as Jackson, but he has that same flair for the big play. He finds lanes with ease and works his pistol option to a T.
This shouldn't come as a surprise to anyone, as he ran for 2130 yards his senior year in high school. He is a true dual threat quarterback with a very explosive playmaking ability.
The coaching staff
Playing under Sumlin outside of the SEC will work wonders for Tate. Sumlin, as mentioned earlier, inheritted Johnny Manziel and made him the first redshirt freshman to win the Heisman trophy. Tate has the same potential and natural talent that Manziel had.
Sumlins system is dual quarterback friendly. If Tate can progress his passing ability, which is slightly better then average, he can really tear up the PAC-12 in the next couple of years.
Khalil Tate is an exciting playmaker, and if you haven't seen him yet, you need to make the effort to. You won't be disappointed. Surely, Tate will be a household name in college football for the next few years as he grows and refines his natural talent.
Main Image Credit: Embed from Getty Images