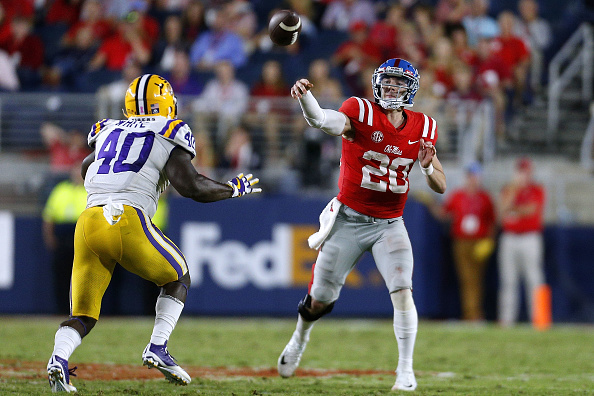 The Heisman trophy is the most coveted award in all of college football, perhaps in all college sports. It certainly has the most prestige to it, the most familiarity. In this ten part mini-series, I am going to introduce you to the top ten Heisman hopefuls in America so that you can get familiar with them just in time for Spring football.
QB Shea Patterson, Michigan
Shea Patterson is a transfer student from Ole Miss, currently entering his junior season. Patterson caught national attention when he gave up his redshirt in 2016 to replace an injured Chad Kelly. He showed Johnny Manziel type playmaking and caught the attention of America immediately.
He played seven games last season before falling with a knee injury that would derail the rest of his season. He still compiled a very nice statline, throwing for 2259 yards and 17 touchdowns.
Sanctions hit the Ole Miss Rebels at the end of the season, effectively ending their chances at a postseason run for the remainder of his career there. The NCAA granted any Ole Miss player a transfer without penalty if they so wished to do so.
Patterson decided to take his talents to Michigan, where he will join Jim Harbaugh, who has struggled to get a Michigan program back to national relevancy in his first three seasons. Harbaugh's problem so far has been that he hasn't had a reliable quarterback to run his system. Patterson should plug that gap in perfectly.
What tools does Patterson possess to possibly get him a Heisman trophy?
Johnny Manziel type skillset
No one can deny that Johnny Manziel had one of the most unique and perfect skillsets for college football. While he appeared to be a party freak, an alcoholic and more, Manziel was electric on the field. Patterson has a very similar skillset to the college football legend.
He showcased it in his first game, as he was converged by three Texas A&M defenders. Patterson rolled out of the pocket and outmoved them to throw a touchdown pass across the field to a wide open man in the end zone.
He has a very good arm, and is accurate passing the football. With simply average receivers at Ole Miss, Patterson still managed to complete 63.8% of his passes.
Jim Harbaugh
Everyone knows what Jim Harbaugh can do when he has a good quarterback. No one is trying to question that. He had one of the greatest to play the game while coaching at Stanford in Andrew Luck. We know it's not just pocket passers because he made Colin Kaepernick a household name while coaching the San Francisco 49ers.
Now, Harbaugh has a gifted young athlete, the hybrid quarterback taking college football by storm. A Heisman contender quarterback. Harbaugh has a shot to really take his offense to a new level, and you can bet that he will.
Shea Patterson has a great career ahead of him, whether he stays in school through his senior season or he goes pro after this year. He has all the ability in the world and will make a first class prospect. Now with Harbaugh coaching him, the sky is the limit!
Main Image Credit: Embed from Getty Images