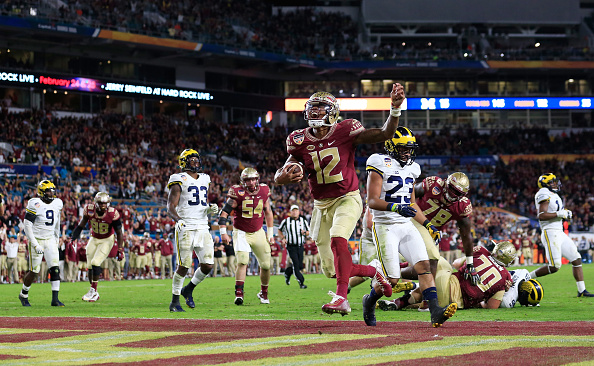 The Heisman trophy is the most coveted award in all of college football, perhaps in all college sports. It certainly has the most prestige to it, the most familiarity. In this ten part mini-series, I am going to introduce you to the top ten Heisman hopefuls in America so that you can get familiar with them just in time for Spring football.
QB Deondre Francois, Florida State
Deondre Francois became the starter to the Florida State Seminals football team as a redshirt-freshman in 2016. He exploded onto the scene in game one, where against Ole Miss he passed for 419 yards and two scores while adding another 59 yards on nine carries on the ground. Francois became the new star of the program, passing for 3350 yards and 20 touchdowns in 2016.
Unfortunately, bad luck caught up with him for his sophomore season. He tore his ACL in the opening game of the 2017 season against Alabama in the fourth quarter. Now, he looks to comeback as one of college footballs forgotten young stars.
What talents does Francois possess to put him in the running for the Heisman Trophy?
Dual-threat abilities

Francois has a great arm and can throw a good ball, but the real talent he has is making things happen. The 2016 season was full of highlight plays of Francois getting away from defenders and making big plays down the field, both passing and running the ball.
No, Francois isn't your highlight playmaker like Johnny Manziel or Marcus Mariota. Francois is more like a Cam Newton or a Jameis Winston. No one denies that he has talent, but a lot of people overlook the mobility aspect that Francois brings to the field.
It's not a good idea to overlook him either. He scored five rushing touchdowns in 2016 despite a pourous offensive line. He's a true playmaker and he can certainly take a wide open ACC conference by storm if people aren't careful.
Prestigious School
You have to admit that the school an athlete plays for has a major influence over Heisman trophy voters. Florida State has produced some wonderful talent over the years, most recently Winston, and that will have some sway on the polls.
The only thing that could potentially hurt Francois' run is the fact that Florida State is in a transitioning period between coaches. Jimbo Fisher left to coach the Texas A&M Aggies. Florida State hired Willie Taggart, a home grown man who turned USF into a powerhouse.
It's hard for a quarterback to learn a new offense after studying one for three years. It's definitely a situation worthy of keeping an eye on.
Francois has the talent to make a run at college football's most prestigious trophy. We are all about to find out if he can come back and make something happen. The new coach, rehab on his knee, and other factors certainly weigh in, but one can expect such a resilient player like Francois to bounce back from it all and have a phenominal 2018 season.
Main Image Credit: Embed from Getty Images