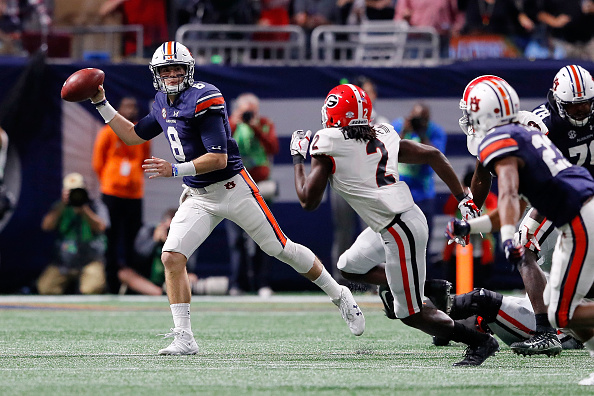 The Heisman trophy is the most coveted award in all of college football, perhaps in all college sports. It certainly has the most prestige to it, the most familiarity. In this ten part mini-series, I am going to introduce you to the top ten Heisman hopefuls in America so that you can get familiar with them just in time for Spring football.
QB Jarrett Stidham, Auburn
Jarrett Stidham is one talented son of a gun. Originally recruited by Baylor, Stidham stepped in for an injured Seth Russell during the 2015 season as a true freshman. He did not disappoint, starting the last four games while throwing for 1265 yards and 12 touchdowns. Then, the Art Briles scandal went down, triggering Stidham to transfer from the program with most of his other teammates.
Stidham spent a year practicing with the junior varsity squad at a high school near the community college he transferred to. He spent a year studying there and entered the 2017 recruiting season as a redshirt freshman and the number one JUCO prospect.
Auburn head coach Gus Malzahn won the battle to land Stidham and looked very impressive from the moment he walked into Spring Training. He started all of Auburn's 14 games this season, throwing for 3158 yards and 18 touchdowns. He ran in four scores as well.
What exactly does Stidham have to get himself into the Heisman race?
NFL Quarterback Skillset
Stidham will be playing pro on Sundays in the near future. His skillset is that of an elite NFL quarterback. He throws good, accurate balls and has a very nice touch throw ability. Stidham's arm is well above average, and I have seen him on occasion throw a ball over seventy yards. That's electric.
Not only does he have the arm, he has the mobility. While he isn't exactly a dual-threat quarterback, he can move around in the pocket and get yards downfield if need be. Think of him like a Matthew Stafford.
Championship Caliber Team
Auburn is a very strong team playing in arguably the best conference in all of college football. They have, yet again, another good chance at running for a National Title. This is a team that beat number one teams in Georgia and Alabama in the span of three weeks, and the majority of their players return this year.
Winning is an excellent resume builder. Stidham has an opportunity to win a lot of games this season. He has a great offense to run behind again and has competition at the quarterback spot that is pressing him to be better.
Stidham has a chance to run the table and get his shot at the Heisman trophy. He has the skills and the team to get him there. Let's see if he can perform at the level he needs in order to pull of an impressive year.
Main Image Credit: Embed from Getty Images