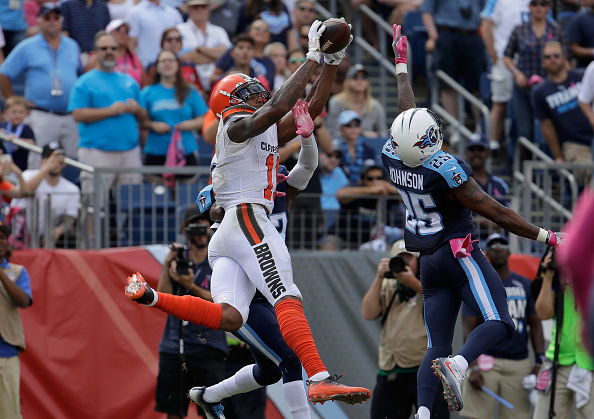 LWOSports takes a look at each offensive position, highlighting the top three free agents available at each position.
Find our other top 3 free agents by position:
Quarterbacks
Wide Receivers
Running Backs
Offensive Linemen
Wide Receivers:
It is not very often that we see as much free agent talent at wide receiver. With the league being passing oriented, teams normally sign their best wide receivers before they even sniff free agency. However this years free agent wide receivers consist of DeSean Jackson, Pierre Garçon, Alshon Jeffery, and Terrelle Pryor, among others. The following are the top wide receivers available this year in free agency.
1.) Alshon Jeffery
2016 team: Chicago Bears
Alshon Jeffery has shown many times that he has the ability to be a number one receiver in an offense having earned over 100 yards in over twenty percent of his outings. Like many of the free agents on this list, Jeffery has struggled to stay healthy. He has played an entire season only twice, in 2013 and 2014, over his five year career. Granted, the Bears wide receiver amassed a total of 174 receptions for 2,554 yards and seventeen touchdowns in those campaigns. However, over the last two seasons Jeffery totaled a mere twenty one games played while catching 106 balls for 1,628 yards and six touchdowns.  Condensed into a sixteen game season, Jeffrey's numbers are consistent with his two best seasons. He would have 81 receptions for 1,240 yards and five touchdowns. Which proves, when healthy, Alshon Jeffery is a difference maker at wide receiver.
Best Fit: Tennessee Titans
The Titans are very quietly building one of the best young teams in the NFL. Tennessee already has a top three rushing attack, behind one of the best young offensive lines in the league. Now, they need a true number one wide receiver for Marcus Mariota to throw the ball to. At 26 years old, Alshon Jeffery provides the Titans with the young talent they are looking for at wide receiver. Jeffery is also among the best in the league when it comes to the deep ball due to his 6'3″, 218 pound frame and 4.48 second forty time. This would allow Tennessee to spread the field, which would open up opportunities for the run game and tight end Delanie Walker over the middle. Overall, Alshon Jeffery could be the missing piece to make the Titans one of the most deadly offenses in the NFL for years to come.
2.) Terrelle Pryor, Sr.
2016 team: Cleveland Browns
After not succeeding at his original position of quarterback, Terrelle Pryor made a switch to wide receiver. This transition made sense as Pryor has a 6'4″ frame, paired with a 4.38 second forty yard time and is a rather skilled pass catcher. These three components combined to make him one of the only weapons that the Cleveland Browns had on offense. Despite a revolving door at quarterback, he managed to secure 77 balls for 1,007 yards and four touchdowns. While his touchdown total is less than expected for a 6'4″ wide receiver, the Browns scored a mere 15 touchdowns through the air. This means that Pryor was on the receiving end of nearly twenty seven percent of his teams passing touchdowns. Terrelle Pryor has the chance to be a low end number one wide receiver or a top tier wide receiver two.
Best Fit: Philadelphia Eagles
I can see the Eagles making a run at Terrelle Pryor in the offseason to help rebuild one of the worst wide receiving cores in the league. It is also probable that Pryor will want to leave Cleveland after their 1-15 season. He has voiced his frustration with the Browns in the past, as well. The Eagles could also use a big receiver to play out wide, with former second round pick Jordan Mathews spending most of his time in the slot. What it all comes down to is if another team is willing to bring Pryor into their locker room given the attention he has gained over the past season by being controversial on social media. If there is one team, other than the Browns, that will take a shot on the former Buckeye, it will be the Eagles.
3.) DeSean Jackson
2016 team: Washington Redskins
A speedster at wide receiver, DeSean Jackson has the talent to take the top off of any defense. This ability alone will attract a lot of buyers for the Washington Redskins wide receiver. With a number of talented wide receivers already in their arsenal, it is extremely doubtful that Washington resign Jackson. Over his tenure on the Redskins, DeSean Jackson has shown that he can be a difference maker. Although he missed most of the 2015 season, Jackson made his mark as a deep threat by topping 1,000 yards twice and averaging 19 yards per reception in his three year stint in the nation's capital. Jackson has shown that he can still get it done deep, even though he is heading towards the latter half of his career.
Best Fit: Philadelphia Eagles
DeSean Jackson has been reported to "be ready" to return to the Philadelphia Eagles. I believe that, given the current state of the Eagles wide receiving core, Philly would greet Jackson with open arms. If the Eagles also sign the aforementioned Terrelle Pryor, their receiving core would be lethal. Jackson and Pryor could line up out wide with Jordan Mathews running routes out of the slot. In the event the Eagles could get both Pryor and Jackson signed, it would address their biggest need on offense and help Carson Wentz's growth. However, it is more likely that DeSean Jackson gets signed than Pryor.
Main image credit: