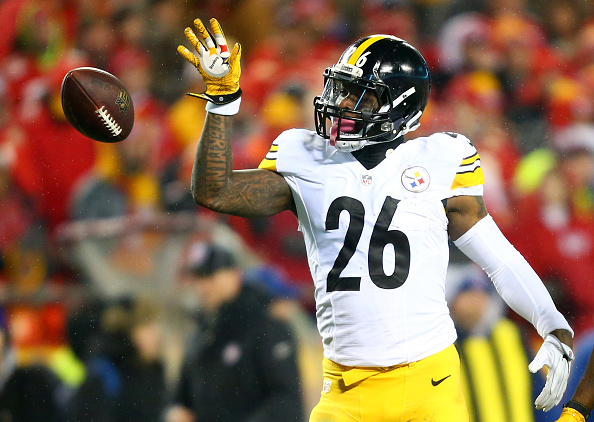 LWOSports takes a look at each offensive position, highlighting the top three free agents available at each position.
Find our other top 3 free agents by position:
Find our other top 3 free agents by position:
Quarterbacks
Wide Receivers
Running Backs
Tight Ends
Offensive Linemen
Running Back
1.) Le'Veon Bell
2016 team: Pittsburgh Steelers
It is hard to understate how great Le'Veon Bell is. The Steelers running back has a speedy, elusive and powerful yet patient run style. It also helps that Bell can run routes like a wide receiver and has the best hands among running backs in the league. Bell's rare skill set allowed him to amass 6,050 scrimmage yards and 31 total touchdowns in 47 career games played, which amounts to an average of 129 yards per game from scrimmage. Le'Veon Bell is a big factor in the Pittsburgh Steelers ability to win games. Bell's ability to both line up out wide in addition to in the backfield makes it very difficult for defensive coordinators to draw up a game plan to stop the Steelers offense.
Best Fit: Pittsburgh Steelers
Le'Veon Bell's success with the Steelers is undisputed. The numbers do not lie. You know the old saying, "If it ain't broke, don't fix it"? Well, it applies here. It would be best for Bell to stay put in Pittsburgh and continue putting up his hall of fame-like numbers in Todd Haley's scheme.
2.) LeGarrette Blount
2016 team: New England Patriots
After posting a career year in rushing attempts, yards and touchdowns, LeGarrette Blount is poised to hit free agency. The 6'0″, 250 pound Blount is a punishing runner and is nearly impossible to take down once he gets going. This was evident in the AFC Championship game when Blount carried seven Steeler defenders to the goal line on a eighteen-yard carry. Blount then forcefully punched the ball in for a touchdown the following play. The only issue is LeGarrette Blount will turn 31 next season and it is unclear as to whether or not a team will want to take a chance on signing an older running back.
Best Fit: New England Patriots
LeGarrette Blount has carved out a large role in the Patriots offensive game plan. Blount is used as the closer in most games for New England as he tires out defenses with his bruising run style. It would also be wise for the Patriots to sign running back like Blount who can carry the ball 300 times to help keep the aging Tom Brady fresh. Although, we do not know how much longer LeGarrette Blount will be able to continue toting the ball that many times while remaining effective.
3.) Eddie Lacy
2016 team: Green Bay Packers
Following a stellar start to his first two seasons, Eddie Lacy struggled over the past couple campaigns. Heading into the 2015 season, it was said that Lacy was overweight and ultimately struggled to get it going on the ground. However, Lacy averaged 4.1 yards per carry in 2015, the same as his rookie year. One can make the case that he simply did not get enough touches. Lacy received 187 carries in 2015, while he averaged 265 carries over his first two seasons. Despite only playing in five games this year, Lacy looked pretty good as he posted a career high 5.1 yards per carry. Unfortunately for him, the Packers offense looked a lot better when wide receiver Ty Montgomery stepped in during Lacy's absence.It is uncertain if Green Bay will resign Eddie Lacy given how effective the offense was with Montgomery in the backfield.
Best Fit: New England Patriots
In the event the Patriots pass up on resigning the aging LeGarrette Blount, Eddie Lacy would be an ideal replacement. Lacy and Blount are both downhill runners and are difficult to tackle. It also helps that Eddie Lacy is almost five years younger than LeGarrette Blount. This allows the Patriots to solidify their running back position for years to come by singing Lacy over Blount. The only concern is Eddie Lacy's health. An ankle injury has been nagging him for most of the past two seasons. However, he fits the Patriots run style and provides a long term answer at running back. It would not surprise me to see Eddie Lacy in a Patriots jersey next season.