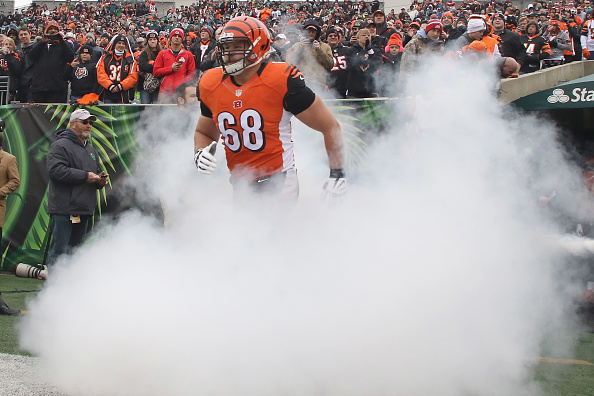 LWOSports takes a look at each offensive position, highlighting the top three free agents available at each position.
Find our other top 3 free agents by position:
Find our other top 3 free agents by position:
Quarterbacks
Wide Receivers
Running Backs
Tight Ends
Offensive Linemen
Offensive Lineman:
1.) Kevin Zeitler
2016 team: Cincinnati Bengals
Kevin Zeitler was drafted with the 27th overall pick by the Cincinnati Bengals in the 2012 NFL Draft. The 26 year old Zeitler has been both durable and consistent, two qualities coaches look for in their offensive lineman. The recent success of the Raiders and Cowboys, both teams have one of the best offensive lines in the NFL, you can imagine that a player of Zeitler's quality will demand a pretty penny in free agency.
Best Fit: Cincinnati Bengals
There is absolutely no way the Bengals should let Kevin Zeitler go in free agency. At only 26 years of age, Zeitler has established himself as one of the top right guards in the league due to his elite run blocking ability. It also helps that he is solid when it comes to pass blocking too. It is very rare that an offensive lineman has the talent and durability that Kevin Zeitler possesses. The Bengals are not really known for signing players to blockbuster contracts. However, I would be surprised to see them let a talent like Zeitler walk, especially with aging tackles Eric Winston and Andrew Whitworth expected to hit free agency as well.
2.) T.J. Lang
2016 team: Green Bay Packers
A big reason why Aaron Rodgers has so much time in the pocket, T.J. Lang has been a dependable piece of the Green Bay Packers offensive line. A stalwart at right guard, Lang has an uncanny ability to pass block at an elite level as well as create holes in the run game. The only reason I have Lang ranked before Zeitler is due to age. T.J. Lang is three years older than the aforementioned Kevin Zeitler, therefore Zeitler can be a longer term solution at right guard than Lang. Other than that, both guards possess elite run and pass blocking skills and would be a key addition for any offensive line.
Best Fit: Green Bay Packers
The Packers are not known to let their home grown talent leave the organization. I see this being the case again when it comes to Lang. Aaron Rodgers will turn 34 next season and cannot afford a lost season due to his offensive line being shaky in Lang's absence. In a media session following the Packers loss in the NFC Championship, Rodgers said the team needed to "reload". If the Packers do not resign Lang, they will be doing quite the opposite. Overall, inking T.J. Lang to a new contract should be a top priority for the Packers.
3.) Riley Reiff
2016 team: Detroit Lions
A solid run and pass blocker, Riley Reiff is the best offensive tackle available this year in free agency. His ability to open up running lanes makes Reiff an ideal fit for any offensive line. Since joining the Lions in 2012, Reiff has been active for all but three games, a testament to his consistency and health. It also helps that there is a significant fall off at the position this offseason following Reiff. Eric Winston is a nice right tackle but is 33 years old. Matt Kalil, another free agent right tackle is only 27 years of age, but has battled injury throughout his career. Reiff can expect added value due to the overall lack of talent and durability behind him at right tackle, in the free agency.
Best Fit: New York Giants
The Giants are among other teams with who are desperate for a right tackle. The Giants current right tackle, Marshall Newhouse possesses neither the blocking capability or endurance that Riley Reiff has. Reiff's ability to open up holes in the run game would also be key in reviving the Giants rushing offense. Overall, Riley Reiff is an ideal solution to help fix the Giants offensive line woes.
Main image credit: