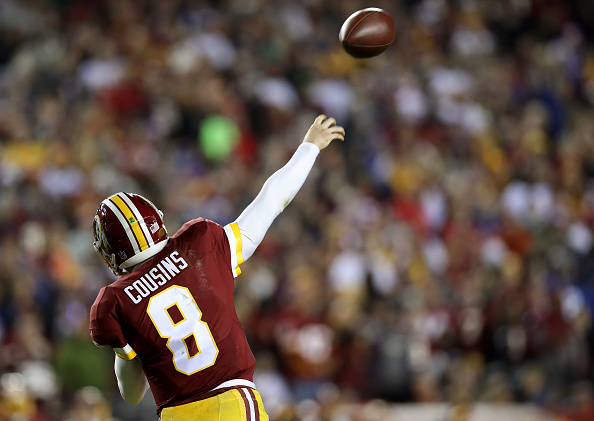 LWOSports takes a look at each offensive position, highlighting the top three free agents available at each position.
Find our other top 3 free agents by position:
Top 3 Free Agents Quarterbacks
Rebuilding a team through free agency was really never a thing, until the Giants proved it to be successful in the 2016 season. Signing three impact players on defense in the offseason last year, the Giants defense went from one of the worst, to one of the top units in the league. With the NFL postseason nearing its conclusion, general managers and coaches across the league are looking to free agency to gear their teams up for a potential Super Bowl run in 2017. Here are the top three free agent quarterbacks available.
Quarterback
1.) Kirk Cousins
2016 team: Washington Redskins
Cousins has shown over the past two years that he has what it takes to be a franchise quarterback. Despite a defense that ranked twenty-eighth overall in the league and allowed 23.9 points per game, Cousins had Washington in contention for a wild card playoff spot. If the Redskins made the playoffs, it would have been the first time since the 1991 and 1992 seasons that the franchise made back-to-back playoff appearances. Kirk Cousins also was the biggest reason that the offense ranked 3rd in total yards in the league, even though the team placed twenty-first in rushing offense. He also finished sixth in total QBR and third in passing yards among all quarterbacks in the NFL.  His resume more than holds up, it's just a matter of whether or not Washington feel the same way. Regardless, Cousins is going to cash in big, no matter where he goes.
Best Fit: Washington Redskins
Already with one of the best offenses in the league, it would be counter-productive for the Redskins to let Cousins walk after his success. Yes, offensive coordinator Sean McVay left Washington for the Rams head coaching job, but the Redskins promoted quarterbacks coach Matt Cavanaugh to fill the vacancy. This means that Cousins will not have to learn a whole new offensive scheme if he stays put in Washington.
2.) Mike Glennon
2016 team: Tampa Bay Buccaneers
There really are no free agents who have proven that they could start and win games for a team at quarterback following Kirk Cousins. However, Mike Glennon is the next closest thing. In eighteen career starts for the Buccaneers, Glennon totaled 3,904 passing yards and 29 touchdowns to 15 interceptions. Condensed into a 16 game season, it would be 3,470 yards with 26 touchdowns to 13 interceptions. Based on his condensed stat line, Glennon would have finished among Cam Newton and Marcus Mariota in terms of passing yards, as well as tenth in passing touchdowns. Overall, pretty good numbers for a free agent quarterback. While Glennon's 5-13 record as a starter is not really impressive, it is a result of poor surrounding talent. In the end, Mike Glennon has shown potential to be a solid quarterback if given the right opportunity.
Best Fit: New York Jets
A team with a desperate need for a competent quarterback, the New York Jets are going to be making a strong push to sign Mike Glennon.  The Jets are an ideal landing spot for Glennon due, mainly in part, to their strong wide receiving corps and impressive backfield. The only team that makes more sense for Mike Glennon than the Jets are the Houston Texans. However, that is very unlikely due to Brock Osweiler's insane contract and salary cap restrictions.
3.) Geno Smith
2016 team: New York Jets
I know, its Geno Smith. This shows how shallow the position is. Smith is a young quarterback who showed flashes of potential in his two seasons as the starter in New York. Those flashes of potential, however, were often followed by bad throws or poor decision making. One can chalk that up to growing pains and a poor receiving corps. Many people forget that if it were not for a locker room fight in 2015, Geno Smith would have been the starter over Ryan Fitzpatrick. In addition, Fitzpatrick was benched in favor of Smith in week six of the 2016 season and Smith was named the starter from that point on. Well, that was until a torn ACL the next week sidelined the young quarterback for the year. Overall, Geno Smith is young and, given the right opportunity, has shown enough potential to be a starting quarterback in the NFL.
Best Fit: New York Jets
The wise move would be for Geno Smith to remain in New York as he has been studying the offense for the past few years. Smith was given the chance to start for the Jets three times, but poor decision making and two untimely injuries cost Smith the starting job. If the Jets are not able to sign the aforementioned Mike Glennon to a contact, it might be in the Jets best interest to resign Smith to a one year "show me" type of deal.
*Honorable Mention: Tony Romo
2016 team: Dallas Cowboys
We are unsure as to whether Tony Romo will be traded by the Dallas Cowboys, or cut. It would be smart for Jerry Jones to cut Tony Romo if no trade is accepted, as the team would clear $54 million in cap over the next three years. The former undrafted free agent has shown plenty of success in the NFL, but his injury history is a concern for potential buyers. However, when healthy, Romo can be one of the top quarterbacks in the league.
Best Fit: Denver Broncos
Time is not on Tony Romo's side as he will be 37 years old by the start of next season. Luckily for him, time is not a friend of the Denver Broncos either. Both parties are in win now mode and given the weapons that Denver has on offense, there is little doubt that Romo will do anything but win. Giving Demaryius Thomas and Emmanuel Sanders a quarterback like Tony Romo to catch balls from would be a major upgrade over Trevor Siemian or Paxton Lynch. Plus, the Broncos offense would be able to beat teams through the air as well as the ground, making it truly potent. It would be in the Cowboys, Tony Romo's and the Broncos best interest if a trade to Denver occurred. The only concern is the health of Tony Romo.
Main image credit: