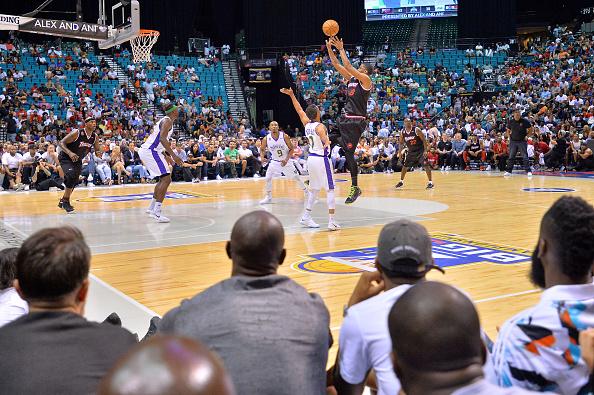 During the first two weeks of BIG3 Basketball, we've seen some great games and performances from all around the league. Week three is set up to be no different. Last week, all of the games were decided by single-digits except one. Only four teams remain undefeated, with two of them facing each other this week. If you think week two was exciting, week three is set up to be even better.
BIG3 Basketball: Week 3 Matchups
Ghost Ballers vs Tri-State
The Ghost Ballers won by six for the second straight week to open up their season. It was the Mike Taylor show yet again for the Ghost Ballers as he scored 25 points and brought down seven rebounds along with two assists. His contributing partner from last week, Chris Johnson, scored ten points along with grabbing six rebounds, an assist, and a steal. Even though they're playing in close games, winning is all that matters. This duo of Taylor and Johnson looks tough to stop right now and until someone can do that, the Ghost Ballers will be hard to figure out.
Tri-State alienated Bivouac last week to the tune of a 50-29 final. Three players finished with ten points or more for Tri-State, including a huge double-double from Jason Richardson as he went for 20 points and 17 rebounds. He also added a steal and a block along with three assists. Their defense held tight, allowing only 29 points and holding Bivouac's leading scorer to only 12 points. Tri-State made up for disappointing week one and now are looking for more blood as they try and slow down the Ghost Ballers scoring duo.
Triplets vs Trilogy
The battle of two undefeated teams will surely be the game to watch in week three. The Triplets trailed by three at halftime against Power but ended up winning by three. There are not enough words to describe how much Joe Johnson has dominated BIG3 Basketball since he started playing. His stat line tells it all as he scored 34 points along with tallying nine rebounds, four assists, and three steals. Johnson also hit four three-pointers, including one from deep to end the game. His 34 points were the most scored in a single BIG3 Basketball game. His teammates didn't have to score much as Johnson did the work for them.
Trilogy will have the tough task of trying to stop Iso Joe but they have the players to say something about it. Three players had at least ten points for Trilogy as Isaiah Briscoe led the way again with 13 points while James White scored 12 and Jarrett Jack scored ten while hitting a four-pointer to end the game. These two teams have championship aspirations as they head into a week three fight.
Ball Hogs vs Power
After a roster overhaul this offseason, the Ball Hogs look to pounce on the opportunity to make their first playoff appearance. They are off to a 2-0 start and one of the reasons why is the play of Leandro Barbosa. He's led this team in scoring in both weeks to start the season, scoring 22 points in week one and scoring 27 last week. Barbosa got big help yet again from Jodie Meeks as he put up a double-double with 11 points and 11 rebounds. The Ball Hogs have also done just enough on defense as they've held their opponents to under 45 points in both games.
The Ball Hogs will get a good test in the form of Power. Power has played well so far this season, splitting both their games. Cuttino Mobley continues to impress in his career as he scored 22 points while grabbing six rebounds in the loss. The Power led at halftime yet again last week but just couldn't hold on like they did in week one. They feel like they can play even better than they have been, which is scary for the league to think about. Both teams are no strangers to playing close games so it'll be interesting to see who comes out on top in this one.
3 Headed Monsters vs 3's Company
The 3 Headed Monsters have split both of their games to start the season. In a seven-point loss to one of the favorites, Kevin Murphy rose his game to an even higher level than last week as he scored 25 points and even made a four-pointer. No one else scored double-digits for the 3 Headed Monsters. A big reason for the loss last week was that they only combined for three assists in the game. They're going to have to do more against a hungry 3's Company team.
Speaking of 3's company, they got their first win of the season last week in a seven-point win. Jeremy Pargo led the team in points again with 22 and Mario Chalmers was behind him with 13. 3's Company avoided a blowout as they were down by ten at halftime but were able to pick themselves back up and turn the tables, only allowing 19 points in the second half to the Killer 3's. This will be a huge game for both teams as they try and maintain some consistency in their season.
Aliens vs Killer 3's
The Aliens and Killer 3's have both begun the season without a win so far. Brandon Rush and Andrew Owens scored 16 points apiece for the Aliens, with Rush gathering 12 rebounds for the double-double. They've played their opposition close, but haven't been able to pull through in the first two weeks.
The Killer 3's bounced back from a poor performance in week one but still came up short in week two. Franklin Session nearly had a double-double with 20 points and nine rebounds. The Killer 3's had a great day on the boards as they tallied 29 rebounds as a team. This game will feature two teams who desperately need a win to have some sort of hope going forward.
Bivouac vs Enemies
Another matchup of 0-2 teams will take place to end week three. Both the Enemies and Bivouac have been highly disappointing to start the season so far. Bivouac has arguably been the worst team in BIG3 Basketball through the first two weeks. They scored 39 points in week one and just got plain out embarrassed last week against Tri-State. Bivouac only scored 29 points as a team, with one player scored double-digit points, which was only 12. Bivouac was expected to make some noise this season but we haven't seen anything close to this point.
The Enemies have been a different kind of disappointing. Even though both of their games have been close, they haven't shown us what they truly are capable of. Elijah Stewart and Isaiah Austin showed up last week but that's it. The Enemies picked up Nick Young this offseason, who was supposed to take this league by storm. He has been highly disappointing so far in BIG3 Basketball. Young scored no points in his debut and managed to only score five last week.
This team needs him to be that scoring machine he is known to be. Bivouac won't lay down after how the last two weeks went down but the Enemies know they have an opportunity to turn their season around.
Main Image: Embed from Getty Images