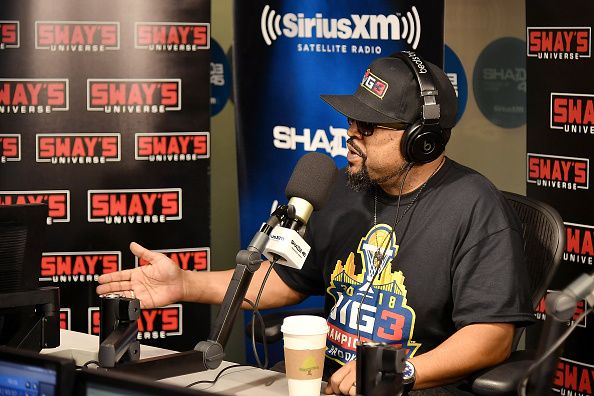 With week one in the books, BIG3 Basketball looks to charge full steam ahead to week two and continue the success they had to begin last week. We saw plenty of dominant performances and got an idea of what these teams might look like this season. It's only week two, so teams still have a lot to prove before anything is decided. BIG3 Basketball had a very successful opening weekend and many can't wait to see what's in store for week two.
BIG3 Basketball: Week 2 Matchups
Trilogy vs 3 Headed Monsters (Saturday)
These two teams showed out in week one of the BIG3 Basketball season. Trilogy tied for the best margin of victory last week (12) as they defeated the Killer 3's 50-38. Isaiah Briscoe had a huge game for Trilogy as he went off for 28 points, which was the most points of any player in the league. He also tallied 6 rebounds and a block. By his side was Jarrett Jack, who scored 15 points along with grabbing three rebounds and two assists. This team looked promising in week one but they will have a tough test in week two.
The 3 Headed Monsters had a pretty dominant week one just like Trilogy. They defeated Tri-State 50-39 as Kevin Murphy led the way with 19 points and five assists. Rashard Lewis also had a huge game for the 3 Headed Monsters as he recorded a double-double with 12 points and 11 rebounds. He also led the way with three blocks. The scoring was spread out all throughout the team and everyone contributed immensely in this game. This week two matchup between Trilogy and 3 Headed Monsters will test both teams and is set up to be the game of the week.
Power vs Triplets (Saturday)
The second matchup in week two will also feature two teams that were victorious in week one. Both teams showed that they can be championship contenders yet again. Power took over the game early, with Cuttino Mobley just dominating in every way. He finished with 26 points while hitting six threes and even connected on a four-pointer. Royce White looked strong as he tallied a double-double with 13 points and 11 rebounds. Joe Alexander also hit double-digits with ten points. Even though the game got close in the end (51-46 final), the Power were able to pull through with their strong will.
Trilogy wasn't the only team with the best margin of victory as the Triplets also won by 12 in dominating fashion. Like Power, the Triplets dominated the first half but the difference was that they won by double-digits. Joe Johnson is picking up right where he left off in 2019 as he had a double-double with 27 points and 12 rebounds. He also gathered two steals and hit a four-pointer. He wasn't the only one to do it all as Jannero Pargo scored 16 points to go along with five rebounds, three assists, and two steals. The battle of the last two championship teams will be a must-watch in week two.
Killer 3's vs 3's Company (Saturday)
The last game on Saturday will future two teams coming off of losses in week 1. The Killer 3's took the worst loss last week as the offense went stagnant. Even though they scored 38, Donte Green was the only player to show up on that side of the ball, scoring 26 points. The rest of the team only scored a combined 12 points. You can't put up those numbers against a rising team like Trilogy and expect to come out on top.
3's Company didn't lose by much more than the Killer 3's did but they put up a fight. The deficit was only three at halftime for 3's Company but lost by nine as they needed just a little more help. The trio with Jeremy Pargo, Mario Chalmers, and Drew Gooden put up pretty good stat lines across the board but no one hit a three-pointer all game, and no team will win that way. Even though it's only week 2, this is a big game for both teams to try and prove themselves.
Enemies vs Ghost Ballers (Sunday)
The first game on Sunday goes to the Enemies vs Ghost Ballers. These two teams put on a show in their respective games last Saturday. Even though the Enemies lost, they took one of the best teams in the league down to the wire. It was an unexpectedly slow start for the Enemies but they showed what they're capable of in the second half. Isaiah Austin put up 27 points and seven assists but their projected best player didn't show up at all. Nick Young has a lot of hype coming into BIG3 Basketball but he laid an egg in his first game, tallying zero points with only two rebounds and two assists.
The Ghost Ballers won their game by six and the biggest reason why was the duo of Mike Taylor and Chris Johnson. They both had stellar games and Taylor had 20 points, six rebounds, six assists, three blocks, and two steals. Sticking right with him was Johnson, who scored 19 points with eight rebounds, two steals, and an assist. The Enemies needed Young to give them way more and somehow stop the momentum of the deadly duo from week one that plays for the Ghost Ballers.
Tri-State vs Bivouac (Sunday)
Both of these teams only scored 39 points last week in their losses. Tri-State's leading scorer (Earl Clark) only tallied 14 points. This team got a healthy amount of rebounds but couldn't do anything with it. Tri-State had three players with no assists, which didn't help at all.
Bivouac put up a little more numbers across the board in their game than Tri-State did. Will Bynum had a good game as he scored 24 points and nine rebounds. The team as a whole provided rebounds, including Josh Smith with ten but the blocks and steals were nowhere to be found. Tri-State has to capitalize on their chances and be more efficient while Bivouac needs to be better on the defensive side.
Ball Hogs vs Aliens (Sunday)
The Ball Hogs came into the season never getting a taste of what the playoffs feel like, missing it the first three seasons of BIG3 Basketball. They come into the season hoping a newly shaped roster can carry them to the promised land and it started with a win against 3's Company last week. Leading the Ball Hogs was Leandro Barbosa with 22 points, five rebounds, five assists, a steal, and a block. Jodie Meeks also helped lead the team to a victory with 18 points. The Ball Hogs got some great contributions and hope to continue that this season.
Even though the Aliens lost, they put up a great fight against the Ghost Ballers. In the Aliens six-point loss, Renaldo Balkman gathered a double-double with 14 points and 14 assists, also contributing three steals. The defense did enough to keep them in it, they just came up short. Just a little more contribution from other players might've won it for the Aliens. This game will be the most underrated this weekend but might be the best of all.
Main Photo:
Embed from Getty Imageswindow.gie=window.gie||function(c){(gie.q=gie.q||[]).push(c)};gie(function(){gie.widgets.load({id:'31O239j9S8h-Hale6lGOtQ',sig:'TAKlAnktn-FsZs46NjSjuvg_XjURTi__ewAV5-uqzGA=',w:'594px',h:'396px',items:'1021367734′,caption: true ,tld:'com',is360: false })});