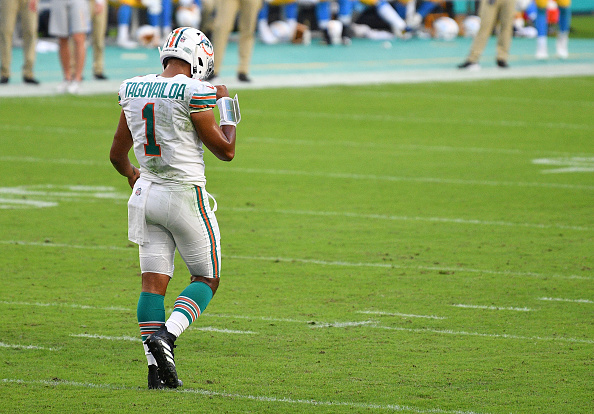 Ten weeks down, only seven weeks to go! The NFL Playoff picture is starting to develop, as is who will be picking at the top of the 2021 NFL Draft. Could injuries derail some promising contenders in the NFC? Could we be truly seeing a shift in power in the AFC East? Things are heating up in the LWOSports standings as well! Let's dive into the NFL Week 11 LWOSports staff picks.
The Buffalo Bills, New York Giants, Chicago Bears, and San Francisco 49ers are enjoying their bye weeks this week.
Standings
Will: 75-40 (11-3 last week)
Luca: 75-40 (8-6)
Jordan: 74-41 (11-3)
Drew: 73-42 (10-4)
Filip: 73-42 (8-6)
Shane L.: 73-42 (10-4)
Derek: 71-44 (8-6)
Nick: 70-45 (9-5)
Shane C.: 67-48 (8-6)
Danny: 67-48 (9-5)
Shiree: 59-56 (8-6)
Chris: 56-59 (10-4)
NFL Week 11 LWOSports Staff Picks
Will: This Thursday Night matchup will give us more of an idea of who will win the best division in the NFL: the NFC West. The fame I am referring to involves the Arizona Cardinals traveling to Seattle to take on the Seahawks for the second and final time this year. In their first matchup, Kyler Murray and the Cardinals got the best of the Seahawks in a very close game that ended up in overtime win by a score of 37-34. Seattle will look to even the season series up on Thursday Night Football.
For the past two weeks, the Seahawks have not looked remotely close to what they were for the first seven games. Two weeks ago, they dropped a very high-scoring matchup against the Bills.
Russell Wilson
threw for 390 yards, but that's only because Buffalo took an early lead and Seattle was one-dimensional for the majority of the game. In last week's game, Wilson didn't look even close to himself. They lost to divisional rival Los Angeles Rams while Russ had two interceptions while throwing zero touchdowns.
The Seahawks are inching close to desperate mode as they have fallen to the seventh seed in the NFC. If Seattle drops a third game in a row, they will have dropped from a Super Bowl LV contender to a playoff hopeful.
As for Arizona, if it weren't from a miracle, last-second Hail Mary from Kyler Murray, they would also be in danger of dropping a third straight game. However, that miraculous catch by
DeAndre Hopkins
did happen and the Cardinals are now in first place in the division. Just like the Rams and Seahawks, the Cardinals are 6-3. What separates Arizona is that they are the three seed in the NFC. The newly-formed Kyler Murray-DeAndre Hopkins connection has been all the team has asked for and more. Hopkins has continued to prove that he is the best receiver in the NFL and is only getting better. If the Cardinals pull off a win this week, they have a serious shot to have the playoffs go through Arizona.
I believe Arizona will ride off last week's miracle win and carry the momentum into this week. Seattle can simply not be trusted for at least a week for the way they have performed lately, in my eyes. I am rocking with the Cardinals to take this game and sweep the season series against the Seahawks while improving to 7-3. Many pundits are torn though odds seem stacked for the Cardinals. You can check out
Bet365 for best code
return on wagers.
| | | | | | | | | | | |
| --- | --- | --- | --- | --- | --- | --- | --- | --- | --- | --- |
| Drew | Jordan | Filip | Shiree | Shane L. | Shane C. | Nick | Will | Derek | Danny | Chris |
| ARI | ARI | SEA | SEA | SEA | SEA | ARI | ARI | ARI | ARI | SEA |
Drew: Each of these teams is bad. The Bengals got smashed by their divisional rival Steelers. Washington bungled their way to a loss via a late Roughing the Passer penalty which resulted in a monster 59-yard field goal.
The Bengals at least have their franchise quarterback in Joe Burrow. Despite struggling in Week 10, Burrow sits at a 74.7 PFF grade with his 2485 passing yards (ninth in the NFL) and 12 touchdowns. The Bengals do have two of the top-ten-graded rookies in the league in Burrow (seventh) and Tee Higgins (tenth, 74.0). The future is bright, but they have to address the offensive line and defense this offseason. Injuries have plagued the defense and it was evident as the Steelers carved apart their JV secondary.
Washington may be a bit of an organizational dumpster fire, but they have the feel-good story of the year. In this first start since his gruesome injury, Alex Smith threw for 390 yards, completing a nice 69% of his passes. Antonio Gibson and Terry McLaurin are legit weapons, but considering the Team moved off of Dwayne Haskins after only 11 starts, they will likely look to add a top quarterback in the 2021 draft.
While the Washington front seven will absolutely destroy the Bengals offensive line and get to Burrow, I will ride with the Bengals in this one. Getting smashed by a hated rival tends to light a fire under a team. However, head coach Zac Taylor is sitting at 4-20-1 as a head coach. There are four or five winnable games left on the schedule. If the Bengals fail to beat any of the other bad teams on the schedule, don't be surprised if Cincinnati goes in a different direction in 2021.
| | | | | | | | | | | |
| --- | --- | --- | --- | --- | --- | --- | --- | --- | --- | --- |
| Drew | Jordan | Filip | Shiree | Shane L. | Shane C. | Nick | Will | Derek | Danny | Chris |
| CIN | CIN | CIN | CIN | CIN | CIN | CIN | CIN | CIN | WAS | WAS |
Danny: The Browns have quietly turned into a quality football team. Their running game is carrying them with Kareem Hunt and Nick Chubb leading the way. They are playing sound football. The Eagles are a total disaster. Reports about bad practice habits, and a bad loss to the Giants, where the team looked completely unprepared to play. They still lead the NFC East and have a ton to play for. However, they inspire no confidence to pick them the rest of the way.
Browns 27
Eagles 21
| | | | | | | | | | | |
| --- | --- | --- | --- | --- | --- | --- | --- | --- | --- | --- |
| Drew | Jordan | Filip | Shiree | Shane L. | Shane C. | Nick | Will | Derek | Danny | Chris |
| CLE | CLE | CLE | CLE | CLE | PHI | CLE | CLE | CLE | CLE | CLE |
Jordan: What may have looked to be a prolific matchup between two of the best quarterbacks in recent history, has now turned into the return of Jameis Winston vs. a disappointing and underperforming Falcons team.
Drew Brees is now slated to be out for Sunday's matchup after sustaining multiple rib injuries last week. Jameis Winston projects to be the starter, but we're for sure going to see some more Taysom Hill as well. Either way, it's a significant downgrade for the Saints and it will certainly have a big effect on how the NFC ends up laying out. The return of Michael Thomas in recent weeks hasn't given the offense any more spark, but I expected Thomas to really start to carry a good share of this offense with Brees gone. Not to mention, there isn't a better team to get back on track against than the abysmal Falcons defense.
Atlanta is coming off a much-needed bye to try and iron things out within their team. Their playoff hopes have all but faded, but the team still has some very talented players to steal a couple of these last few games. Calvin Ridley looks to be on track to return and it seems that Julio Jones is back to his normal self after a rough and injury-riddled start to the season. There's no question this offense is one of the better ones in the league, but the real question remains on the defensive end. They can't seem to hold a lead against anyone, so it begs the question of whether Jameis Winston is even going to struggle in his first start this season.
Mix the loss of Drew Brees with the Falcons elite scoring ability and I think you'll see Atlanta pull it out. I'll take Atlanta +5 in this one.
| | | | | | | | | | | |
| --- | --- | --- | --- | --- | --- | --- | --- | --- | --- | --- |
| Drew | Jordan | Filip | Shiree | Shane L. | Shane C. | Nick | Will | Derek | Danny | Chris |
| NO | ATL | NO | NO | NO | NO | NO | ATL | NO | NO | ATL |
Shiree: The Lions travel to Carolina to take on an injury-riddled Panthers team now looking towards the offseason. One team is trending upward while the other is trying to keep enough healthy players on the field.
The Panthers have only converted on 41.4 percent of their third downs making them one of the least successful teams. On the other hand, they have converted more than half of their fourth downs and 62.5 percent in the red zone. If they want to win this week, they'll have to find a way to convert more of those third downs which has been the problem every week. Also, getting off the field on third down situations where defense is concerned, has also haunted them. And in terms of the third quarter, the Panthers have one of the worst in the league.
Detroit won one after losing two in a row. They have literally put the pressure on quarterbacks on defense while also doing their job on offense. They scored three touchdowns last week while holding the Football Team to just three points in the first half. Their job will be getting to the quarterback, something teams have been good at with the carrousel of players rotating on the Panthers' offensive line.
If Teddy Bridgewater gets the start this week, this could be a redemption game for them. But if PJ Walker gets the start, there's no telling. I'll go with my gut on this one and give the Panthers the win this week.
| | | | | | | | | | | |
| --- | --- | --- | --- | --- | --- | --- | --- | --- | --- | --- |
| Drew | Jordan | Filip | Shiree | Shane L. | Shane C. | Nick | Will | Derek | Danny | Chris |
| DET | CAR | CAR | CAR | CAR | CAR | CAR | DET | CAR | CAR | CAR |
Nick: Steelers fans will never forget the defeat suffered by the Jaguars in the 2018 playoffs. That's why when the two teams meet this Sunday, the Steelers will not take the Jags lightly again. Even if the Jags are 1-8 and the Steelers are 9-0.
The Steelers' confidence is soaring, especially after
Ben Roethlisberger
was named the AFC offensive player of the week. Roethlisberger threw for 333 yards and four touchdowns against a weak pass defense. The Jaguars give up the third-most passing yards per game, so Roethlisberger could be in for another big week. And as if the rich couldn't get richer,
Mike Tomlin
said nickel cornerback
Mike Hilton
is expected back this week. His replacement
Cameron Sutton
has three turnovers in the last three games and has been phenomenal. This defense will be a nightmare for rookie Jags quarterback
Jake Luton.
For the Jaguars, they'll have to hope for some luck and play their style of football to perfection. One of the biggest surprises of the season has been their running back
James Robinson
. Robinson is fifth in the NFL in rushing and has been the most consistent presence on the team. If Jacksonville wants to win, they'll need to give him 20 touches and try to control the time of possession. Luton needs to play a clean game, his line needs to protect against the blitz, and the defense will need to make some plays as they did against Green Bay last week.
Five of the eight losses by the Jaguars have been by one possession or less. They can keep games close, so if this game is still a one-possession game entering the fourth quarter, it shouldn't be too big of a surprise. But the Steelers are
undefeated
and I predict will be 10-0 entering their Thanksgiving rematch with the Ravens.
| | | | | | | | | | | |
| --- | --- | --- | --- | --- | --- | --- | --- | --- | --- | --- |
| Drew | Jordan | Filip | Shiree | Shane L. | Shane C. | Nick | Will | Derek | Danny | Chris |
| PIT | PIT | PIT | PIT | PIT | PIT | PIT | PIT | PIT | PIT | PIT |
Drew: This past offseason, the Titans and Ravens were the talk of the town. The Ravens went 14-2 and the Titans were an implosion away from Super Bowl LIV appearance. This season? Slight disappointment.
Lamar Jackson is still an electric player, but he has been nothing like his MVP-winning self. He has thrown for 1762 yards and 14 touchdowns with five interceptions. On the ground, which is where he is more dangerous, Jackson is sitting at 524 yards and three touchdowns. Ultimately, teams are forcing Jackson to beat them through the air, where he has struggled.
If it weren't for the number one scoring defense in the league, the Ravens might be in a worse spot. They only allow 18.1 points per game, including three games where they allowed ten or fewer points.
The Titans go as far as Derrick Henry carries them. He's already sitting at 946 rushing yards and eight touchdowns. When you look back, he goes off for 100+ yards one week, is held in check the following week. Last week, Henry went for 103 yards and is up against a Ravens defense that allows 109 yards per game. Considering they gave up 173 yards on the ground in their loss last week, it will be an interesting storyline to follow.
The Titans need a win to keep pace with the division-leading Colts, the Ravens need to win to keep their Wild Card hope intact and hold back Cleveland. Tennesee's defense is weak. I'm looking for Baltimore to win this matchup to get back on track for their massive Thanksgiving Day divisional game.
| | | | | | | | | | | |
| --- | --- | --- | --- | --- | --- | --- | --- | --- | --- | --- |
| Drew | Jordan | Filip | Shiree | Shane L. | Shane C. | Nick | Will | Derek | Danny | Chris |
| BAL | BAL | TEN | BAL | BAL | TEN | TEN | TEN | BAL | TEN | BAL |
Jordan: The Patriots are coming off of one of their biggest regular-season wins in a long time and certainly of the season, while the Texans are coming off of one of their more pitiful games this year.
New England faced a must-win scenario last week against the Ravens and it's safe to say they showed up. Damien Harris ran through the entire Baltimore squad and the once prolific offense of Lamar Jackson and Mark Ingram looked like a shell of itself against the Pats defense. The Patriots now sit at 4-5 looking to crawl their way back into the playoffs, but there is certainly still a lot of work to do. Nonetheless, it was a massive victory and should give them some momentum heading into Houston.
On the flip side, the Texans played a mud bowl last week in Cleveland and it's certainly a game they'd like to forget. A delayed start didn't stop Nick Chubb and Kareem Hunt as they combined for over 250 scrimmage yards and ran all over the Texans defense. Meanwhile, Watson and company looked lost out there, totaling just 163 yards through the air and not looking much better on the ground. The Texans season certainly hasn't panned out how one would've imagined, but it's odd to see a very talented team sit at 2-7 and seem so defeated. I'd expect Deshaun Watson, Will Fuller, and Brandin Cooks to all get back on the same page this week. I'd also expect to see a bit more from Duke Johnson, who seemed underutilized this past week.
Although the Texans will certainly put up a fight, the Patriots are flying high and will continue to do so past this week. The Texans were just trounced by Hunt and Chubb and with Damien Harris looking like a top 10 back in the league, that's not exactly a situation you'd want to be in if you were the Texans. I'll take the Patriots -2.
| | | | | | | | | | | |
| --- | --- | --- | --- | --- | --- | --- | --- | --- | --- | --- |
| Drew | Jordan | Filip | Shiree | Shane L. | Shane C. | Nick | Will | Derek | Danny | Chris |
| NE | NE | NE | NE | NE | NE | NE | NE | NE | NE | NE |
Shane L.: Two teams with opposite records will face off as the 6-3 Miami Dolphins travel to face the 3-6 Denver Broncos. Entering their bye week in Week 7, the Dolphins were 3-3 with Ryan Fitzpatrick under center. They were playing some good ball, but coach Brian Flores thought they could be even better with rookie quarterback Tua Tagovailoa. Since taking over in Week 8, the Dolphins are 3-0 (five gaming winning streak) with their 29-21 win over the Los Angeles Chargers this past week.
Tagovailoa had five touchdowns in his three starts and is playing efficiently enough for the rest of his team to help him out. The defense can be attributed to this winning streak as they are a top-five team in points allowed. Miami is playing a well-rounded brand of football that hasn't been seen in a while.
Their opponent this week has lost their last three out of four games following a 37-12 loss to the Las Vegas Raiders. The defense has given up 30 or more points in each of the last four games. The offense this past week wasn't good. Even though three receivers went for 50 yards or more, quarterback Drew Lock threw four interceptions. The run game was nowhere to be found either as their leading rusher ran for 46 yards.
Given all of the circumstances, the Dolphins should come out with a victory but they definitely can't look past the Broncos on the road in the Mile High City. With Miami's well-rounded game and the Broncos' struggles, the Dolphins should win by at least two touchdowns.
| | | | | | | | | | | |
| --- | --- | --- | --- | --- | --- | --- | --- | --- | --- | --- |
| Drew | Jordan | Filip | Shiree | Shane L. | Shane C. | Nick | Will | Derek | Danny | Chris |
| MIA | MIA | MIA | MIA | MIA | MIA | MIA | MIA | MIA | MIA | MIA |
Filip: Entering into this game, the Jets and Chargers have a combined record of 2-16. Of course, the Chargers record doesn't reflect their true play at 2-7, because they have given up so many comebacks to other teams when they could have easily won. All in all, this game might not seem interesting, but the most entertaining aspect of this game will be Justin Herbert torching the Jets' porous defense.
Herbert, of course, was the sixth quarterback taken in this past year's draft, but he is playing like he should have been the first-overall pick. He's got the vision, athleticism, size, mobility, and accuracy. With that in mind, and him throwing for 19 touchdowns and 2,333 passing yards, he is currently leading the rookie of the year conversation. The talk about him winning the award should continue after this week, especially since he is facing the fifth-worst defense in the league based on yards per game in the Jets. Herbert will be furious that his team hasn't won in a long time. With that, he will showcase his full talent against the Jets.
On the other side of the football, you have the banged-up Chargers defense. Based on rankings, they are just outside the top-ten, but they haven't played up to their preseason standards. They can certainly get back to their top form, and this is the opponent to play against for a bounceback.
The Jets' offense is absolutely horrendous. They rank last in almost every offensive category, except the rushing attack. Whether it's Sam Darnold or Joe Flacco behind center, they just can't make plays and put up points. They did put up 27 points last week, but that was up against a Patriots defense that is just not playing well this season. The Chargers defense is solid, but there are ways you can score points on them, and the Jets should find the endzone at least one time, but they are not scoring over 20.
The biggest positive for the Jets team is probably their run defense which is in the middle of the pack. That doesn't matter in this matchup, as the Chargers are going to be focused on throwing the football with their young star, Justin Herbert. He should have his way with the Jets secondary being awful.
The Jets should score some points, but the Chargers' defense will stop them. On the other side, you have the talented Justin Herbert who will have a field day against the dreadful Jets. The Chargers are the more talented and more complete team here. For those reasons, they should win this game, and quite easily.
Prediction: Chargers win 34-20
| | | | | | | | | | | |
| --- | --- | --- | --- | --- | --- | --- | --- | --- | --- | --- |
| Drew | Jordan | Filip | Shiree | Shane L. | Shane C. | Nick | Will | Derek | Danny | Chris |
| LAC | LAC | LAC | LAC | LAC | LAC | LAC | LAC | LAC | LAC | LAC |
Chris: One of the five games featuring teams with six-plus victories in Week 11, the Green Bay Packers travel to Indianapolis to battle the Colts in America's game of the week on Sunday. Led by veteran quarterback Philip Rivers, the Colts are 4-2 over their last six contests and are firmly in a race for the AFC South title. A transformed unit from a season ago, Matt Eberflus's defense currently ranks 1st in the NFL in yards per game and second in the league in passing yards per game.
Playing in an unexpected nail-biter against the Jacksonville Jaguars in Week 10, the Packers squeaked out a 24-20 victory to remain the number one seed in the loaded NFC playoff race. The fifth career matchup between two quarterbacks bound for the hall of fame, here is what to watch for in this one.    
Expected to have wide receiver Allen Lazard back on Sunday after a core muscle injury landed him on the injured reserve list, the Packers will have both him and star receiver Davante Adams on the field with starting running back Aaron Jones for the first time since Week 3. Remaining red-hot on offense entering the second half of the season, the team ranks top five in points scored, third-down percentage, and average time of drive. Surviving an upset attempt at the hands of the Jaguars last Sunday, Aaron Rodgers found Adams in the end zone late to avoid the loss. Throwing for two touchdowns and rushing for one more in the victory, the team will need Rodgers to be sharp once again in this matchup if they hope to knock off a surging Colts team.
Fresh off an impressive 34-17 victory over their divisional rival Tennessee Titans on Thursday Night Football a week ago, Franch Reich's team is one of the most complete teams in the league. Scoring 21 straight points in the second half, the Colts defense stymied Ryan Tannehill, forcing the veteran signal-caller to throw for just 147 yards in the loss.
Featuring one of the best young offensive lines in football, led by all-pro guard Quenton Nelson, look for this one to come down to the battle in the trenches on Sunday for Indianapolis if they hope to be successful. Averaging just one sack against per game through ten weeks, the group will be faced with one of their toughest tasks yet against a deep Packers defensive front. 
The fifth career matchup between Philip Rivers and Aaron Rodgers, expect this one to be an instant classic. Hindered by bad weather over their past two games, look for a potent Green Bay passing attack to get back on track inside a dome stadium in Indianapolis. While the Colts offense has played their best football over the past few weeks, count on Rodgers and company to make enough plays in this one to squeak out the victory. 
Final Score: Green Bay 26 Indianapolis 21
| | | | | | | | | | | |
| --- | --- | --- | --- | --- | --- | --- | --- | --- | --- | --- |
| Drew | Jordan | Filip | Shiree | Shane L. | Shane C. | Nick | Will | Derek | Danny | Chris |
| GB | GB | IND | GB | GB | GB | GB | GB | GB | IND | GB |
Drew: Last week, the Cowboys were licking their wounds on their bye week after nearly upsetting the undefeated Steelers. The Vikings won a less-than-inspiring divisional game on Monday.
Andy Dalton will be back for Dallas after fighting off COVID-19 and a concussion from a brutal hit. His performance up to that point was……..not great. Despite having three receivers in Amari Cooper, CeeDee Lamb, and Michael Gallup who could be number one receivers elsewhere, plus two good running backs in Ezekiel Elliott, this offense has been anemic. The offensive line has been decimated. To add insult to injury, the defense has been terrible. Trevon Diggs looks like a promising corner and it'll be nice to have a somewhat healthy linebacker corps.
Kirk Cousins has to be screaming "you like that!?!" in the locker room after limping his way to his first-career Monday Night Football win. Make no mistake, that win was less about a good Vikings team and more about a free-falling, bad Bears team. Regardless, there is reason for optimism in Minny. Rookie Justin Jefferson has stepped up and become a true WR1 threat and is the highest-rated rookie thus far. Dalvin Cook is a legitimate MVP candidate.
The Cowboys give up an average of 110 rushing yards per game. Minnesota gains an average of 153 yards per game on the ground. Cook is going to eat and this game will not be close. The Vikings are favored by 7.5 points at home. I'll take the points and run as Minny gets to .500.
| | | | | | | | | | | |
| --- | --- | --- | --- | --- | --- | --- | --- | --- | --- | --- |
| Drew | Jordan | Filip | Shiree | Shane L. | Shane C. | Nick | Will | Derek | Danny | Chris |
| MIN | MIN | MIN | MIN | MIN | MIN | MIN | MIN | MIN | MIN | MIN |
Derek: The Kansas City Chiefs travel to Las Vegas for a Sunday night matchup with the Raiders. Las Vegas won their first meeting this season in an upset that has become less of an upset with each passing week. Derek Carr has been playing great football this season and has only thrown two interceptions this season. Ironically, the only starting quarterback with fewer interceptions than Carr is Patrick Mahomes.
Mahomes has thrown just one interception this season and it was against the Raiders. Mahomes has been playing at his normal elite level this season and is in consideration for the MVP award. The Raiders will need to repeat their performance from Week 5 to have a chance in this one. Las Vegas will need to win the turnover battle and avoid mistakes to keep the Chiefs from winning this one.
The Chiefs' offense of Mahomes, Tyreek Hill, Clyde Edwards-Helaire, and Travis Kelce will have to play big to ensure that Kansas City can defeat the Raiders.
For Las Vegas, Derek Carr will need to continue his great play and avoid fumbling the ball. The offensive line will need to be better for Carr as well and the weapons on the Raiders' offense will need to step up. It is difficult to beat the Chiefs with Mahomes at quarterback. It will be even more difficult to defeat them twice.
Overall, I see Kansas City winning this game and correcting their only mistake of the 2020-21 NFL season.
| | | | | | | | | | | |
| --- | --- | --- | --- | --- | --- | --- | --- | --- | --- | --- |
| Drew | Jordan | Filip | Shiree | Shane L. | Shane C. | Nick | Will | Derek | Danny | Chris |
| KC | KC | KC | KC | KC | KC | KC | KC | KC | KC | KC |
Shane C.: Both teams sit in a tie for the lead in their respective divisions. And, both teams are among the NFL's top-rated defenses. At first glance, one might envision a high scoring affair for this Monday night tilt. However, I wouldn't be too quick to bet the over on this one.
The Los Angeles Rams currently in a three-way tie at the top of the NFC West. If it weren't for Aaron Donald and the rest of the Rams defense, this could easily be a different story. The offense has been struggling to generate points as of late. They've averaged just 20 points over their last four games and the task for head coach Sean McVay and company doesn't get any easier.
If there is one area of the field that the Rams offense can exploit the Bucs defense, it will be in the passing game. Although, the Buccaneers blitz and put pressure on the quarterback at the second-highest rate in the league the cornerbacks can be passed on. Look for Jared Goff to get the ball out of his hands quickly utilizing the short passing game to Cooper Kupp and tight ends Gerald Everett and Tyler Higbee. Additionally, the Bucs pressure comes at a price. They are the bottom ten in the league in giving up yards after the catch. Keep that in mind building your showdown line-ups. 
Death, taxes, and Tom Brady revenge games. Last week's dismantling of the Carolina Panthers came as no surprise after the beat down in Week 9 to the New Orleans Saints. However, they're running up against one of the best all-around defenses in the NFL. Teams are attacking the Rams in a similar style to that of the Buccaneers defense. Brady will have to get rid of the ball quickly to avoid Aaron Donald and company. Although the Rams don't generate pressure at a high rate, they are adept at sacking the quarterback. I foresee a big Antonio Brown game with Brady utilizing him on the hot routes, while Chris Godwin and Mike Evans draw Jalen Ramsey and Troy Hill on the outside. 
I don't have much faith in either running game and I think points will be tough to come by. The Buccanneers have more talent and Goff has proven that he can be forced into errors. The over/under is currently 48.5 with the Buccaneers a four-point home favorite. 
I like the Buccaneers in this one 24-17 over the Rams
| | | | | | | | | | | |
| --- | --- | --- | --- | --- | --- | --- | --- | --- | --- | --- |
| Drew | Jordan | Filip | Shiree | Shane L. | Shane C. | Nick | Will | Derek | Danny | Chris |
| TB | TB | TB | TB | LAR | TB | LAR | TB | TB | LAR | LAR |
Main Photo:
Embed from Getty Images