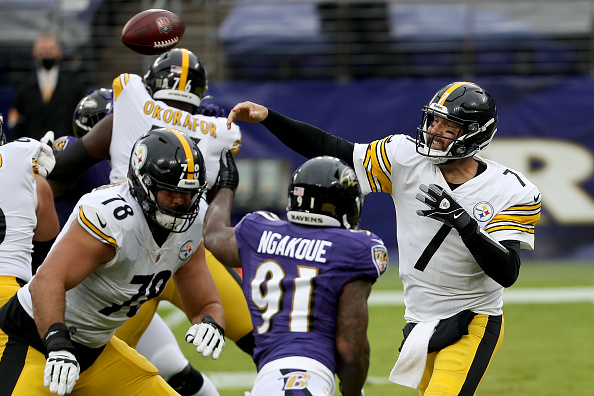 Ranking the most complete, not necessarily the best, teams in the NFL is a tall order, especially when only ten weeks have passed. Understanding the discrepancy between a good team and a complete team in the NFL is important. For example, the Seattle Seahawks are not on this list. While they would be top-five in most power rankings due to their offense, they lack depth and ability on defense compared to the below teams. The rankings are based on the completeness of the teams, (hence the name), not ranking teams based on who could beat who. 
Top Five Overall Most Complete NFL Teams
Why: They are 9-0. While they haven't always looked the part of undefeated, they still have a zero in the loss column. They have a great head coach in Mike Tomlin They have a great defense, and talent everywhere on offense. Oh, they also have future Hall-of-Famer quarterback Ben Roethlisberger back. They get the top spot for most complete of all NFL teams, but barely.
Strengths: Their defensive front four. It's not a big stretch to say that the Steelers' front four is the best position group in the NFL. Additionally, "Big Ben" is playing at a high level when he needs to and otherwise distributes the ball to extremely talented wider receivers. They don't have a clear hole anywhere on their roster.
Weaknesses: With the prior statement being said, they clearly have suffered from the loss of Devin Bush to a torn ACL. Their run defense has struggled, giving up 265 and 162 yards to the Baltimore Ravens and Dallas Cowboys respectively.  However, this trend is only two weeks long, and they came after very physical games from the Tennessee Titans. Those games were back to back.
Why: They have the best offense in the NFL. They have a talented special teams group. Their defense can make plays. They have Patrick Mahomes, who is quietly having another great year. Andy Reid is still coaching at a high level. They still look like the Super Bowl LIV champs.
Strengths: Offense. Offense. Offense. But seriously, their offense can't be stopped. Their special teams have a lot of talent and can always break one for a score. Holding up the rear, their defense, led by Chris Jones and Tyrann Mathieu has playmakers. But again, mostly because their offense looks as good as ever.
Weaknesses: Their offensive line. They lost Kelechi Osemele to a season-ending injury.  Presumed starter Laurent Duvernay-Tardif and rookie Lucas Niang opted out. They struggle for a good reason. But it hurts them in the run game. It also does not match up well with fronts like the ones the Baltimore Ravens and the Pittsburgh Steelers have.
Why: They beat the supposed best team in the NFC twice now. The second one was a 38-3 blowout. While they have had their share of struggles, Michael Thomas returning bodes well. Alvin Kamara is a top-three running back. And their defense has talent everywhere.
Strengths: Offensive line. Probably the best in the NFL. With Michael Thomas returning, the offense should be a strength but is held back by Drew Brees and his age. Their defense has loads of talent with Demario Davis and Cameron Jordan leading the charge.
Weaknesses: Quarterback. Brees cannot throw a deep pass to save his life. They clearly struggled on offense without Michael Thomas as an easy outlet for Brees. And their defense, while brimming with talent, does not always put it together. Plus, Sean Payton is not as good as Mike Tomlin and Andy Reid.
Why: They have talent and possibly more of it than any other team in the NFL. They have a great defense. Their offense seems to be the one struggling, which is concerning considering that talent. It might have to do with Tom Brady who often looks every bit of 43 in games. Or, because they have a good, not great, head coach in Bruce Arians.
Strengths: Their secondary is possibly the second-best in the league behind only the Baltimore Ravens. They don't allow teams to rush on them. They lead the league in turnovers. And if you want wider receiver talent…well, they have it with three number one wide receivers. Three! Not a typo.
Weaknesses: The offense can get stumped at times in games. While Antonio Brown is arguably the best wide receiver of the last decade, he is also a headache. Not helping that cause, Bruce Arians is not a top-five or even a top-ten head coach in the league. That is their biggest weakness, by far.
5: Baltimore Ravens
Why: Great secondary followed up with a talented front four. Great head coach. Talent on offense. That's the recipe for a top-five team in the NFL. The offense has struggled at points with Lamar trying to pass. They have players on offense who can make "wow" plays every week, but the passing game is suspect. Week 9 was Lamar Jackson's first come-from-behind win in his career. Against the Indianapolis Colts.
Strengths: They have the best secondary in the league. Lamar Jackson and the running game have shown little signs of regressing. Rookie Patrick Queen has made splash plays. They have great special teams, led by Justin Tucker, the best kicker in NFL history. And John Harbaugh is a great head coach.
Weaknesses: Passing game. They have not proven that they can pivot to attacking through the air to come from behind and win a game. Yes, they did it in Week 9, but it was a ten-point deficit to the Indianapolis Colts. Lamar Jackson must prove that he can make teams pay, not just on the ground, but through the air as well.
Main Photo:
Embed from Getty Images