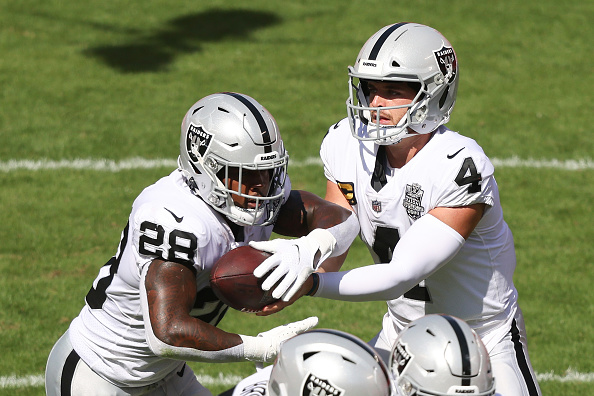 After five weeks, two coaches have been fired, rookies are beginning to show why they were drafted so high, and Super Bowl LV contenders are separating themselves from the field. "Any given Sunday" was on full display as a couple of teams suffered surprise losses. The LWOSports staff agreed on five different matchups last week and fared well, going 4-1. As for NFL Week 6, a bit more parity reigns.
Note: Due to the NFL re-working its schedule to accommodate the Titans' positive tests, the Thursday Night Football game between the Bills and Cheifs was moved to Monday Night. The Los Angeles Chargers, Las Vegas Raiders, New Orleans Saints, and Seattle Seahawks are on their Bye weeks.
Standings
Shane L.: 29-16 (9-5 last week)
Danny: 29-16 (10-4)
Luca: 29-16 (12-2)
Nick: 28-17 (9-5)
Will: 28-17 (9-5)
Derek: 28-17 (8-6)
Drew: 27-18 (9-5)
Jordan: 27-18 (10-4)
Filip: 27-18 (9-5)
Shiree: 24-21 (9-5)
Shane C.: 24-21 (9-5)
Chris: 9-5 (9-5)
NFL Week 6 LWOSports Staff Picks
Drew: It was only a matter of time, but Joe Burrow finally looked like a rookie against the division-rival Ravens. Unfortunately for him, his offensive line is about as competent as a bored bouncer at a cheap club. They allowed Burrow to hit the deck 15 times, seven of which were sacks. A.J. Green just isn't what he used to be and there may be some controversy brewing. The defense actually played well for the final three quarters. In total, they held the Ravens' MVP quarterback to 180 yards passing and three rushing yards (Burrow actually put up more). Rookie linebackers Logan Wilson and Akeem Davis-Gaither look like they are going to be good in the Nasty Nati.
The Colts come into this game with an elite defense and an enigmatic offense. Philip Rivers looked pretty bad in Week 5 which has called into question his position as a starter. Jonathan Taylor is a stud and will likely eat against the Bengals defense which allows 150+ yards per game on the ground, especially considering the fact D.J. Reader and Sam Hubbard are injured. Speaking of injuries, Indy will be without their monster linebacker, Darius Leonard.
The current money line has the Colts favored by 7.5 points at home. I think the Bengals can cover, but Indy should get the win and get back on track. That defense will dial up some pressure and Burrow can only do so much. It'll take a monster game out of Tee Higgins, Tyler Boyd, or Joe Mixon for Cincinnati to prevail.
| | | | | | | | | | | | |
| --- | --- | --- | --- | --- | --- | --- | --- | --- | --- | --- | --- |
| Drew | Jordan | Filip | Shiree | Shane L. | Shane C. | Nick | Will | Derek | Danny | Luca | Chris |
| IND | CIN | IND | IND | IND | IND | IND | IND | IND | IND | IND | IND |
Luca: This week I will take the Tennessee Titans over the Houston Texans.
The Titans rank 16th in total offense behind the legs of
Derrick Henry
and the arm of
Ryan Tannehill
. The running game has remained their strong suit that carried over from last year. The running game ranks ninth in the NFL, averaging 131.5 yards per game. Merely average, the Titans' passing game ranks 17th in the NFL averaging 245 passing yards per game.
The Texans' offensive strong suit is their passing game behind the strong arm of
Deshaun Watson
. The passing offense ranks ninth in the NFL, averaging 274.6 yards per game. Despite having an average receiving core and terrible offensive line, Watson remains a top-five QB in the league. The same can't be said for the running game. The Texans' rushing offense ranks 30th in NFL, averaging a minuscule 84.6 yards per game.
In total defense, the Texans rank better, ranking 22nd to the Titans' 29th. However, Houston will not be able to stop the strength of the Titans' offense: Derrick Henry and the rushing game. The Texans rank 31st in stopping the run league-wide. However, the passing defense ranks 8th in the NFL. At least the Texans can try to stop Tannehill, right?
The Titans rank 29th in total defense. Stopping the run is their weakness on defense, allowing 148.3 rushing yards per game. Luckily for Tennessee, that's not the Texans' offensive strength. Houston's rushing offense is one of the worst in the NFL. The Tennessee Titans rank 23rd in passing defense. They allow 261 passing yards per game.
Arguably, the Titans would be able to stifle the Texans' offensive strength rather than role reversal.
| | | | | | | | | | | | |
| --- | --- | --- | --- | --- | --- | --- | --- | --- | --- | --- | --- |
| Drew | Jordan | Filip | Shiree | Shane L. | Shane C. | Nick | Will | Derek | Danny | Luca | Chris |
| TEN | TEN | TEN | HOU | TEN | HOU | TEN | TEN | TEN | HOU | TEN | TEN |
Filip: The miserable Atlanta Falcons (0-5) visit the disappointing Minnesota Vikings (1-4). In the preseason, this game would have been considered one of the games of the week, but it has not turned out like that at all. Both teams have a combined one win, which translates into both teams being desperate to get the win in this matchup. That desperation might make this game entertaining to watch.
Let's start with the visitors, the Atlanta Falcons. Unfortunately for the Falcons, it looks like the rebuild process is starting to happen. They have started to clean house, by firing coach Dan Quinn, and general manager Thomas Dimitroff. What led to this was many poor performances, but the final straw was the loss against the Panthers.
The only player who showed up in that game for the Falcons was Todd Gurley, who had 121 rushing yards and a rushing touchdown. Now, this is surprising because besides this game, Gurley hasn't been playing well. Still, this offense has been good through the year with Matt Ryan passing for 1,472 yards so far with wide receiver Calvin Ridley hauling in 485 yards.
Again, the problem in the last game, and the problem that has been consistent throughout the years, was the Falcons defense. They gave up 437 yards to the Panthers, and they are a bottom-five defense. With those numbers in mind, a solid Minnesota Vikings offense should put up points.
Speaking of the Vikings, they have picked it up after the first couple of weeks. They did lose to Seattle last week, but it was still a great effort, and it was actually a last-minute, heartbreaking loss. A huge positive from the game was the defense was better, plus the offense continued to impress.
Now Kirk Cousins hasn't been great throughout the season. But, when the Vikings can run the football effectively, Cousins can be put into play-action scenarios where he excels. Speaking of running the football, Vikings running back Dalvin Cook is questionable for the game. It's a big loss because he has been their top performer and has been one of the best running backs in the league. Fortunately for the Vikings, they have a fantastic backup in Alexander Mattison who had 112 rushing yards against the Seahawks.
Lastly, the Vikings defense has stepped up recently. They were horrendous in the first couple of weeks, but last week they showed up. They only allowed the Seahawks to score 27 points, which is very good compared to how good the Seahawks are. Their secondary is still a little bit shaky, but they have been bringing great amounts of pressure which will help them limit the Falcons in this game.
To summarize, as I stated before it is a matchup of two teams desperate for a win. The Falcons have the edge on offense, but the Vikings have the edge on defense. All in all, even though the Falcons will put up over 20 points, the Vikings will be able to stop them. While on offense, the Vikings will effectively run the football which will lead to key passing plays against a poor secondary.
Prediction: 31-24 Vikings Win
| | | | | | | | | | | | |
| --- | --- | --- | --- | --- | --- | --- | --- | --- | --- | --- | --- |
| Drew | Jordan | Filip | Shiree | Shane L. | Shane C. | Nick | Will | Derek | Danny | Luca | Chris |
| MIN | MIN | MIN | MIN | MIN | MIN | ATL | MIN | MIN | MIN | MIN | MIN |
Shiree: I had originally picked the Broncos to win the game when it was to be played in the absence of Cam Newton. He just brings another level to the Patriots' offense that can't normally be stopped. I only worry about what their defense will do and how they plan to stop Denver's offense. They could take a cue from a few teams' playbooks on just how to do it. Denver is ranked 29th in total offense which poses no threat to New England.
With Newton back at the helm, look for him to pick right back up where he left off. Not getting to play Patrick Mahomes on Oct 5 will play a major role in how he deals with the game this Sunday. The Patriots win this one.
| | | | | | | | | | | | |
| --- | --- | --- | --- | --- | --- | --- | --- | --- | --- | --- | --- |
| Drew | Jordan | Filip | Shiree | Shane L. | Shane C. | Nick | Will | Derek | Danny | Luca | Chris |
| NE | NE | NE | NE | NE | NE | NE | NE | NE | NE | NE | NE |
Jordan: Wow. What a matchup we have here. Two teams scrapping at the bottom of the standings. On one hand, we have the Football Team. Ever since their week one victory against the Eagles, Washington has looked very poor especially on the defensive side of the ball. They've now allowed 30+ points in four straight games and gotten toasted through the air. Not to mention, their quarterback situation couldn't get much worse, with Dwayne Haskins reportedly on the trade block and Kyle Allen nursing an injury. There are certainly some bright spots on this young squad, headlined by running back Antonio Gibson and wide receiver Terry McLaurin, but there is still so much work to be done on this team, even in the abysmal NFC East.
The Giants, on the other hand, have yet to even grab a victory this season. Following the injury of Saquon Barkley, the Giants have been in an absolute tailspin. Daniel Jones looks more like an undrafted rookie rather than a second-year first-round pick. Their defense is just as bad as their offense and there is very little hope for the Giants to gain any traction at any point in the season.
Coming off of a devastating loss against the Cowboys, the Giants have very little hope against any team in the league. The Football Team has at least sniffed a win this year, but it doesn't take away the fact that this matchup isn't must-see T.V.  However if there was ever a game the Giants were going to win, it's this one. I think, with back-up Kyle Allen, the Football team is going to struggle immensely. This won't be a pretty victory, but the Giants will be in the win column after this week. I'll take the Giants -3.5.
| | | | | | | | | | | | |
| --- | --- | --- | --- | --- | --- | --- | --- | --- | --- | --- | --- |
| Drew | Jordan | Filip | Shiree | Shane L. | Shane C. | Nick | Will | Derek | Danny | Luca | Chris |
| WAS | NYG | NYG | WAS | WAS | WAS | WAS | NYG | NYG | WAS | NYG | WAS |
Danny: The Eagles showed signs of life last week. The offense put up 29 points and looked explosive and capable of hanging with good teams. However, the defense got destroyed by a good Steelers aerial attack. Darius Slay is the only bright side in the secondary right now. They might have found an opponent that suits their flaws though. The Ravens air attack isn't something to fear yet. Containing Lamar Jackson and the run game is the key to victory. The only two weapons they have are Marquise "Hollywood" Brown and Mark Andrews. The Eagles should be able to hang in this one, but the putrid linebacker core will cost them another game.
Ravens 27
Eagles 24
| | | | | | | | | | | | |
| --- | --- | --- | --- | --- | --- | --- | --- | --- | --- | --- | --- |
| Drew | Jordan | Filip | Shiree | Shane L. | Shane C. | Nick | Will | Derek | Danny | Luca | Chris |
| BAL | BAL | BAL | BAL | BAL | BAL | BAL | BAL | BAL | BAL | BAL | BAL |
Nick: The AFC North picture will look different after the Browns and Steelers meet this week. And the Browns want to win in Pittsburgh for the first time since 2003. To do that, Kareem Hunt and Baker Mayfield will need to produce big time. Hunt is averaging five yards a carry but has his work cut out for him against a team only giving up 64 yards a game on the ground. Mayfield will need to rely on Jarvis Landry in the slot and will have to scramble plenty. The Steelers secondary is still strong but is middle of the road in passing defense.
The Steelers will use their elite pass rush to make Mayfield's life miserable and bottle up Hunt.
T.J. Watt
has 4.5 sacks in four games and averages 1.5 per game in six meetings versus the Browns. On offense, we'll see if
Chase Claypool
is able to build off his historic four-touchdown game.
Ben Roethlisberger
has been everything the Steelers have asked of him so far. Which is good because he may need to throw more Sunday than he has so far. The Browns are the fourth-best run defense, and
Myles Garrett
has played like the DPOY so far with six sacks.
Although the Browns are a rising team, I don't expect them to beat the Steelers this week. The NFL doesn't have a lot of great defenses right now, but the Steelers are arguably at the top of the list. Roethlisberger is getting the ball out quicker than ever, and he has receivers who can make plays. Cleveland can keep it close, but the Steelers will find a way to do what they do best: win football games.
| | | | | | | | | | | | |
| --- | --- | --- | --- | --- | --- | --- | --- | --- | --- | --- | --- |
| Drew | Jordan | Filip | Shiree | Shane L. | Shane C. | Nick | Will | Derek | Danny | Luca | Chris |
| CLE | PIT | PIT | CLE | PIT | PIT | PIT | CLE | PIT | CLE | PIT | PIT |
Shiree: The Bears are coming to the Carolinas to take on the Panthers and while the Panthers have been the favorite, there are a ton of things to consider if they want to close this game out.
Carolina did so many things right in their win against the Atlanta Falcons last week, but that was also a pretty defeated Falcons team. Still, the offensive line allowed no sacks, and the team only had six penalties.
Teddy "Two Gloves" Bridgewater
had another solid game of 313 yards and two touchdowns. Defense is going to have to lock down against the Bears' offense that features
Jimmy Graham
.
The Bears aren't 4-1 for no reason. When you have weapons like
Khalil Mack
and Graham, it's easy to be intimidated by the names alone. And with the type of young defense the Panthers have, it's going to be easy to take advantage of the
Jeremy Chinn
's of their secondary.
Nick Foles
is 2-1 as the Bears' starter including a win against
Tom Brady
and the Tampa Bay Buccaneers. Their defense will be key in this week's victory. They might prove to ultimately be too much for the Panthers and ultimately get the win this week.
| | | | | | | | | | | | |
| --- | --- | --- | --- | --- | --- | --- | --- | --- | --- | --- | --- |
| Drew | Jordan | Filip | Shiree | Shane L. | Shane C. | Nick | Will | Derek | Danny | Luca | Chris |
| CHI | CHI | CHI | CHI | CAR | CAR | CAR | CAR | CHI | CAR | CAR | CHI |
Shane L.: Week 6 is shaping up to be one of the best weeks for matchups. Unfortunately, the game between the 1-4 Jacksonville Jaguars and the 1-3 Detroit Lions doesn't seem that interesting on paper but anything can happen. Detroit is coming off of a bye week and the Jaguars ran into a desperate Texans team.
Before the bye week for the Lions, they faced the Saints in what was sure to be a crushing defeat for Detroit. It wasn't the case, at least in the beginning. The Lions got out to a quick 14-0 lead but that didn't last. The Saints scored 35 unanswered points and it was 35-14 in the third quarter. Despite an attempted comeback, the Lions fell short 35-29 in a closer game than we thought. The good news was that wide receiver Kenny Golladay returned for this game and put up 62 yards and a touchdown. Matthew Stafford now had his number one receiver back as they try to get this offense on track.
On the other side, the Jaguars look to get on the right foot. After an opening day win, they've lost four straight. The offense has been up and down, even with good play from quarterback Gardner Minshew. Despite throwing for 301 yards and two touchdowns, the desperate Texans pulled away in the fourth quarter to win 30-14. The defense has failed the Jaguars time and time again as they have given up 30 or more in their last four games. For both teams, a win is needed to gain at least a little hope for the rest of the season. This game could truly go either way with two struggling defenses and two inconsistent offenses.
| | | | | | | | | | | | |
| --- | --- | --- | --- | --- | --- | --- | --- | --- | --- | --- | --- |
| Drew | Jordan | Filip | Shiree | Shane L. | Shane C. | Nick | Will | Derek | Danny | Luca | Chris |
| JAX | DET | DET | DET | DET | JAX | JAX | JAX | JAX | JAX | JAX | DET |
Will: In one of only two late games this week, the New York Jets face go up against their division foe in the Miami Dolphins. Well, at least the other late game is Rodgers-Brady III, cause this one is a stinker.
Both teams come in below .500 and the quarterback matchup we hoped to see at the beginning of the season is nowhere to be found. I am referring to the fact that
Sam Darnold
will miss his second straight week and the Dolphins are not yet ready to start their rookie stud
Tua Tagovailoa
. Instead, New York will send out
Joe "Elite" Flacco
and Miami will send out everyone's favorite veteran,
Ryan Fitzpatrick
.
With the way the Jets have looked in pretty much every game this season, I could very well see this team go 0-16. They look historically bad. This week won't be much different as the Dolphins are coming off a blowout win on the road over the 49ers. I'm riding their momentum and taking the Dolphins to win 31-16.
| | | | | | | | | | | | |
| --- | --- | --- | --- | --- | --- | --- | --- | --- | --- | --- | --- |
| Drew | Jordan | Filip | Shiree | Shane L. | Shane C. | Nick | Will | Derek | Danny | Luca | Chris |
| MIA | MIA | MIA | MIA | MIA | MIA | MIA | MIA | MIA | MIA | MIA | MIA |
Chris
: In what is projected to be one of the final battles between two future hall of fame quarterbacks in
Tom Brady
and
Aaron Rodgers
, the Green Bay Packers travel to Tampa Bay to battle the Buccaneers this Sunday. A matchup between two of the top units league-wide, the Packers enter the contest averaging 38 points per game on offense through the first five weeks of the season while the Bucs head in as the second-best defense in the NFL.
After a hot start to the season winning their first four games, Matt Lafleur's team will look to keep pace with the Seattle Seahawks as they battle for the all-important number one seed in the NFC. Likewise, the Buccaneers head into the matchup with a different mindset after a shocking loss to the Bears on Thursday night, putting them at 3-2 and right in the hunt in the ultra-competitive NFC South.
After injuries to both star defensive tackle Kenny Clark and star wide receiver Davante Adams, expect both of them to return this Sunday for Green Bay. In tough against a Tampa defense ranked first against the rush and ninth against the pass, Aaron Rodgers and the Packers offense will need to once again be at their best if they hope to knock off the Buccaneers and remain unbeaten.
One matchup to watch in this one will be the battle between tight end Robert Tonyan Jr and the Tampa Bay linebacking core/secondary. With over 253 yards and two touchdowns given up to opposing tight ends this season, Todd Bowles' unit has struggled at times. With five touchdown grabs through five weeks and fresh off a three-touchdown day against the Atlanta Falcons last Monday Night, Tonyan will be a major key to a Green Bay victory. On the flip side of the ball, the Packers defense heads into the game banged up with starting cornerbacks Jaire Alexander and Kevin King, along with linebacker Rashan Gary are all questionable with various injuries. Needing a full healthy secondary against the wide receiver tandem of Chris Godwin and Mike Evans, if Alexander and King are unable to go, it could be a long day for Mike Pettine's group. 
For the Buccaneers, after a hard-fought loss in a battle with the Bears last Thursday night, Monday's practice brought a welcoming sight for the team as both Godwin and Evans, along with running backs LeSean McCoy and Leonard Fournette, were all able to practice. Holding a decided advantage against a 19th-ranked Green Bay pass defense, if they are able to all be a full go on Sunday, Brady and company could be in for a big day.
On the defensive side, the team will once again lean on their defense to slow down Aaron Rodgers. Ranked inside the top ten in every major defensive category to begin the season, they will have their hands full with the Packers. One matchup to watch in this one for the Buccaneers is the battle between Green Bay's offensive line and their defensive line. Ranked number one in pass blocking win rate to start the season, the Packers line has been dominant through six games. However, Tampa Bay will present the challenge of the season in protecting Rodgers as their defensive line group is ranked number one in pass-rushing win rate. A critical factor in deciding the outcome on Sunday, if either team is able to dominate in the trenches, look for them to come out on top.  
In a battle between two of the all-time greats, this game should be an instant classic. A whole different scenario with Brady on the Buccaneers, it has been Rodgers with the advantage early on with his MVP caliber campaign. A battle that I expect to come right down to the wire, this one could easily come down to the game's last possession, with each offense expected to put up points. Unbeaten at home this season and with fans expected to be inside the stadium for the first time, Tampa Bay should have the inside track to winning this ball game. Nonetheless, with Rodgers and Matt Lafleur beginning to click in their second season together, and with the Packers offense clicking the way it has, I think they pull out the win on Sunday to remain among the unbeaten.
Final Score: Green Bay 35 Tampa Bay 27
| | | | | | | | | | | | |
| --- | --- | --- | --- | --- | --- | --- | --- | --- | --- | --- | --- |
| Drew | Jordan | Filip | Shiree | Shane L. | Shane C. | Nick | Will | Derek | Danny | Luca | Chris |
| GB | GB | GB | GB | GB | GB | GB | GB | GB | TB | GB | GB |
Jordan: A Sunday Night Football game that had some promise before the season, is now looking like a mediocre primetime game. However, it seems as if the script is flipped.
The 49ers were coming off of a fantastic season coming within one win of the super bowl. They sit at 2-3 coming off of a horrible display against the Miami Dolphins. Probably the biggest storyline coming out of this game is how bad QB Jimmy Garoppolo looked. Aired throws, bad reads, poor judgment. You name it, Jimmy G displayed it. It's looking very bad for the 49ers, and the fact that their franchise quarterback looked so bad last week certainly doesn't help boost any confidence in the 49ers fanbase.
The Rams have surprised many. Jared Goff has led this team to a 4-1 start and have looked like their 2018 self so far. Their lone loss came against the Buffalo Bills, and even that game was within grasp. Although their backfield is extremely crowded, their run game has absolutely been serviceable enough to give them some diversity on offense. Their defense led by Jalen Ramsey and Aaron Donald has looked great so far this year and they've been able to keep the Rams in every single game so far. The Rams need to be recognized as one of the top teams in the league.
This could certainly be a very competitive game if both teams show up with their best effort. However, if the 49ers come out flat like they did just last week, it'll be light work for a Rams offense that has numerous weapons all over the field. If anything is going to keep the 49ers in the game, it'll be their defense. But after allowing 43 points to a mediocre Dolphins offense, my confidence in them is at an all-time low. I'll take the Rams -3.5 and it won't be particularly close.
| | | | | | | | | | | | |
| --- | --- | --- | --- | --- | --- | --- | --- | --- | --- | --- | --- |
| Drew | Jordan | Filip | Shiree | Shane L. | Shane C. | Nick | Will | Derek | Danny | Luca | Chris |
| LAR | LAR | LAR | LAR | LAR | LAR | LAR | LAR | LAR | LAR | SF | LAR |
Derek: This week, the Buffalo Bills face the defending super bowl champion Kansas City Chiefs. Both teams are coming off of their first loss of the season. Both Josh Allen and Patrick Mahomes are playing incredible football this season and have combined for 3,063 passing yards and 32 total touchdowns through five weeks. This game, originally scheduled for Thursday night, is now being played on Monday night. This change in schedule will most likely have some impact on this game. For Buffalo, they lost to the Tennessee Titans on Tuesday following a long saga of schedule changes and delays. This has now impacted their game against Kansas City and it will be interesting to see how Buffalo responds to their loss against a tough opponent like the Chiefs.
For Kansas City, their loss to Las Vegas is surprising as their defense looked weak against Derek Carr and the Raiders' offense. This could be beneficial for Buffalo if the Chiefs' defense comes out like that in the NFL Week 6. However, the Bills' defense looked even worse with a lack of pass rush that allowed Ryan Tannehill to dissect them. Patrick Mahomes should have an even better time against this defense if they continue to give no resistance to the opposing quarterback. Overall, I believe the Chiefs will win this game as Buffalo continues to deal with injuries and issues on their defense.
| | | | | | | | | | | | |
| --- | --- | --- | --- | --- | --- | --- | --- | --- | --- | --- | --- |
| Drew | Jordan | Filip | Shiree | Shane L. | Shane C. | Nick | Will | Derek | Danny | Luca | Chris |
| KC | KC | KC | BUF | KC | KC | BUF | KC | KC | KC | KC | KC |
Shane C.: This should be a fun one in Jerry's World. The Cowboys defense is a wreck and the secondary is among the worst in the league. Kyler Murray will have his way with the Dallas defense and DeAndre Hopkins will run free in the secondary. I expect big things from both Murray and Hopkins. However, the Dallas run defense is slightly better. Kenyan Drake seems to be a non-factor to this point and Chase Edmonds has asserted himself as the more electric option. 
The Cowboys want to lean on Ezekiel Elliott and they should. However, their porous defense hasn't allowed them. And, this week will be no different. While Andy Dalton looked good leading the Cowboys to a last-second win over the New York Giants make no mistake, he is not nearly the caliber of Dak Prescott. Will this game be the resurrection of Dalton's career? I'm betting against it. 
If Dak were running the show I would consider the Cowboys. But I like Kyler Murray and the Cardinals to put on a show Monday night.
Cardinals 38 Cowboys 27
| | | | | | | | | | | | |
| --- | --- | --- | --- | --- | --- | --- | --- | --- | --- | --- | --- |
| Drew | Jordan | Filip | Shiree | Shane L. | Shane C. | Nick | Will | Derek | Danny | Luca | Chris |
| ARI | ARI | ARI | DAL | ARI | ARI | ARI | ARI | ARI | DAL | ARI | ARI |
Main Photo:
Embed from Getty Images