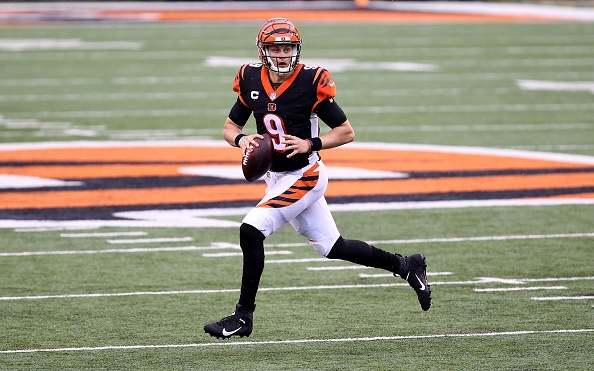 It was only a matter of time before the pandemic found its way into the NFL. Thankfully, only one game was pushed back further in the season and another just pushed back a day. Overall, the LWOS writers fared better. However, we all whiffed on the Cowboys-Browns. In the NFL Week 5, we do not have nearly as many marquee matchups, but we do have a game between a pair of surprising undefeated teams.
This week, the Green Bay Packers and Detroit Lions are on their byes.
Current Standings
Shane L. (20-11)(10-5 last week)
Derek (20-11)(10-5)
Nick (19-12)(11-4)
Will (19-12)(9-6)
Danny (19-12)(9-6)
Drew (18-13)(11-4)
Filip (18-13)(10-5)
Jordan (17-14)(9-6)
Luca (17-14)(8-7)
Shiree (15-16)(9-6)
Shane C. (15-16)(7-8)
NFL Week 5 LWOSports Staff Picks
Jordan: Quite an interesting matchup to start Week 5 off. The Bears are coming off of a tough loss against the Colts last week, and are looking to further develop under quarterback Nick Foles. On the flip side, Tom Brady and the Bucs look to be firing on all cylinders and we're only a month into the season.
The Bears have certainly started off on the right foot, even with their loss last week. Foles was swallowed up by the Colts defense last week, but I don't expect that to continue. Foles looked great just two weeks ago in their comeback against Atlanta, and I expect more of the same this week. The Bucs will be without star receiver Chris Godwin this week and with Mike Evans still nursing an ankle injury, it's feasible that both may be sidelined. Either way, Tom Brady will have limited options surrounding him and this Bears defense although not up to par with two years ago, can still cause trouble.
It may come as a surprise but I'm taking the Bears in this matchup. I think Nick Foles finds his groove and Tom Brady struggles with his lack of weapons. The Bears are for real, and I think people need to start taking them more seriously.
| | | | | | | | | | | | |
| --- | --- | --- | --- | --- | --- | --- | --- | --- | --- | --- | --- |
| Drew | Jordan | Filip | Shiree | Shane L. | Shane C. | Nick | Will | Derek | Danny | Luca | Chris |
| TB | CHI | TB | TB | TB | TB | TB | TB | TB | TB | CHI | TB |
Luca: For the NFL Week 5, I am taking the Baltimore Ravens over the Cincinnati Bengals. I believe the Ravens will be able to beat the Bengals with their top-five rushing attack, averaging 160.8 yards per game. The Bengals are one of the worst teams in the league when it comes to defending the run, allowing 158 rushing yards per game.
With the passing game, the Ravens rank 31st in the league in terms of yards per game. Truth be told, the Baltimore offense is solely based on running the football. If the Bengals can make an effort to stop the run, the Ravens will have to air it out.
With the Bengals offense, they are currently riding on the arm of rookie Joe Burrow. The unit ranks 16th in passing and 19th in rushing. The offense in general ranks 14th in offensive yards.
The Baltimore defense will have a tough task to face in the Cincinnati Bengals offense. Good news for Baltimore: they rank seventh in the league in rushing yards per game allowed with 97.5. The game plan for Baltimore should be stopping the run to make
Joe Burrow
beat you through the air. The Ravens contain one of the best secondaries in the league with players like cornerbacks
Marcus Peters
and
Marlon Humphrey
. However, the defense ranks 26th in passing defense. The statistics could be inflated because of their loss to the Chiefs in Week 3.
I believe Baltimore rides their rushing attack to victory. Their pass rush will also get to Joe Burrow plenty.
| | | | | | | | | | | | |
| --- | --- | --- | --- | --- | --- | --- | --- | --- | --- | --- | --- |
| Drew | Jordan | Filip | Shiree | Shane L. | Shane C. | Nick | Will | Derek | Danny | Luca | Chris |
| BAL | BAL | BAL | CIN | BAL | BAL | BAL | BAL | BAL | BAL | BAL | BAL |
Shiree: Carolina travels to Atlanta to take on the 0-4 Falcons. This matchup is a tricky one because it's divisional and always has the potential to go either way.
What is good about the Panthers is the fact that they know what it takes to win now. They
welcomed back Kawann Short who was fairly quiet during Sunday's game with a single tackle. The defense got to the quarterback just once but the sack was something they needed. They need more from Yetur Gross-Matos who brought Kyler Murray down. The Panthers must find a way to keep the offense active this week. Mike Davis has been a welcomed surprise with 131 yards and one touchdown through his first four games. Once Christian McCaffrey comes back, they are going to create big problems for opposing team defenses.
The Falcons will be chomping at the bit this week. They are still seeking their first win of the season and have many people on the hot seat including head coach Dan Quinn. What is interesting about their team is that they know how to get the lead, it's about maintaining it. The key for them this week will be trying to find a way to get to Teddy Bridgewater off his game. But can they? He has a 73 percent completion rate and four touchdowns so the Falcons have a ton of work ahead of them. Defense has done an exceptional job the past two weeks. Donte Jackson has led the way with two interceptions while Tahir Whitehead has a fumble recovery.
This should be an easy win for the Panthers although it probably won't be. Either way, the
Panthers will come away with another one while the Falcons will be looking for their new head coach.
| | | | | | | | | | | | |
| --- | --- | --- | --- | --- | --- | --- | --- | --- | --- | --- | --- |
| Drew | Jordan | Filip | Shiree | Shane L. | Shane C. | Nick | Will | Derek | Danny | Luca | Chris |
| CAR | ATL | CAR | CAR | CAR | ATL | CAR | CAR | ATL | CAR | CAR | CAR |
Shane C.: The Titans which had 10 players and 10 staff test positive for COVID had their Week 4 date with Pittsburgh Steelers postponed to a later date. As of Tuesday,  it's being reported that all Titans players and staff have tested negative on consecutive days. This game should be in no jeopardy of being postponed. However, things could change quickly leading up to Sunday's kickoff. 
I have to admit I am a little shocked that the Titans are an eight-point home-underdog. At first glance, this looks like a game that could more resemble a baseball score. The betting man in me sees this as an opportunity to take the Titans and the points. There will be plenty of Derrick Henry and Jonnu Smith to keep the clock ticking and the chains moving at a Titans methodical pace. However, Josh Allen is a man possessed and the Bills offense is on fire. The arrival of Stefon Diggs has opened up the offense which, suits Allen's free-wheeling style. 
That said, this game sets up well for each opposing defense. The Titans boast a very good pass defense which is in the top ten against the quarterback and wide receiver positions. Conversely, the Bills are the tenth best defense against the run. 
I like this game to go under with Titans and the points in this preview of a potential AFC Championship match-up. 
I'm picking the Titans to win outright in a letdown game for the Bills. 'Till we meet again, in January. 
| | | | | | | | | | | | |
| --- | --- | --- | --- | --- | --- | --- | --- | --- | --- | --- | --- |
| Drew | Jordan | Filip | Shiree | Shane L. | Shane C. | Nick | Will | Derek | Danny | Luca | Chris |
| BUF | BUF | BUF | TEN | BUF | TEN | BUF | BUF | BUF | TEN | TEN | BUF |
Chris: In one of the more intriguing matchups in the NFL Week 5, the suddenly reeling Las Vegas Raiders travel to Kansas City to battle the world champion Chiefs. Fresh off back-to-back losses, the Raiders will look to rebound against a red-hot Kansas City team off to a 4-0 start. This will mark the first time that these two teams will square off this season with the next matchup set to take place in Las Vegas in Week 11. A battle of top offenses, expect there to be no shortage of points in this contest as both teams enter the week top ten in the league in points per game. However, while both teams are trending in the right direction on this side of the ball, the same can not be said on defense as the Raiders enter the games as the 25th unit overall to the Chiefs second overall ranking through four weeks.
Off to an MVP caliber start to his season once again, Patrick Mahomes has been dynamite for Kansas City, throwing for 1100 yards and 11 touchdowns with zero interceptions. Likewise, his backfield mate Clyde Edwards-Helaire has also been as advertised, rushing for over 300 through four games. Spreading the ball around on offense like in previous seasons, the team also has three receivers with over 150 receiving yards, with tight end Travis Kelce and wide receivers Sammy Watkins and Tyreek Hill all eclipsing the mark early on. On the flip side, Jon Gruden's team is also off to a hot start as quarterback Derek Carr has thrown for 1,095 yards and seven touchdowns to begin the season with last year's rookie of the year, Josh Jacobs continuing to roll with 300 rushing yards through four weeks.
Fresh off a win against the New England Patriots last Monday Night, once again, I expect the Chiefs to roll through week five en route to another victory against a Raiders squad that looks to be reeling after back to back losses, following their 2-0 start. While Carr and Gruden are off to a hot start offensively, and while the Raiders have the offensive line and rushing attack to expose the Chiefs suspect rush defense, look for Mahomes and company to be too much to handle on this day.  
Final Score: Chiefs 35 Raiders 17
| | | | | | | | | | | | |
| --- | --- | --- | --- | --- | --- | --- | --- | --- | --- | --- | --- |
| Drew | Jordan | Filip | Shiree | Shane L. | Shane C. | Nick | Will | Derek | Danny | Luca | Chris |
| KC | KC | KC | KC | KC | KC | KC | KC | KC | KC | KC | KC |
Jordan: To everyone's surprise, Adam Gase is still the head coach of the NY Jets. However, to absolutely no one's surprise, the Jets have started out 0-4.
The Jets have looked abysmal in their first month of the season and I'm not sure anyone expected much else. Sure, Sam Darnold has had flashes, but the inept coaching mixed with the lack of defensive prowess is a recipe for disaster no matter who's behind center.
On the flip, the Cardinals have now lost two in a row after starting the season off very well. Kenyan Drake looks invisible out there while Kyler Murray seems to have developed a "force throw" relationship with DeAndre Hopkins. For fantasy purposes, that's great news if you have Hopkins. But in the real world, that's certainly not going to get them very far. Arizona seems to be struggling on the ground more than anything, but they also look very poor on the defensive end. However, this team has way too much talent to count them out this early. You've got to assume they get back in their groove this week, and who better to play than the NY Jets.
I'm certainly taking Arizona in this one. The Jets will most likely get Le'Veon Bell back this week, which should provide a spark in the offense. However, even a running back as talented as Bell can't bring this team out of the gutter, especially against such a talented Cardinals squad. I'll take the Cards -10.
| | | | | | | | | | | | |
| --- | --- | --- | --- | --- | --- | --- | --- | --- | --- | --- | --- |
| Drew | Jordan | Filip | Shiree | Shane L. | Shane C. | Nick | Will | Derek | Danny | Luca | Chris |
| ARI | ARI | ARI | ARI | ARI | ARI | ARI | ARI | ARI | ARI | ARI | ARI |
Danny: The Eagles got a much-needed win Sunday night against the 49ers. Carson Wentz played much better with limited personnel. The Eagles defense was swarming all night, especially the defensive line. Getting five sacks, and consistently in the QB's face all night long. Yes, Jimmy G was not playing, but the offensive line for San Fran was intact, so it was still an impressive game. They will need to carry the load again this week with a much tougher task ahead.
The Steelers are 3-0 and are coming off an unexpected bye week with their game being canceled due to a COVID outbreak with their opponent the Tennessee Titans. The Steelers have one of the better defenses in the game right now, and it has carried them to their undefeated start to 2020. Big
Ben Roethlisberger
might not be what he use to be, but he is a seasoned vet that can still play. He's completing 67% of his passes with seven touchdowns and one interception.
The Eagles will have their hands full with the Steelers defense. Although the Steelers offense isn't intimidating by any means, the Eagles have serious injury and depth issues right now, especially on the offensive line, and wide receivers. Expect this one to be ugly and low scoring.
Steelers 20
Eagles 17
| | | | | | | | | | | | |
| --- | --- | --- | --- | --- | --- | --- | --- | --- | --- | --- | --- |
| Drew | Jordan | Filip | Shiree | Shane L. | Shane C. | Nick | Will | Derek | Danny | Luca | Chris |
| PIT | PIT | PIT | PIT | PIT | PIT | PIT | PIT | PIT | PIT | PIT | PIT |
Will: As one of eight early window games on Sunday, the LA Rams are traveling to the east coast to take on the Washington Football Team in this NFL Week 5 matchup. The Rams are currently a seven-point favorite with the over/under set at 45.5
These two teams have had quite the opposite first four games to start their seasons. The Rams come in at 3-1 sitting in second in the NFC West while the Football Team enters 1-3 and tied for second in the NFC East (that's how bad the division is).
Washington made headlines this week with the announcement that second-year quarterback
Dwayne Haskins
will be a healthy scratch Sunday while
Kyle Allen
will take over as starter. In my opinion and many others, this is a horrible decision made by the team that will only diminish Haskins' confidence. I strongly believe Haskins can be a solid starter in this league, however, he just needs time. Him being benched this week does not help his future whatsoever.
As for the Rams, this should be a walk in the park kind of game for them. With the way that LA has been playing throughout the first quarter of the season, I don't see any reason why they should not take this game easily. Especially with
Kyle Allen
now starting, I have the Rams winning this game 34-17.
| | | | | | | | | | | | |
| --- | --- | --- | --- | --- | --- | --- | --- | --- | --- | --- | --- |
| Drew | Jordan | Filip | Shiree | Shane L. | Shane C. | Nick | Will | Derek | Danny | Luca | Chris |
| LAR | LAR | LAR | LAR | LAR | LAR | LAR | LAR | LAR | LAR | LAR | LAR |
Drew: The NFL Week 5 "Pillowfight of the Week" will feature the 1-3 Jaguars against the 0-4 Texans. Last week, Jacksonville fell victim to the Bengals for their first win of the season. Gardner Minshew is still slinging it and D.J. Chark is growing into his own. Running back James Robinson has been a great surprise this year, but was effectively shut down by a poor Bengals rush defense. Speaking of defense, the Jags need to figure theirs out. Burrow and co. carved them up and they gave up three scores to Joe Mixon. Thankfully for them, the Texans have struggled.
Deshaun Watson deserves better. In what was probably their best move in years, the Texans fired their head coach/GM Bill O'Brien. This past offseason in Houston was not unlike a rebuilding franchise…but they traded away their top draft picks, so it's going to be tough sledding for a while. I like the Texans and guys like J.J. Watt and Will Fuller are fun to watch, but interim head coach Romeo Crennel has his work cut out for him. I expect the Jags to win this, shootout style.
| | | | | | | | | | | | |
| --- | --- | --- | --- | --- | --- | --- | --- | --- | --- | --- | --- |
| Drew | Jordan | Filip | Shiree | Shane L. | Shane C. | Nick | Will | Derek | Danny | Luca | Chris |
| JAX | HOU | HOU | HOU | HOU | HOU | HOU | HOU | HOU | HOU | HOU | JAX |
Drew: The Dolphins are certainly still rebuilding. Considering they own a slew of picks (some of which are the 0-4 reeling Texans'), their time is coming. This season? Not so much. Ryan Fitzpatrick is playing like Ryan Fitzpatrick. He's at nearly 1,000 yards passing with four touchdowns, but he's turned the ball over five times through the first four weeks. It seems like they are just going to ride with him to allow rookie Tua Tagovailoa to fully heal and learn the system. Myles Gaskin has turned into a pleasant surprise at running back, but he has yet to find paydirt. The defense is also an issue, considering they are allowing just as many points as they score.
Even injury-maligned, the 49ers are explosive. Brandon Aiyuk has begun to live up to his first-round hype, but they lost to the 1-2-1 Eagles last week. Nick Mullens is a decent back-up, but the only way for this team to succeed is to get a healthy Jimmy Garopollo back. Once again, Garoppolo, George Kittle, Tevin Coleman, Raheem Mostert, and Dee Ford will be out.
Despite all of these injuries, I expect San Francisco to win this. Miami is in full-rebuild mode and the 49ers still have athletes. Look for more Aiyuk and Jerrick McKinnon to lead the way.
| | | | | | | | | | | | |
| --- | --- | --- | --- | --- | --- | --- | --- | --- | --- | --- | --- |
| Drew | Jordan | Filip | Shiree | Shane L. | Shane C. | Nick | Will | Derek | Danny | Luca | Chris |
| SF | SF | SF | MIA | SF | SF | SF | SF | SF | SF | SF | SF |
Filip: The Indianapolis Colts (3-1) visit the Cleveland Browns (3-1) in an AFC thriller. This is one of those games that is not talked about but could be sneaky good. The Colts have won four out of the past five matchups against the Browns. Additionally, these victories were very narrow, so this might turn out to be a close game.
Let's start with the visitors, the Colts. Though they lost their week one game against the Jaguars in which they were favorites, they have picked up the pace with three straight wins all coming in an impressive fashion. Speaking of the word impressive, that is one of many characteristics that can be given to the Colts defense. They have suffocated opposing offenses as they have given up a combined 29 points in the last three weeks. For those reasons, they are the number one ranked defense in the league.
This defense really has no weaknesses. They are stopping the run with the help of defensive tackle DeForest Buckner. All the while, they also bring great amounts of pressure on the quarterback. Moving further down, their linebacking core is also fantastic, with the likes of Anthony Walker and superstar Darius Leonard. The most surprising part of this Colts defense has been the secondary. The Colts secondary has been playing phenomenally, especially cornerback Xavier Rhodes who already has two interceptions on the season.
The Colts already look like an early playoff contender with the help of their defense, but for the Colts to really push their way into the playoffs, their offense needs to find a better rhythm. Yes, the Colts have scored 75 points in the past three weeks, but 56 of those came against two abysmal defenses belonging to the Vikings and Jets. Philip Rivers and T.Y. Hilton have to show up more for the Colts. These are two key players, but the Colts have had two players on the rise with Mo Alie-Cox and Jonathan Taylor who have both been game-changers. To conclude, the Colts have one of the best offensive lines, and it will greatly help the offense find its rhythm.
Speaking of offense, the Browns have had a very hot offense in the past two weeks, that has given them a surprising three wins, so far. They have scored a mind-blowing 118 points in the previous three games. 49 of those points came in a 49-38 win in Dallas against the Cowboys in week four. The biggest positive of that game was Odell Beckham Jr stepping up. Nick Chubb, one of the Browns' best offensive players had to leave the game, so Beckham stepped up with over 150 scrimmage yards and three touchdowns. 
Baker Mayfield has also looked very comfortable in the pocket in the past couple of weeks. Going back quickly to Chubb, even though he is a key player and might be out, Kareem Hunt stepped up in the rushing department when he was out. Now, everyone expects the Browns to score points and they do, but their defense is still concerning.
One of the positives on that Browns' defense is Myles Garrett who puts fear into opposing quarterbacks. Besides the pass rush, their defense has been pretty poor. This year they have given up 126 points, which turns into giving up an average of 31.5 points a game which just isn't good enough. A contributor to this is the Browns' poor pass coverage. In week two, they gave up 316 passing yards to rookie Joe Burrow and over 500 passing yards to Dak Prescott.
This Browns defense isn't in a favorable matchup against the Colts defense. As mentioned, the only positive for the Browns is Myles Garrett, but he is going up against one of the best offensive lines in the league. Also, Rivers has that gunslinger mentality, and will likely take advantage of that mediocre secondary. On the other side of the ball, the Colts have a fantastic defense, but the Browns have just enough offensive weapons to put up points and keep it close. The key matchup in this game will be the Colts defense versus the Browns offense. In the end, this game will be close, but the Colts' defense will be too much to handle, and their play will ultimately get the Colts a win.
Prediction: Colts win 27-24
| | | | | | | | | | | | |
| --- | --- | --- | --- | --- | --- | --- | --- | --- | --- | --- | --- |
| Drew | Jordan | Filip | Shiree | Shane L. | Shane C. | Nick | Will | Derek | Danny | Luca | Chris |
| CLE | CLE | IND | CLE | IND | IND | IND | IND | IND | IND | CLE | CLE |
Derek: The NFL Week 5 matchup between the Dallas Cowboys and the New York Giants is an interesting matchup when you see these team's records through four weeks. They have combined for just one win in eight total games. However, one of these teams is performing much better than the other. The Cowboys, owners of that single victory, have been putting on fantastic performances on offense despite their 1-3 record. Their point totals in their previous three games are 40, 31, and 38. Their problem is, despite these high point totals, their point differential from these three games combined is -17. They have allowed point totals of 49, 39, and 38 in these three games.
The Cowboys' defense is among the worst in the NFL to start the season and is not showing signs of improvement. Luckily, they face the winless Giants whose offense has yet to score more than 16 points in a game and has scored just nine points in each of their last two games. The loss of running back Saquon Barkley has left the offense without an identity, and sophomore quarterback Daniel Jones has been less than impressive through four games. Dallas should be able to find victory in this matchup as New York doesn't have the offense to keep up with the Cowboys' high-powered offense. The Giants' defense is not much better than their offense, and they should find themselves winless heading into week six.
| | | | | | | | | | | | |
| --- | --- | --- | --- | --- | --- | --- | --- | --- | --- | --- | --- |
| Drew | Jordan | Filip | Shiree | Shane L. | Shane C. | Nick | Will | Derek | Danny | Luca | Chris |
| DAL | DAL | DAL | NYG | DAL | DAL | DAL | DAL | DAL | DAL | DAL | DAL |
Editor's note: The Broncos-Patriots game scheduled for Week 5 has been postponed to Week 6 due to another positive COVID-19 test.
Shiree: Denver is traveling to New England to square off with the Patriots which will actually be a good thing for this Broncos team.
Bradley Chubb should have a good game against the Patriots. He was quiet the first three
weeks of the season but last week against the New York Jets he posted two and a half sacks. Brian Hoyer was sacked twice last week and with the offensive line he has, Chubb could see another week of sacks.
It's obvious that with Cam Newton out of the picture for at least another week that the Broncos actually have a shot and could end up 2-3 with a win. The Patriots have to maintain their winning mentality in their quarterback's absence. They only scored 10 points against the Kansas City Chiefs, but their defense has a lot of potential. This game is going to come down to which defense does the best.
This will be a low-scoring game that the Broncos will come away with.
| | | | | | | | | | | | |
| --- | --- | --- | --- | --- | --- | --- | --- | --- | --- | --- | --- |
| Drew | Jordan | Filip | Shiree | Shane L. | Shane C. | Nick | Will | Derek | Danny | Luca | Chris |
| NE | NE | NE | DEN | NE | NE | NE | NE | NE | NE | DEN | NE |
Shane L.: Sunday Night Football features the undefeated Seattle Seahawks hosting the 1-3 Minnesota Vikings. Seattle has been rolling as of late and that's because of one man, Russell Wilson. In their win against the Miami Dolphins, Wilson threw for 360 yards and two touchdowns on 24 of 34 passing. He had a great supporting cast on Sunday as running back Chris Carson ran for 80 yards and two touchdowns. Wide receivers D.K. Metcalf and David Moore each went for over 90 yards, including Metcalf for 106. The defense can be worrisome but it picked up two key interceptions off of Ryan Fitzpatrick.
Their opponent on Sunday is coming off their first win of the season over the Houston Texans. The Vikings have scored 30 points or more in three out of four games this season. They have great weapons around Kirk Cousins in Adam Thielen and the emerging rookie Justin Jefferson, who both had over 100 yards receiving. Even in losses, Dalvin Cook has played a huge factor in the offense. He's run for over 100 yards each of the last two games and has had six rushing touchdowns on the season, including two against the Texans. The offense looks like it can carry itself but the defense is doing them no favors. The Vikings defense has given up 28 or more points in each game this season. This due in large part to inexperienced in the secondary and missing pieces upfront. Even so, no one expected the Vikings to look like they have been so far this season.
The Seahawks defense is questionable but the Vikings defense is susceptible to a lot of things and pose no threat to this high-powered Seattle offense. Wilson should continue his MVP campaign and win this one by double digits.
| | | | | | | | | | | | |
| --- | --- | --- | --- | --- | --- | --- | --- | --- | --- | --- | --- |
| Drew | Jordan | Filip | Shiree | Shane L. | Shane C. | Nick | Will | Derek | Danny | Luca | Chris |
| SEA | SEA | SEA | SEA | SEA | SEA | SEA | SEA | SEA | SEA | SEA | SEA |
Nick: Monday Night Football should be in for a treat when the Chargers and Saints meet. After going throw for throw with Tom Brady last week, Chargers rookie Justin Herbert will now get the chance to duel with Drew Brees. Herbert has shined like a future star and isn't afraid to push the ball downfield. In fact, the Chargers are fifth in yards per attempt (8.3) with Herbert at quarterback. The biggest concern will be the loss of versatile back Austin Ekeler, who's out four to six weeks. His 5.1 yards per attempt and reliability will be heavily missed. Especially against the Saints who've done a great job stopping the run so far this season (sixth-best statistically).
Meanwhile, the Saints have been shorthanded without
Michael Thomas
who got hurt in week one.
Drew Brees
is still as accurate as they come, but his arm strength has forced the team to run more. They're going to keep relying on
Alvin Kamara
(who looks like the best running back in the league again) and hope
Emmanuel Sanders
can build off a strong week three performance. Defensively, they must cut down on penalties, and sure up the secondary.
If the Chargers front seven is able to pressure Brees, they have a shot at an upset. However, that's easier said than done against an offensive line that's as good at pass protecting as the Saints. This game could go either way, but on paper, the Saints still have the more talented and complete roster.
| | | | | | | | | | | | |
| --- | --- | --- | --- | --- | --- | --- | --- | --- | --- | --- | --- |
| Drew | Jordan | Filip | Shiree | Shane L. | Shane C. | Nick | Will | Derek | Danny | Luca | Chris |
| NO | NO | NO | LAC | NO | NO | NO | NO | NO | NO | NO | NO |
Main Photo:
Embed from Getty Images