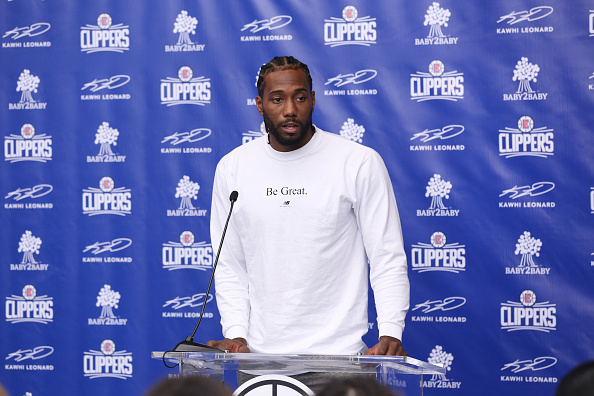 There were a lot of big moves this off-season. Moves that changed the landscape of the NBA. Forget about the super team, it's all about the dynamic duos now. The NBA starts next week and a lot of fans can't wait to see their new look teams in action. There is a lot of turnover in this league and it changed the NBA Championship picture dramatically. It will be a fight until the end. Here are the five best odds to win the NBA Championship.
Best Odds To Win The NBA Championship
Clippers (+350)
It's pretty obvious why the Los Angeles Clippers are the favorites to win the NBA Championship. They landed two big stars in the off-season in Kawhi Leonard and Paul George. Leonard is coming off winning an NBA Championship for the Toronto Raptors. George is a great co-star to have on a team with his shooting and scoring ability. They both can also play some of the best defense in the game so the Clippers will not only be great on offense but will be great on defense. That makes them a scary team to go up against. They will be fighting for the top spot in L.A. with the number two team on this list.
Lakers (+400)
The city of Los Angeles has the two best odds to win it all and why wouldn't they be? The Los Angeles Lakers got a lot better this offseason. They already have LeBron James who has been there for a year but they added a big star to help in Anthony Davis. If Davis can stay healthy than this team will be more dominate. They added depth all around and invested in the bench. They added Avery Bradley, Quinn Cook, Danny Green, Jared Dudley, and Dwight Howard to name a few. Throw in what they already had in a young Kyle Kuzma and veteran Rajon Rondo. This team will be very dangerous heading into this year. The battle of L.A. and the NBA Championship is on!
Bucks (+600)
The Milwaukee Bucks had a great season last year and finished with the best record in the NBA. Giannis Antetokounmpo is a rising star and is already one of the best players in the league. He averaged a double-double last season with 27.7 points per game and 12.5 rebounds per game. He is an efficient scorer and plays good defense. The Bucks got some help for him from long-range with the addition of Kyle Korver and Wesley Matthews. They already have George Hill and Khris Middleton, who had a huge year for the Bucks last season. The Bucks are not slowing down and now that they gave Giannis some help. They are going to be a force to mess with. 
Rockets (+800)
The Houston Rockets made a huge trade this off-season. They traded Chris Paul for star Russell Westbrook. James Harden and Westbrook have worked together in the past. They both were on the Oklahoma City Thunder several years ago, they both played on team USA and now they have reunited once again. It will be interesting to see how two ball-dominant players will work together but it is a great duo nonetheless.
The Rockets will have the 2017 and 2018 MVP on the court together. Westbrook is a workhorse. He doesn't miss many games and he can log minutes along with Harden. Both can run the team so when one needs a rest, the other can step up and take over. They have nice pieces around like newly signed Eric Gordon and another workhorse in P.J. Tucker. This team is getting a lot of people's attention and why wouldn't they be? They will be heavy contenders in a stacked Western Conference.
76ers (+800)
The Philadelphia 76ers are a young team but a very talented young team. They have emerging stars in Joel Embiid and Ben Simmons. The 76ers added Al Horford who is a great inside presence and has experience. They lost long-range shooter J.J. Redick but they feel like they can replace him. Tobias Harris was a great addition last season and adds balance to this team. The 76ers have been close for years but has never won the big game. They look like they are close and can challenge the Bucks for the top spot in the Eastern Conference. 
Teams With The Next Best Odds
Main Photo:
Embed from Getty Imageswindow.gie=window.gie||function(c){(gie.q=gie.q||[]).push(c)};gie(function(){gie.widgets.load({id:'xQevWnhEQC9027aKJ71uaQ',sig:'aQhyV4Wnp_Xc5oqS6WY8WUpx_hI0MSWCoq_iWlrlJ_Q=',w:'594px',h:'396px',items:'1169223636′,caption: true ,tld:'com',is360: false })});