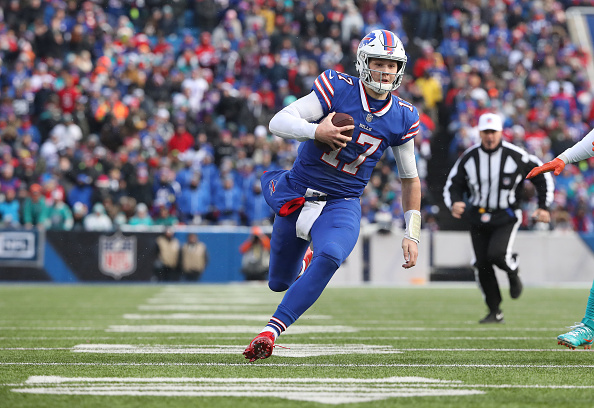 The Buffalo Bills quarterbacks are quickly becoming part of a competitive roster. Additions over the last few seasons have quickly turned Buffalo into a rising team in the NFL. These additions include Josh Allen, Tremaine Edmunds, Ed Oliver, Micah Hyde, and many others. The draft has been an important tool for Buffalo in their rebuilding efforts and heading into the 2019-20 NFL season, the Bills roster is the deepest it has been in years. Here is a look at the Buffalo Bills quarterbacks heading into pre-season and if they will be there on week one.
Buffalo Bills Quarterbacks: Pre-season Evaluation
Josh Allen, 22, 2nd Season
Allen is undoubtedly the Bills' starting quarterback for the 2019-20 season. When healthy, he performed well during his rookie season. Allen ended the season with a five-touchdown performance in week 17 against Miami. It would be great for Buffalo if that momentum carries over into the new season for Allen. Allen has a bunch of new weapons on his offense and new blockers to help protect him. Allen will look to benefit from the new offense Bills GM Brandon Beane has built for him.
Barkley has had an up and down start to his NFL career. The Eagles drafted Barkley in the 2013 NFL draft. Barkley had a rough rookie season throwing 49 attempts for zero touchdowns and four interceptions. The next season, Barkley saw no action with Philadelphia and was traded to Arizona for a 7th-round selection. He eventually landed with Chicago and started six games for them following an injury to their starting quarterback. His next destination would be the Buffalo Bills.
Buffalo signed Barkley after a number of issues caused Buffalo to lack depth at the quarterback position. Barkley would start a game for Buffalo against the New York Jets. Barkley dominated the Jets and won the game for Buffalo. His performance led to him receiving an extension from Buffalo and he will most likely be the Bills' backup quarterback in 2019.
Jackson played for the University of Buffalo during his college career and landed with Buffalo after going undrafted in the 2019 NFL draft. Jackson had an excellent junior season with Buffalo and declared for the draft hoping to be drafted in the mid rounds. Now, Jackson will compete with veteran quarterback Matt Barkley for the backup quarterback position.
If Jackson can perform well throughout the pre-season, he could easily make the 53-man roster, if not, he will land on the practice squad and potentially get claimed by another team. The Bills might not want to take that risk.
Last Word
The Bills have a talented young quarterback in Josh Allen leading the offense for the foreseeable future and have proper depth with Matt Barkley and potentially Tyree Jackson. Jackson could develop into a strong backup quarterback, like Derek Anderson, who recently retired, and could be a great undrafted addition for the Bills. If Allen can take the next step in his development this season, Buffalo is in a great spot at quarterback for a long time.
Main Photo:
Embed from Getty Images