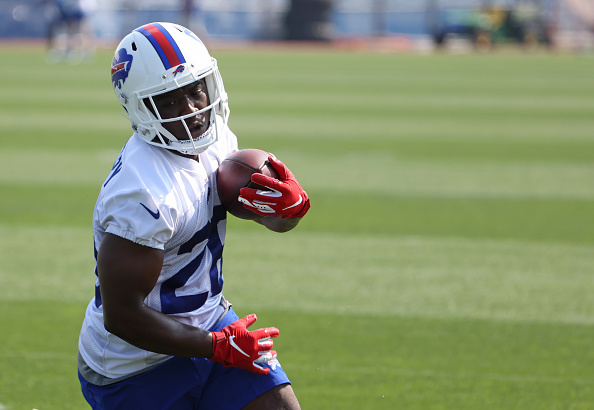 With the Pittsburgh Steelers and Dallas Cowboys having completed the annual hall of fame game, the 2021-22 NFL season has officially begun. The Buffalo Bills will begin their pre-season schedule on August 13 against the Detroit Lions. There are several Buffalo Bills pre-season storylines worth following through these three games. It will be interesting to see the results of these storylines as we progress toward the start of the regular season.
Four Buffalo Bills Pre-Season Storylines to Follow
1. The Depth Wide Receiver Roster Battle
The Bills have one of the best problems to have in the NFL. They have too many quality depth wide receivers on their current roster. Stefon Diggs, Cole Beasley, Emmanuel Sanders, and Gabe Davis are locks to make Buffalo's roster due to their elite play, veteran leadership, or youth respectively. It is likely Buffalo only takes six receivers into the regular season leaving two spots left for Buffalo to choose. Despite having only two spots open, they have more than two options for who to keep.
Isaiah McKenzie, Jake Kumerow, Marquez Stevenson, and Isaiah Hodgins all have strong cases to make Buffalo's 53-man roster. Whoever is the best fit to return kicks amongst the group will most likely secure their spot on the 53-man roster. It will be interesting to see which two receivers make the final cut, or if Buffalo decides to keep a seventh receiver.
2. Who Will be the Starting Defensive Ends
One of the most unique Buffalo Bills pre-season storylines is the Bills' old guard versus a new guard situation going on at the defensive end position. Buffalo has spent three top draft selections on the defensive end position between the last two NFL drafts. They also have two tenured NFL veterans with successful careers currently occupying the starting jobs in Jerry Hughes and Mario Addison.
Whether the young pass rushers in Carlos Basham Jr, A.J. Epenesa, or Gregory Rousseau step up into one of those roles remains to be seen. It is almost certain that all five players will have some role in a rotation Buffalo hopes will create strong production on the defensive line. A similar, but less crowded battle could occur with Buffalo's interior defensive line as well.
3. Who Starts Opposite of Tre' White
The Buffalo Bills have had a battle for their second outside cornerback spot for several seasons now. Levi Wallace has fought off all challengers so far, but sophomore cornerback Dane Jackson is Wallace's newest challenger. Jackson, much like Wallace, is a success story for Buffalo at the cornerback position. While not undrafted like Wallace, Jackson is a former seventh-round pick who has now found himself in a competition for a starting job on Buffalo's defense. Regardless of which cornerback walks away as the starter, both will have a role this season that will be crucial to Buffalo's chances of returning to the AFC championship.
[pickup_prop id="10175″]
4. Will Running Back be a Committee or Have a Leader
The Bills have tried to solve their issues at running back that has been present seemingly since the departure of LeSean McCoy. Young backs Devin Singletary and Zack Moss have had opportunities to cement themselves as workhorses, but it seems Buffalo may be better off rolling with a committee following the addition of Matt Breida. Having his speed is a great addition to their offense that they seemed to lack last season.
With Breida surely having a role to play in Buffalo's offense this season, it will be difficult for any back to truly dominate in the snap count of touches this season. However, football is a fluid game, and if one rusher leaps over the others it isn't impossible for Buffalo to have a workhorse approach by mid-season. The running back position is one of the most intriguing Buffalo Bills pre-season storylines this season.
Main Photo: