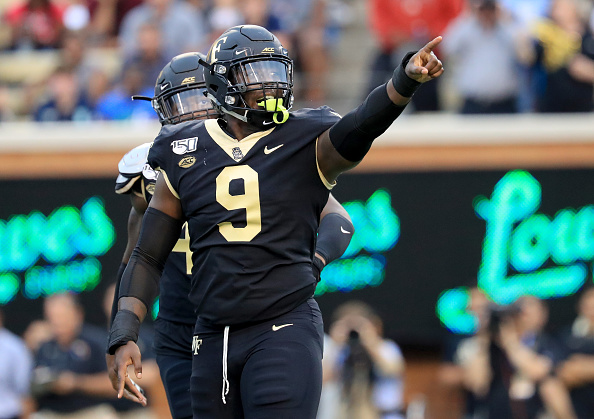 The Buffalo Bills' 2021 NFL draft class has been completed and the team will begin evaluating their newly formed roster. For Buffalo, they have a lot to assess on both the offensive and defensive lines with five of their eight rookies being a lineman. Bills 2021 NFL draft class While there are a few needs that were not addressed in this draft, others were heavily addressed and it is important to remember that Buffalo has turned their franchise around into a super bowl contender in recent years. With several project-type players selected in this class, here's a grading of the Buffalo Bills' 2021 NFL draft class with potential in mind.
Grading the Buffalo Bills' 2021 NFL Draft Class
The Bills use their first-round selection on Rousseau, a talented pass rusher who opted out of the 2020 season. In 2019, Rousseau finished second in college football in sacks with 15.5 sacks. The only player with more sacks that season was the current Washington Football Team defensive end Chase Young.
Rousseau is a former wide receiver that converted to the defensive end position. Rousseau is a project-type of prospect similar to Josh Allen in 2018. Rousseau clearly has the raw talent to be a talented player in the NFL and with some high-caliber coaching, Rousseau could become one of the NFL's premier pass rushers.
The Bills' selection of Basham Jr. came as a surprise to many fans, but to those within the organization, the message was clear. A story surrounding this pick is that Buffalo had a deal in place to trade out of this pick with the exception of one player falling to the spot and that player was Carlos Basham Jr. Buffalo general manager Brandon Beane felt the value of getting Basham Jr. at pick 61 was worth taking back-to-back defensive ends.
While many Bills fans wanted the team to address a different need such as cornerback or running back, the selection of two defensive ends in rounds one and two have solidified Buffalo's future at the position with the inclusion of 2020 second-round pick A.J. Epenesa. Basham Jr. is a more technical pass rusher than Rousseau and may be more ready to make an impact on day one. The difference in style allows Buffalo to make the proper decisions with the position long-term and allows more time for Rousseau to develop into the player they imagined he could be when they selected him 30th overall.
3 – Spencer Brown – OT – Northern Iowa – B+
The Bills continue to select projects with incredible size with their third-round pick. Brown is a huge offensive tackle with a 6-foot-8 frame. The 300-pound lineman is another raw talent who will need coaching to develop into a truly talented NFL player. Brown has the skillset to be a starting tackle in the NFL and could fill the shoes of Daryl Williams when the time comes. Even if he doesn't progress to the level of an NFL starter, Brown should be a reliable backup at least in his NFL career.
5 – Tommy Doyle – OT – Miami (OH) – B-
Buffalo doubles up on another position this year with their second offensive tackle. Doyle is another giant at 6-foot-8 and is another hardworking senior lineman. Doyle could be a strong backup for Buffalo in a few years and the selection of Doyle shows Buffalo is committed to the development and long-term depth with this draft class. Players like Rousseau, Brown, and Doyle will all need time to develop into the players that Buffalo wants them to be. The grade reflects the risky pick with solid players available at other needs.
This is Buffalo's potential gem of the draft class. Stevenson has elite potential as a special teams return specialist. He can also provide Buffalo with one of their underlying needs. That need is speed. Buffalo has many talented weapons on offense, but they didn't have a pure speed guy who could burn a defense over the top. Stevenson posses the speed for that and could find a role for himself in Buffalo's offense as well as a key special teams player. Stevenson had 3 return touchdowns in his career with Houston and Buffalo hopes he'll have a few more during his career with the Bills.
6 – Damar Hamlin – S – Pittsburgh – B
Hamlin has the potential to fill the spot of new Detroit Lions safety Dean Marlowe. Marlowe played three seasons in Buffalo so his role on the defense had been solidified for a while. Finding a replacement may seem easy, but his impact was bigger than it may appear. Hamlin will have to compete with other young safeties on Buffalo's roster for Marlowe's old spot. Hamlin has the potential to land on the practice squad if he cannot make the 53-man roster in year one. Drafting a safety is a surprise for the Bills' 2021 NFL draft class.
Buffalo may not have addressed the cornerback position as early as some fans wanted, but unlike running back, they did address it. Wildgoose is an average-sized cornerback with a solid skillset but needs work on the intangibles of the position. At Wisconsin, Wildgoose showed an ability to tackle and even force fumbles on receivers not protecting the football, but his overall coverage had issues at times. It will be interesting to see if he makes the roster with the lack of depth at cornerback in Buffalo, or if they add a veteran or two prior to training camp that limits his potential to the practice squad.
The third offensive lineman and final selection of the Bills' 2021 NFL draft class is Jack Anderson. Anderson was a highly touted prospect coming out of high school, but his love for Texas Tech made his recruitment an easy choice. Anderson started 38 games for the Red Raiders and showed solid skills during his career. Being a seventh-round pick is difficult for any player, but Anderson has the potential and the work ethic to potentially earn a spot on the 53-man roster with the projected interior lineman depth in Buffalo.
Even if he cannot, Buffalo has shown in recent years they don't like to give up on draftees before they've had time in the organization so a spot on the practice squad would seem likely for Anderson. Anderson is a fine conclusion to the Bills' 2021 NFL draft class.
Overall Class Grade – B+
Main Photo: