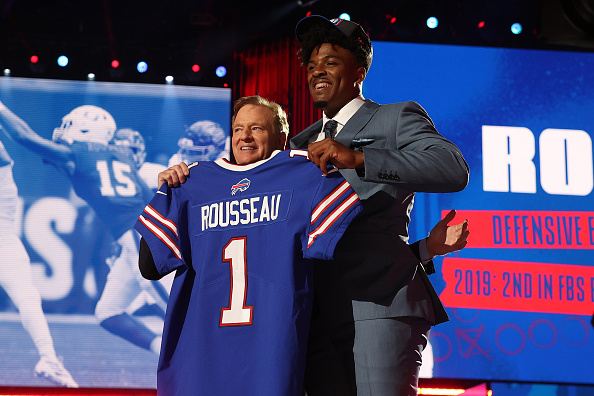 The Buffalo Bills went into the 2021 NFL draft with a very specific list of needs. Having made it to the AFC Championship last season, Buffalo clearly has a talented roster. However, following their loss to the Kansas City Chiefs, they have room for improvement. Most of their needs are defensive, addressing that in round one with edge rusher Gregory Rousseau. Concerns about his size caused him to slip to Buffalo's late-round spot. For Buffalo, they hope to coach Rousseau into an elite pass rusher who can help them in 2021 and beyond. Here's a look at Buffalo's first-round selection of Gregory Rousseau.
A Look at Buffalo's First-Round Selection of Gregory Rousseau
1. Addressing the need for Better Pass Rush
Buffalo has had a tough time getting to the quarterback in their last few seasons. Buffalo used to be a top defensive unit when it came to sacking the quarterback, but the aging of several players such as Jerry Hughes has led to a decline in production. Buffalo did manage to finish in the top half of the league in total sacks in 2020, but they were just fifteenth and had 20 less than the first ranked Steelers.
Buffalo has had some successful pass rushers leave in free agency as well, which has contributed to their issues with depth at the position. In addition, several of their attempts to remedy the issue have failed to pay off for them.
[pickup_prop id="6818″]
Buffalo signed Mario Addison in free agency to help get to the quarterback and after having at least nine sacks in each of the four seasons preceding 2020, he finished the 2020 season with just five. Even 8-year Bills defender Jerry Hughes had just 4.5 sacks in 2020. This is down from his career average of 6.5 during his tenure with the Bills. Hughes is no longer the annual double-digit sack specialist he was early in his career with Buffalo. Hughes has a high-pressure rate against opposing quarterbacks but has failed to follow through with sack production in recent years.
2. Buffalo Drafts Another Project
Rousseau is Buffalo's defense version of Josh Allen. Incredible size and raw talent with room to improve at the core elements of his position sums up a 2018 Josh Allen and a 2021 Gregory Rousseau. Rousseau used his size and physical ability to dominate at Miami and if he can be developed by Buffalo's coaching staff, he could become one of the league's premier pass rushers. Similar to Allen becoming a top quarterback in his third year after being labeled a project in 2018.
3. Addressed Youth Issue
Buffalo's starting defensive ends Mario Addison and Jerry Hughes are 33 and 32 respectively. Their backups, A.J. Epenesa and Darryl Johnson are both under 25, but neither seem to have the potential to fill the starting role. Now with Rousseau, Buffalo has another young defensive end who has the ceiling to be even more than just a solid NFL starter. Rousseau could give Buffalo an elite pass rusher that they haven't had since the days of Mario Williams.
Drafting Gregory Rousseau gives Buffalo another talented young pass rusher to develop for the day when Hughes and Addison are ready to move on. Similar to the recently released Trent Murphy, Buffalo signed him with hopes that he would help fix their issue with their pass rush. but instead, he only contributed to the problem. Even 2019 top-10 pick Ed Oliver has struggled to evolve from the pure run stopper to a talented pass rusher. Buffalo is struggling to find quality depth at pass rushing positions and soon they will need a starting-caliber talent as well. Rousseau should be a great way to kickstart the solution to those issues.
Main Photo: