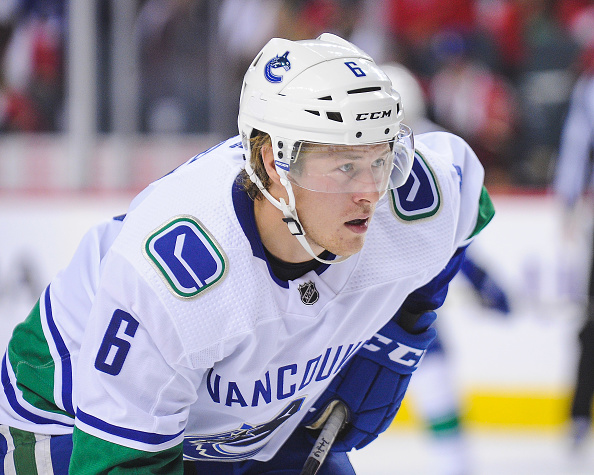 The 2015 NHL Entry Draft for the Boston Bruins was something special. Having three selections right smack in the middle of the first round must have had B's management drooling. Not to say that a first round pick is an automatic stud for your upcoming season but having three picks certainly gives you hope that one or two develop quickly.
So how do you know you are selecting the correct player? General manager's and scouts watch countless hockey games all over the world and review tons of analytical data on players to create a list of their potential selections. Sometimes that certain player you covet is already off the board when it's your turn to pick. Does an available player check off all the important boxes? Can he skate, pass, hit and score?  Does he fit your NHL team's style of play? You can never be 100% sure about any player and that even goes for the very first selection in round one.
In 2015, the Bruins appear to have made at least one poor selection in round one. Let's dig deeper and go through the three choices by general manager Don Sweeney and his staff to determine where the players stand within the organization going forward. Also, let's take a look at a few different players that were available to the Bruins in round one but not selected.
Boston Bruins 2015 First Round NHL Entry Draft Review
Jakub Zboril/Defenseman-selected 13th
NHL Central Scouting Rating-12th
Jakub Zboril is getting closer to seeing NHL time. Hard to say if it will be this year or further down the line. He currently plays for the Providence Bruins in the AHL. Zboril, at 6 foot 1, 184 pounds plays a physical brand of hockey. He has decent mobility, is a pretty good skater and can move the puck out of his end. Can he be successful at the NHL level? Time will tell.
Another B's young defenseman, Urho Vaakanainen, had a very good training camp this year and appears to have advanced past Zboril. I felt Vaakanainen had an advantage anyway having played against men in the Finnish Elite League.
Defense, Defense!
The Bruins were looking to add to the defense prospect pool so it's understandable that a defenseman was their first selection. Here is what bugs me. Why not pick at least two defensemen? With three round one picks and a look back at the Bruins developing forwards in 2015, they appeared to be in pretty good shape up front. Having names such as Anders Bjork, Danton Heinen, Peter Cehlarik and Ryan Donato should have had the club looking at additional defense prospects.
Defenseman, Thomas Chabot, rated 16th by central scouting, was still on the board. He ended up being chosen by the Ottawa Senators with the 18th selection. Guess what? He is in the NHL already! He also happened to be a teammate of Zboril with the Saint John Sea Dogs of the QMJHL. Chabot is also 6 foot 1 and 180 pounds, is a strong skater with skill and mobility. Both players carried similar stats. By choosing both, you increase the chance that at least one of the two defensemen becomes NHL ready sooner.
Jake DeBrusk/Left Wing-selected 14th
NHL Central Scouting Rating-19th
Hockey is in Jake DeBrusk's blood. His father, Louie DeBrusk, played 401 games in the NHL for four teams. Louie was an enforcer but Jake's game is well rounded. Jake returned to the WHL for the 2015-16 after being drafted by Boston.
The 2016-17 season for the Bruins young forward was time well spent winning a spot with the B's AHL affiliate, the Providence Bruins. In 74 games, DeBrusk got a taste of pro hockey and the hard work that comes along with it.
We Like You!
He made the jump to the B's big club in 2017-18 but early on he hit a few bumps in the road. Watching from TD Garden's ninth floor as a healthy scratch DeBrusk quickly got the message and he returned to the line-up with a vengeance and hasn't looked back. DeBrusk and center David Krejci have been pure chemistry since they were put together but their line could use a helping hand on the right side. Last season Jake put up 16 goals, 27 assists for 43 points in 70 games. Decent numbers for the rookie and he was easily one of the B's best during the playoffs.
The second line hasn't gotten off to a great start points wise this season but it's early. Over the last few games, DeBrusk has simply been overpowering his opponents with blazing speed and an aggressive presence. He is helping that line carry the play into the offensive zone. I believe Jake will be the reason that the second line gets going. I can certainly see 30 goal seasons in this kids future. The Bruins appear to have made a sweet selection with this first rounder.
However, another player that the B's passed on has fans saying, what if? Kyle Connor, the 6 foot 1 left wing, rated 13th by central scouting, had himself a season in 2017-18 piling up 31 goals, 26 assists for 57 points in 76 games for the Winnipeg Jets. His assets are speed, skill, and a 200-foot game. The University of Michigan alum was the USHL Player of the Year in 2014-15 leading the league with 80 points. Guess who currently leads the Jets in points this season? Yup!
Zachary Senyshyn/Right Wing-selected 15th
NHL Central Scouting Rating-38th
38th is Not a Typo!
Zachary Senyshyn is the poor selection made by Boston that I mentioned earlier. Scouts, analytics and every other method used to decide on a draft pick should not include reaching far outside of round one to select a player rated a second rounder by central scouting. I even saw other ratings placing Senyshyn in the high 50's. I'm just your average hockey fan but I would have had the common sense to select a player rated anywhere from 10-29th with this pick!
Zachary Senyshyn, the 21-year-old, 6 foot 1 right wing, comes with potential but not at 15th of round one. The Bruins gambled heavily passing on players that are currently young stars in the NHL. Senyshyn possesses incredible speed and quite possibly was the fastest player in the 2015 draft. A fourth liner on a loaded Sault Ste. Marie Greyhounds OHL club in 2014-15, Senyshyn still popped in 26 goals.  He then backed up that total with more responsibility in the next two seasons netting 45 and 42 goals. Were the Bruins on to something that none of us knew about? It certainly looks like a smart pick from this angle, doesn't it?
Senyshyn is currently in his second season with the Providence Bruins. The problem? He slots in as a third line wing and the results are not all that impressive. Sure, one step at a time and hopefully the player advances to the top six down the road but I am concerned all Boston has left here is hope.
You Passed on…?
The Bruins could certainly use a third line center this season and Mathew Barzal would have been a great choice. The problem?  Barzal is better than a third line center! Rated 11th by central scouting in 2015, the New York Islanders chose Barzal with the pick right after Boston at 16th. The speedy and crafty center had himself a season in 2017-18 racking up 22 goals, 63 assists for 85 points in 82 games with the Islanders. Those numbers were good enough to win "Rookie of the Year". All I know is he would have looked good in Black and Gold!
A finalist for "Rookie of the Year" was right-wing Brock Boeser. Rated 27th by central scouting, the Vancouver Canucks used their pick to select Boeser at 23rd. The 6 foot, 191 pound forward's 35 goals and 32 power play points were tied for first in the USHL and Boston should have taken notice. After spending two seasons at the University of North Dakota, Boeser quickly advanced to the NHL. In 2017-18 Brock put up 55 points for 29 goals and 26 assists tied for first with Daniel Sedin on the big club.
Final Thoughts
Remember, it's a guessing game. Every other team before Boston passed on Barzal, Boeser, Connor, and Chabot but at the same time, three out of four of these players were picked directly after Boston's 15th and final first round pick! If Boston did select one or even a few of them, what would have happened with solid forwards (not first rounders) like Heinen, Donato or Bjork? The Bruins would likely be in better shape today since they are still searching for a number three center and a solid second line right wing for the Krejci line! Also, it drives me nuts when the B's say they drafted a player in the B's mold. Why don't you draft a player in the Montreal Canadiens mold and maybe you would beat them more often? Just saying!
The 2019 NHL Entry Draft will be a crap-shoot as usual. The Bruins hit jackpot gold selecting right wing David Pastrnak in the 2014 NHL Entry Draft with the 25th pick. Once again, no other team thought of taking him earlier. He would likely go 1-3 if the draft could be redone now. You win some and you lose some in each and every round.
I would love your feedback and any different suggestions that you may have. Follow me on Twitter @LWOSPaulDeMelin.
Main Photo:
Embed from Getty Images