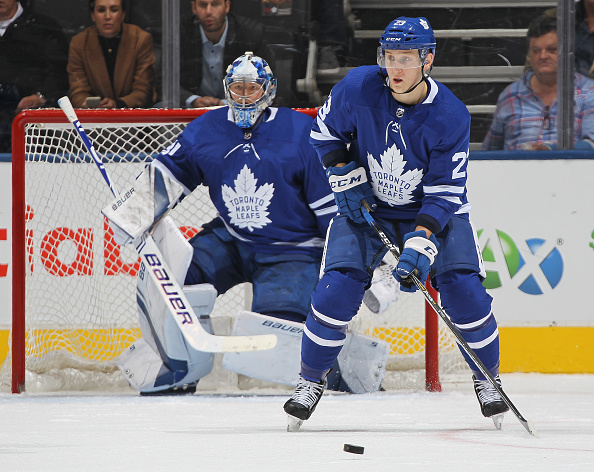 With week two of the 2018 season off coming to a close, it is time to look at this weeks NHL power rankings and see who leads and trails the list. It is easier to assess teams this week now that they have played more games than last weeks sample.
Games are through Wednesday.
Here is this weeks list:
1. Toronto Maple Leafs
The Toronto Maple Leafs are sitting pretty at the top of the NHL with the leagues best offense. But one issue could be the defense eventually. The Leafs are riding a five-game winning streak.
2. New Jersey Devils
Last week I ranked the New Jersey Devils 17th based on the fact that they had only played one game. This week they are up to four games and are still perfect with a goal differential of plus-13.
3. Nashville Predators
The Nashville Predators are off to a terrific start at 5-1-0 with impressive wins over division rivals, the Minnesota Wild and the Winnipeg Jets.
4. Anaheim Ducks
A bit of a rough week for the Anaheim Ducks getting their first and only regulation loss of the season. That was enough to keep them at number four. They were not bad last week going 2-1, they just were not good enough to move up. They own a 5-1-1 record heading into week 3.
5. Montreal Canadiens
The Montreal Canadiens continue to impress improving to 4-1-1 on the season, which shocks me because I did not expect them to be this good.
6. Carolina Hurricanes
The Carolina Hurricanes are off to a 4-2-1 start and another nice surprise out of the east.
7. Chicago Blackhawks
3-0-2 to this point and the Chicago Blackhawks are doing this without Corey Crawford in the net. They could be really scary when he returns.
8. Calgary Flames
Coming off of an impressive win over the Boston Bruins Wednesday night, the Calgary Flames are in good position right now. And Mike Smith may not hurt them as much as I thought he might.
9. Boston Bruins
The Bruins drop a spot in the rankings this week. They actually only lost one time but to the Flames so by default, it felt like they belong a spot below them for the time being.
10. Vancouver Canucks
What a nice start the Vancouver Canucks are off to, and if you read my Canucks piece over the summer you would know that I penned them to finish last in the league.
11. Tampa Bay Lightning
Can't complain about the Tampa Bay Lightning being 3-1 at this point. Especially with one of the wins being an 8-2 thumping of the Columbus Blue Jackets.
12. Colorado Avalanche
Getting points in five of their last six games are nothing to sneeze at for the Colorado Avalanche. Unfortunately, only three of those five were wins.
13. Washington Capitals
Overall the Washington Capitals have done well with a 3-2-1 record but they surely are not setting the world on fire. Particularly since they are a-5 in goal differential since opening night.
14. Winnipeg Jets
The Jets play in the toughest division in the league in my opinion and they have still managed a good record to this point at 3-2-1 but I expect them to be better moving forward.
15. Ottawa Senators
The Ottawa Senators are another team with a 3-2-1 record and they have been the least impressive of all of the teams with this record. The Senators will surely sink to the bottom of the standings in due time but to their credit, they are doing a wonderful job to this point.
16. Columbus Blue Jackets
At 3-2 Columbus has not really impressed. They are getting by at this point but no game of theirs stuck out to me as impressive.
17. Dallas Stars
I am still waiting for the offense to explode for the Dallas Stars like they are capable of. Until then, the Stars will be just an average team.
18. Pittsburgh Penguins
Speaking of average, that is how the Pittsburgh Penguins currently look to this point. I have no doubt they will turn it around but it is still a surprisingly slow start.
19. Minnesota Wild
The Wild are another team that is off to a slow start. Certainly, things are looking better with a 2-2-2 record over last week but I expected more from the Wild and they have no delivered the first two weeks.
20. Philadelphia Flyers
Goaltending and bad defense once again is a problem for the Philadelphia Flyers. Somehow management gets away with not addressing the issue. Granted they have tried to fix the goaltending but so far it has failed. I think they need to fix the defense or tighten things up via coaching strategies.
21. Buffalo Sabres
The Buffalo Sabres are 3-3 which isn't terrible and one could and probably should expect better from the Sabres. They seem to be an improved team and could possibly get a wild card spot at seasons end.
22. San Jose Sharks
2-3-1 to start the season isn't a big deal by any means but there is still a lot of time left in the season and the San Jose Sharks have the star power to turn it around quickly.
23. Los Angeles Kings
Off to a bad start this season for the Los Angeles Kings but how much of that is due to Jonathan Quick missing time with an injury? We will see he is due back in the lineup on Thursday night against the New York Islanders.
24. New York Islanders
Speaking of the Islanders, they take a spot in the bottom ten after an encouraging start to the season. Sitting at 2-3 and have lost their last two games by a margin of 9-3. Not pretty at all.
25. Edmonton Oilers
The Edmonton Oilers 2-2 and not getting good goaltending from Cam Talbot. Connor McDavid, however, has been a force getting points on all of Edmonton's first 9 goals (scoring four of them) of the season. The kid is a star.
26. Arizona Coyotes
The Arizona Coyotes are a mess still. They can't score and only have one win. I repeat, this team is a mess. And to be honest I expected a much improved season in Arizona. It looks like I was wrong.
27. Vegas Golden Knights
The Vegas Golden Knights are currently sitting 3-4 and starting to turn the corner. But something still feels off from this team compared to last season.
28. New York Rangers
I don't think anyone expected much out of the New York Rangers, and they are coming through on those expectations. You have to feel bad for Henrik Lundqvist who has gotten little help.
29. St. Louis Blues
I almost feel bad putting the St. Louis Blues here, they haven't been that poor and probably should have more than one win. But the fact remains, they do have just one win.
30. Florida Panthers
The Florida Panthers are one of two winless teams on this list and they slipped up a chance for a win the other night in Philly in what turned into a great 6-5 game at Wells Fargo Center.
31. Detroit Red Wings
The Detroit Red Wings are having growing pains, big time growing pains. 0-4-2 to this point. I never expected that I would ever put the Red Wings last on any power rankings. They are too proud of a franchise to be like this.
Last Word
There you have it, another power rankings in the books. When I look at the first two weeks of the season I see a lot of parity in the NHL. Which is a great thing and it should make things interesting all season. The teams that I thought would not be that good are surprises such as Montreal and Vancouver as examples. There is still a ton of time and things will likely change, but so far this season has proven why the NHL is so unpredictable.
Main Photo:
Embed from Getty Images