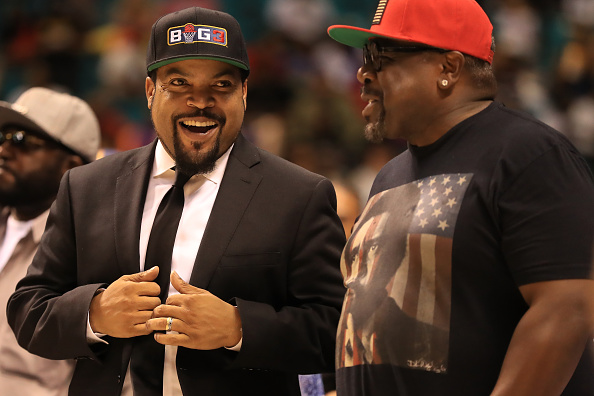 Huge performances flanked week three of the BIG3 Basketball season and the same is expected around the league this week. Almost all of the games in week three were closer than in week two. As the season goes on, more players are joining BIG3 Basketball. After last week, only one team remains undefeated in the league and only two teams remain without a win. These teams and players are getting better as the season rolls on and that's a great sign for this league moving forward.
BIG3 Basketball: Week Four Matchups
Ghost Ballers (2-1) vs Ball Hogs (2-1)
Both of these teams entered week three of the BIG3 Basketball season undefeated at 2-0. Now both come into week four with a record of 2-1 after coming off of close losses. After three weeks of dominance by the Ghost ballers' duo of Mike Taylor and Chris Johnson, only one of them showed up last week. Taylor scored 19 points and grabbed seven rebounds with two steals and a block. Johnson failed to hit double-digits as he only scored six points. The only way to slow down the Ghost Ballers was to at least stop one of the two and Tri-State did just that, resulting in a loss.
The Ball Hogs only lost by five last week despite Leandro Barbosa having yet another strong performance, as he scored 20 points with eight rebounds. Jodie Meeks added 16 points and Will McDonald tallied a double-double with ten points and 11 rebounds. It was a great performance from this trio but no other players scored any points. The Ball Hogs also had no team steals or blocks. They have to pick up the defense from last week and stop the duo of the Ghost Ballers as Tri-State did. Ricky Davis emerged for the Ghost Ballers last week so if they get him to play well too, this team will get back on track.
Power (2-1) vs Killer 3's (1-2)
Power got back on track last week with a statement win against the then-undefeated Ball Hogs. The big three of Joe Alexander (14 points), Royce White (14 points), and Cuttino Mobley (10 points) stepped up big time last week as they did in the first two weeks of the season. These three are why the Power have a great opportunity to win their second championship.
The Killer 3's are carrying momentum into their matchup against Power as they got their first win of the season last week. They also had three players hit double-digits, led by Donte Green, who had 21 points. The Killer 3's had six steals and three blocks in this game, which was much needed in their first win of the season. If they want to put together back-to-back wins, players need to perform like they did last week. The trio power possesses have been tough to stop all season and if they get hot again, it's hard to imagine another loss.
Enemies (1-2) vs Triplets (3-0)
The Enemies got their first win last week due to three players having double-digit points. Perry Jones led the way as he tallied a double-double with 14 points and ten rebounds. After a lackluster first two weeks, Nick Young showed us a little glimpse of what we should expect as he scored 13 points, as did Elijah Stewart. Young needs to do a lot of this and more if the Enemies want to get back in this season.
The Enemies will have a tough test ahead of them as the Triplets remain undefeated with a win against a then-undefeated Trilogy team. The Triplets get another outstanding performance from Joe Johnson as he scored 26 points and grabbed 12 rebounds, five assists, and a steal. His performance earned him his third Player of the Week award. Johnson got a little help from Alan Anderson as he scored ten points. Jamario Moon only scored two points but he put up a helpful ten rebounds. With this team, specifically Johnson, giving us little signs of slowing down, the Enemies will have to put together even better performances across the board than they did last week. 
Other Games
Tri-State (2-1) vs 3's Company(1-2)
Trilogy (2-1) vs Aliens (0-3)
3 Headed Monsters (2-1) vs Bivouac (0-3)
Main Photo: