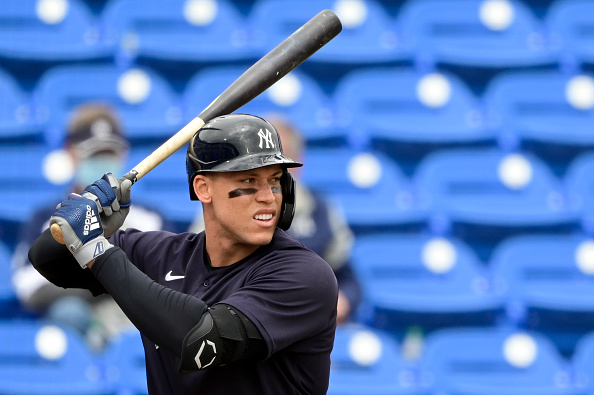 With the infamous 60-game schedule in 2020 fresh in our minds, getting a full 162 games in 2021 will be a revelation to us all. This season is setting up to be one of the most exciting in recent memory. The National League and American League MVP odds have come out. In the American League, there's a familiar face locking up the top spot yet again with a good margin. After that, it's a pretty close race to the top. The 2020 MVP, Jose Abreu, landed just outside the top five odds but still has a chance. Opening Day is just a couple of weeks away and the MVP race couldn't be more exciting.
Odds To Win 2021 American League MVP
Mike Trout (+200)
This is now the sixth consecutive time that Mike Trout has been the favorite to win the American League MVP. Just like last year and many times before that, Trout has a considerable margin when it comes to the odds. In last year's 60-game season, he played 53 games while posting a .281 batting average with 17 home runs and 46 RBI. In the last full season (2019), Trout won the MVP award despite only playing 134 games. He hit .291 with 45 homeruns and 104 RBI. The best player in the league will be trying to put up yet another MVP season as he goes for his fourth MVP award.
Alex Bregman (+1000)
There's a huge gap between Trout and the next player and that player is Alex Bregman. Despite there being a big gap, Bregman has the second-best odds and has a good chance to win the American League MVP in 2021. In 2019, Bregman had a great shot at winning it and many think should've over Trout. Either way, he will be challenging for it yet again after having injuries in the 2020 season and not looking like himself. With his 41 home runs and 112 RBI in 2019 for the Houston Astros, Bregman will be a serious contender for MVP.
Aaron Judge (+1200)
Here comes the Judge, maybe. Aaron Judge has had among the best odds to win American League MVP every season but he's had a long injury history. His last generally healthy season was in 2017 when he won Rookie of the Year with a whopping 52 home runs and 114 RBI with the New York Yankees. Judge has yet to play 113+ games since then. Even in the 60-game season in 2020, he only played 28 games. Judge is yet again at the top of the odds chart to win MVP but this time, I hope he can stay healthy long enough to prove he can win.
Jose Ramirez (+1300)
Jose Ramirez has been a big part of the Cleveland Indians' success. The team is currently interested in extending Ramirez. In 2020, he finished second in the MVP race with 17 home runs and 46 RBI with a batting average close to .300. This makes it two of the last three years where Ramirez finished in the top three of the American League MVP race (finished third in 2017 and 2018). With the Indians getting rid of big names over the years like Fransisco Lindor and Mike Clevinger among others, Ramirez will be an even bigger part of this team. He's predicted to finish towards the top of the MVP race yet again and if he does, the Indians will be better than we think.
Anthony Rendon (+1500)
In 2019, Anthony Rendon made his first all-star appearance with the Washington Nationals. He also had a great year and finished third in the American League MVP race. After the Nationals failed to re-sign Rendon, he left in free agency and joined the Los Angeles Angels. Unfortunately, his first year in Los Angeles was impacted by COVID-19. Rendon finished 10th in the American League MVP race with nine home runs and 31 RBI. With another MVP favorite in this lineup, he's due to have another big year and help this team finally get over the top.
Next Best Odds
Matt Chapman (+1700)
Jose Abreu (+2500)
Vladimir Guerrero Jr. (+3000)
D.J. LeMahieu (+3300)
Gleyber Torres (+3300)