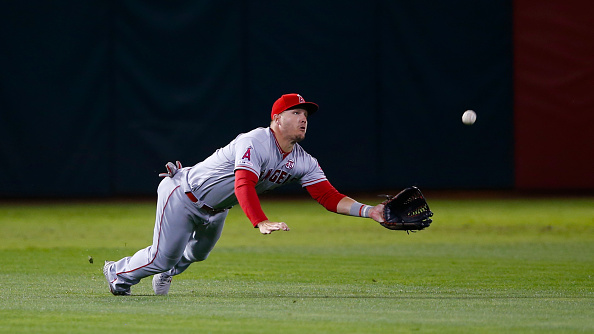 The American League MVP odds have come out and it isn't particularly close from the number one spot to the number two spot. You can probably guess who number one is but other than that, it's pretty close throughout. We're only one month away from Opening Day so let's lake a look at the top five odds to win the American League MVP.
American League MVP: Five Best Odds To Win
Mike Trout (+100)
Mike Trout is the favorite to win the American League MVP by a landslide. He's arguably the best player in baseball and some would say by a good margin. This is the fifth year in a row he has been odds on favorite to win the award. He finished last season with a career-high 45 home runs and drove in 104 with the Los Angeles Angels. He did this while missing 20+ games and still got the votes to win the hardware. Barring injury for an extended period of time, there's no reason to think he won't win the American League MVP again.
Aaron Judge (+1200)
There are two New York Yankees that crack the top five and one of them is none other than Aaron Judge. He has the second-best odds despite his durability on the field. His defense has improved and he has a lot of power. He's a star in New York but he needs to stay healthy to showcase all of his talents. If he can stay healthy, he can help the Yankees and he can make a good push for MVP.
Gleyber Torres (+1200)
Judges' teammate Gleyber Torres is right with him at +1200 odds. Torres is a rising star with the Yankees and he has pressure on him to be really good this year. Last season, he has 28 home runs and drove in 90. His defense needs to improve if he has any chance of being the player they want him to be. Part of the spotlight will be on him all season to help this team get over the hump and win the World Series. 
Shohei Ohtani (+1400)
This is the fourth player on the list and yet only two teams are represented in the top four. Shohei Ohtani is the other Angeles player to crack the top five. It will be a very interesting year for Ohtani. He's a dual-threat player that not only can pitch but hit. Ohtani has been injured for the past two years. He's had to get Tommy John Surgery in 2018 but he could still hit. Well, at the end of the last season he couldn't do either because he had to get knee surgery. He's shown that he can do both and that he can be pretty dominant when doing both. If he can stay healthy and get that arm healthy, he will be a sneaky pick to challenge his teammate for the American League MVP.
Alex Bregman (+1600)
Not a lot of people want to see Alex Bregman in these types of conversations because of what unfolded in the offseason with the Houston Astros but he's here to stay. Many believed Bregman should've won the MVP last season but that didn't happen and knowing what we know, many are happy about that. Despite the scandal, Bregman is a very talented player and this year is an opportunity to prove he can do it without help. He could easily climb up this list as time goes on and might be a good pick to challenge Trout. 
Players With Next Best Odds
Francisco Lindor (+1600)
D.J LeMahieu (+2500)
Matt Chapman (+2500)
Anthony Rendon (+3000)
Gerrit Cole (+3000)
Marcus Semien (+3000)
Rafael Devers (+3000)
Main Photo:
Embed from Getty Images