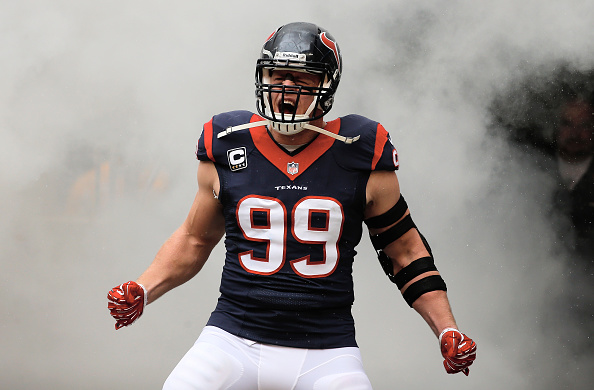 J.J. Watt fills a need for the Arizona Cardinals both on and off the field. After being a free agent for 17 days, Watt has found a new home and will be sacking the likes of Russell Wilson and Matthew Stafford. The deal is for two years and 31 million dollars with 23 million in guaranteed money.
Entering the upcoming 2021 season, Watt will be 32 years old. In addition, he's coming off a season where he only recorded five sacks. But that said, Watt was healthy, productive in different ways, and played all 16 games in 2020. Now that he's reunited with former teammate DeAndre Hopkins, they'll be looking to "finish what they started". Here are three ways J.J. Watt fills a need for the Cardinals.
How J.J. Watt Fills A Need For The Arizona Cardinals
Void Left Via Free Agency
On the surface, the Cardinals didn't need another pass rusher. They finished fifth in the NFL in sacks in 2020 and did so without superstar edge rusher Chandler Jones for 11 games. But when you take this offseason into account, the Watt signing starts to make more sense. J.J. Watt fills a need that many wouldn't think.
Haason Reddick led the defense with 12.5 sacks a year ago but is an unrestricted free agent looking for the right fit to continue his career. Reddick also contributed 20 tackles for loss, but Watt can help offset that loss (14 TFL in 2020).
Reddick's not the only linebacker from the front seven in danger of leaving. Dennis Gardeck had seven sacks last year and is a restricted free agent. Markus Golden's market value is 13.5 million according to Spotrac, so his return seems unlikely unless he takes a discount. Finally, De'Vondre Campbell who was second on the team with 99 tackles in 2020, is also an unrestricted free agent.
Obviously, Watt won't be capable of replacing all this production by himself. But assuming one or two of the players listed above leave, the signing of Watt will help fill the holes left behind.
He's Still Productive
At first glance, it's fair to wonder if Watt's best days are behind him. And the answer is probably. In his last five seasons combined, his sack total is 26.5 with 16 of them coming in 2018 alone. Injuries have mounted over the years, but Watt is still impactful on the field even if he's not wracking up sacks.
Last year, he played the most snaps he's played since 2016 and was still effective at pressuring the passer. Watt had 29 hurries and 17 hits while playing the majority of snaps on the edge and dealing with double teams on 30 percent of his plays. Now with Jones by his side, his life could get a lot easier.
Since 2012, Watt has the second-most sacks of any player in the NFL with 95.5. And the only player who has more than him is his new teammate Jones who has 97. Jones plays on the edge exclusively, so defensive coordinator Vance Joseph can afford to move Watt inside the tackles. This could help an aging Watt get an advantage against slower blockers which tend to be interior linemen.
[pickup_prop id="4338″]
Opposing offenses are going to have a hard time trying to double team both players. And it shouldn't be underestimated how much better both players will be getting to compete with and against each other in practice.
An area of improvement for the Cardinals will be improving their run defense as they gave up the 21st most run yards per game in 2020. Watt will certainly be a major boost to the run-stopping unit, but the front office will need to add more pieces to the front seven to help offset a secondary that heavily struggled a year ago.
Off Of The Field Presence
The secondary that struggled last year could be without the longest-tenured Cardinal (not named Larry Fitzgerald, who still is undecided on his future), Patrick Peterson. Peterson is an unrestricted free agent and there's a chance the Cardinals let him test the market. Entering his age 31 season, Peterson hasn't been the same lockdown corner who made eight straight pro bowls to start his career.
In the last two seasons, he's given up a passer rating of 99.2 and 98.2 respectively. But by no means should the Cardinals write him off. Peterson is one of the faces of the franchise, a veteran leader in a young secondary, and a five-time team-elected captain.
If neither Peterson nor Fitzgerald returned, Watt would seamlessly become a team leader. Even though Watt's physical skills aren't what they used to be, he's still a culture-changing player. His work ethic has earned him a "workaholic" label from former coaches.
All that said, even if Fitzgerald and Peterson both return it's hard to imagine Watt not setting the tone at every practice and being a captain. He's as vocal of a player as the league has, and he's never been afraid to use his voice on or off the field.
J.J. Watt Makes The Cardinals a Legitimate Threat
Before Watt signed with the Cardinals, they were going to be in good shape. Kyler Murray improved a lot in his sophomore season and was even a bold prediction MVP winner according to one of my LWOSports colleagues before last season. Murray's running ability solidifies him as a top 10 quarterback, and he's had another year to get familiar with his system and teammates. That's why the signing of Watt feels it'll change their ceiling.
For my money, the NFC West is the best division in football, and the pass rushers are stacked. The Los Angeles Rams have Aaron Donald and potentially Leonard Floyd (Free agent), while the San Fransisco 49ers have Nick Bosa Because of how close the four rosters are in talent, every difference matters. J.J. Watt fills a need in making the Cardinals legitimate division threats.
Main Photo: