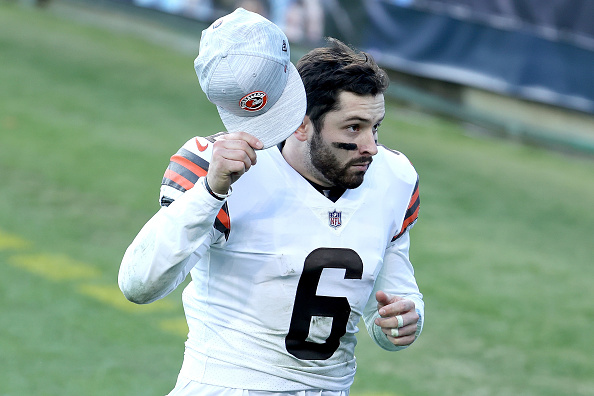 Week 13 is in the books and boy was it an exciting one! Underdogs came to play. The top two picks of the draft nearly got shook up, Cleveland jumped out to a massive lead and nearly blew it, and the NFC East had two upsets of Super Bowl LV contenders! With four weeks to go, let's take a look at the NFL Week 14 LWOSports Staff Picks.
Standings
Filip: 103-58 (10-5 last week)
Shane L.: 103-58 (10-5)
Drew: 102-59 (13-2)
Will: 102-59 (10-5)
Jordan: 98-62 (10-5)
Nick: 98-62 (10-5)
Danny: 98-62 (11-4)
Shane C.: 96-64 (11-4)
Derek: 96-64 (8-7)
Shire: 87-73 (10-5)
Chris: 86-74 (10-5)
Luca: 85-75 (0-15)
NFL Week 14 LWOSports Staff Picks
Nick: The Super Bowl LIII rematch between the Rams and Patriots looks to be a much better matchup now than perhaps earlier this season. The Patriots (6-6) are getting hot at the right time, having won four of their last five games. And, after embarrassing Justin Herbert and the Chargers 45-0, they're feeling confident.
The Rams (8-4) are also on a hot streak, winning three of their last four and keeping the NFC West race neck in neck. They've been winning against playoff-caliber teams in Arizona, Tampa Bay, and Seattle.
Jared Goff
is coming off an efficient game, completing 37 of 47 passes, and that gives the Rams confidence going into a tight game like this.
The coaching staff on these teams should make for a competitive game. These teams are built very similarly as well. Both are run-heavy teams; The Patriots lead the NFL in rushing attempts, while the Rams are seventh. A major factor that separates these teams is the run defense. The Patriots are weaker than the Rams here, as they give up the 18th most rushing yards per game. The Rams meanwhile hold opponents to 3.9 yards per attempt and are suffocating in that regard.
The Patriots have a talented defense that can force turnovers. If Goff has an off game, the secondary of New England can make him pay with interceptions.
J.C. Jackson
and
Stephon Gilmore
are a great duo and will have their hands full with
Robert Woods
and
Cooper Kupp
. But the pass rush is what tips the scales in the Rams favor for me. Their pass rush is ferocious, and fourth in sacks.
Leonard Floyd
and
Aaron Donald
are the top pass-rushing duo in the NFL now that
Bud Dupree
is out for the year in Pittsburgh. New England's roster just doesn't have the talent on the defensive line to keep up. Rams win a fun, close game.
| | | | | | | | | | | |
| --- | --- | --- | --- | --- | --- | --- | --- | --- | --- | --- |
| Drew | Jordan | Filip | Shiree | Shane L. | Shane C. | Nick | Will | Derek | Danny | Chris |
| LAR | NE | LAR | LAR | LAR | LAR | LAR | LAR | LAR | LAR | LAR |
Drew: The Pillowfight of the Week features the Cowboys traveling to the Bengals. Both of these teams are hot messes, there really is no other way to sugarcoat it.
The Bengals have some serious culture issues. WR6 Michael Thomas (no, not that one) got to the punt returner early on two separate instances, sparking a benches-clearing altercation. In total, two Bengals and three Dolphins were ejected throughout the game.
Honestly, the offensive line is a dumpster fire. Center Trey Hopkins has been solid but not great and Quinton Spain has earned his stripes in a short amount of time. Jonah Williams was put on IR. Bobby Hart and Michael Jordan are still terrible. Bengals fans are looking towards the draft and Penei Sewell. No way around it.
Last season, Andy Dalton secured the first-overall pick for the Bengals. This year, he could help them secure a top-three pick. While his defense is literally the worst in the league, and his offensive line is nothing compared to what it was, the Cowboys have weapons. Amari Cooper, CeeDee Lamb, and Michael Gallup could be WR1 on almost any team.
If you're looking for a bounce-back game for Dallas, bet on this one. While the Bengals defense has been decent, its pass rush is dead-last. Dalton will feel like he is back on the 2015 Bengals team because he will have time to throw, light it up, and win in Cincinnati.
| | | | | | | | | | | |
| --- | --- | --- | --- | --- | --- | --- | --- | --- | --- | --- |
| Drew | Jordan | Filip | Shiree | Shane L. | Shane C. | Nick | Will | Derek | Danny | Chris |
| DAL | DAL | DAL | DAL | DAL | DAL | DAL | DAL | DAL | DAL | DAL |
Drew: Deshaun Watson deserves better. Realistically, the Texans' schedule has been brutal. Seven of their eight losses are to teams who are looking to be in the Playoffs.
Since firing Bill O'Brien, the Texans are 4-4 under Romeo Crennell. They don't have a first-round pick. Will Fuller was suspended. Even without anything, Watson threw for 308 yards against a great Colts defense. Honestly, if it were me, I would be trying to get out.
The Bears are not in a better spot. Since starting 5-1, Chicago has dropped six in a row. It looks like Mitchell Trubisky will be the starting quarterback instead of Nick Foles again. Khalil Mack is still a monster on the defense, but they've given up 75 points the last two weeks.
If it weren't for the Cowboys vs Bengals, this would be the Pillowfight of the Week. In a matchup of bad teams, look at the quarterbacks. Watson (who the Bears passed on) is significantly better than anything the Bears will trot out. He alone will be able to lead Houston to victory.
| | | | | | | | | | | |
| --- | --- | --- | --- | --- | --- | --- | --- | --- | --- | --- |
| Drew | Jordan | Filip | Shiree | Shane L. | Shane C. | Nick | Will | Derek | Danny | Chris |
| HOU | CHI | HOU | HOU | HOU | CHI | HOU | HOU | HOU | HOU | HOU |
Jordan: Two future faces of the league matchup in an extremely important matchup this week. Patrick Mahomes and the Chiefs will be looking to finally pass the Steelers for the #1 seed while Tua Tagovailoa and the Dolphins are looking to keep pace in a tight AFC playoff race.
The Chiefs have been dominant all season, dismantling teams with their offensive explosiveness. Mahomes is certainly one of the MVP ladder leaders and both Travis Kelce and Tyreek Hill are having phenomenal seasons. It's a scary sight for the rest of the NFL. Not to mention, the Cheifs defense has improved greatly from last year, which was one of their biggest weaknesses in their super bowl run.
Tua and the Dolphins have surprised many this season, after finishing as one of the worst teams in the league last season. The addition of their franchise quarterback certainly helps, but I'm not sure many thought Tua would step in and make this quick of an impact. He's quietly having a great rookie campaign. Meanwhile, the Dolphins' defense has become one of the best in the league. The team is starting to become a threat in nearly every matchup.
It's a matchup that holds a lot of weight around the league. The Chiefs have a huge opportunity to put even more pressure on the Steelers who face off against the Bills next week. I think KC steps up to the plate and the Dolphins get a wake-up call in a blowout. Give me the Chiefs by at least 14.
| | | | | | | | | | | |
| --- | --- | --- | --- | --- | --- | --- | --- | --- | --- | --- |
| Drew | Jordan | Filip | Shiree | Shane L. | Shane C. | Nick | Will | Derek | Danny | Chris |
| KC | KC | KC | KC | KC | KC | KC | KC | KC | KC | KC |
Shane L.: The Arizona Cardinals were 5-2 after eight weeks and fighting for the NFC West lead. Fast forward to NFL Week 14 and they are 6-6 after losing four of their last five. They would compete in a huge divisional battle against the Los Angeles Rams last week and lose by ten. Kyler Murray threw three touchdowns but only threw for 173 yards had a pick-six. The Cardinals had two receivers over 50 yards and a combined three touchdowns with running back Kenyan Drake rushing for a touchdown but that wasn't nearly enough to stop the Rams offensive attack. They needed players to step up and that didn't happen.
On the flip side, the Giants came into this game on a four-game winning streak and tied atop the NFC East at 4-7. In any other division, they'd probably be out of the race but not in the East. The Giants' defense has been on a roll as of late as they've held opponents to 20 or less during this winning streak. This past week, they kept the Seattle Seahawks high powered offense to 12 points. The Giants were also without Daniel Jones as they started Colt McCoy but it didn't matter as they did just enough to secure first place in the NFC East for the time being.
This will be a huge game for both teams but maybe more so for the Cardinals. This feels like a must-win game for the Cardinals as they need their defense to step up and Murray to get back to dominance. The Giants are optimistic that Jones will start at quarterback this week so they'll get a boost on offense. This game will depend on how the Giants' defense performs. It's hard to judge both of these teams but if it comes down to defense, New York has a good chance to win at home.
| | | | | | | | | | | |
| --- | --- | --- | --- | --- | --- | --- | --- | --- | --- | --- |
| Drew | Jordan | Filip | Shiree | Shane L. | Shane C. | Nick | Will | Derek | Danny | Chris |
| ARI | ARI | NYG | NYG | ARI | NYG | ARI | NYG | ARI | ARI | NYG |
Jordan: Can Tom Brady find his groove again? We'll see if the bye truly fixed some of the big problems that the Bucs have encountered over the past month. On the flip side, the Vikings are riding a fantastic second half of the season, going 5-1 in their last six.
For Tampa, the offense has been stagnant and the talent on the team seems to be being wasted. Not to mention, their defense has taken a plummet as well. Tom Brady has cooled off after a pretty hot start and the once-promising receiving core is absolutely not living up to expectations. The Bucs are currently fighting to stay in the wild card race and a loss this week could do some significant damage to their chances. They're coming off of a tough loss against the league-leading Chiefs, which featured one of the more forgettable first halves of the season for Tampa Bay.
The Vikings are one of the hottest teams in the league right now. The offense is one of the most dynamic in the league, headlined by Dalvin Cook and his 30+ touches per game. Adam Thielen and Justin Jefferson have become one of the better duos in the league on the receiving end. The team is undoubtedly weak on the defensive end, but their offense is simply too talented to not be taken seriously.
I think this game should be a close one. The Bucs haven't impressed me much over the past couple of weeks and the Vikings have really exploded over the past month. I'm going to take the Bucs, but it'll be close enough that Tampa fans won't come out of this game with any more confidence.
| | | | | | | | | | | |
| --- | --- | --- | --- | --- | --- | --- | --- | --- | --- | --- |
| Drew | Jordan | Filip | Shiree | Shane L. | Shane C. | Nick | Will | Derek | Danny | Chris |
| TB | TB | TB | TB | TB | TB | TB | TB | MIN | TB | TB |
Shiree: The Denver Broncos face the Carolina Panthers at Bank of America Stadium for the battle of the 4-8's. Denver lost to the Kansas City Chiefs last week in heartbreaking fashion, 16-22, while the Panthers are coming off a bye week.
Once again for the Panthers, they have to play lights-out defense because they have eight players, some of who are vital to the team, on the COVID list entering this week. D.J. Moore and Curtis Samuel are among those players along with Derrick Brown, Zach Kerr, Shaq Thompson, and Greg Little. Obviously losing Moore and Samuel would not be good for the offense especially with how well Denver's defense already plays. They only got to Patrick Mahomes once last week but with Little already being out and the offense possibly being limited, it could be a long day for Teddy Bridgewater. One bright spot is that Christian McCaffrey is slated to suit up this week so there's at least that option for them.
Denver is one of those teams that are up and down. They have lost two in a row coming into their matchup this week so I fully expect them to make it tough for the Panthers. Denver's' defense, much like it was in 2015, is going to be a problem this weekend especially with the number of holes on their roster. The biggest thing for them will be stopping McCaffrey because he's the biggest part of the offense right now.
This will be a low-scoring game that the Broncos will win. It's 2015 all over again.
| | | | | | | | | | | |
| --- | --- | --- | --- | --- | --- | --- | --- | --- | --- | --- |
| Drew | Jordan | Filip | Shiree | Shane L. | Shane C. | Nick | Will | Derek | Danny | Chris |
| CAR | CAR | CAR | DEN | CAR | DEN | CAR | CAR | CAR | CAR | CAR |
Filip: The Playoffs are nearing, and teams are getting prepared to play in intense matchups with playoff implications. This is not the case here as the Titans (8-4) hold the four seed, while the Jaguars (1-11) have mathematically been eliminated from the playoffs. With that said, in recent weeks, the Jaguars have put up a fight and dragged games until the very end, so this game could go down to the wire.
The Tennessee Titans last week were absolutely embarrassed by the Browns and Baker Mayfield as they lost 41-35 while giving up 38 points in the first half. I expect a bounceback from the Titans because they are a good team and good teams don't let embarrassments happen two weeks in a row.
Looking at the Titans' offense, it all flows through Derrick Henry a.k.k "King Henry" who leads the league with 1,317 rushing yards. His rushing game will not stop against the Jaguars as they give up the third-most rushing yards per game. That already spells trouble for the Jaguars, and Henry's running allows for the play-action pass. The Titans are deadly on the play-action pass as Ryan Tannehill has a variety of weapons like Corey Davis, A.J. Brown, or even Jonnu Smith. 
The Titans' offense is explosives and will score points, but the way the Jaguars can keep this game close is on offense. After the benching of Gardner Minshew and Jake Luton, the veteran Mike Glennon has stepped up and put together two solid performances that have kept his team in it. Now Mike Glennon doesn't have the mobility to escape pressure, but the good thing is, he won't have to because the Titans have the worst pass rush in the league. 
Aside from the passing attack, the Jaguars can also turn to a fantastic rushing game led by rookie James Robinson who is third in the league with 968 rushing yards. With how solid the Jaguars' offense has been in recent weeks, they should be able to put up a decent amount of points against a defense that gives up the eight most offensive yards in the game.
This game should be very close, with both offenses having the ability to score. Whether it's James Robinson, Derrick Henry, or the passing game, there should be plenty of points scored. That is because these two defenses have a hard time stopping anyone. The Titans know the importance of this game for their playoff push, and will ultimately get the win. Both offenses can put up points, but the Titans are just the better and more explosive offense, while on defense, both defenses aren't that great, but the Titans are more experienced and talented giving them the advantage on the defensive side.
Prediction: Titans win 31-27
| | | | | | | | | | | |
| --- | --- | --- | --- | --- | --- | --- | --- | --- | --- | --- |
| Drew | Jordan | Filip | Shiree | Shane L. | Shane C. | Nick | Will | Derek | Danny | Chris |
| TEN | TEN | TEN | TEN | TEN | TEN | TEN | TEN | TEN | TEN | TEN |
Drew: A pair of teams fully immersed in the playoff picture, this Cots-Raiders matchup should be a fun one.
Last week the Colts survived a tough divisional matchup with the Texans. Philip Rivers led the way with 285 yards and a pair of touchdowns. Rookie Jonathan Taylor nearly broke the century mark and has continued to grow as a solid back. Hopefully, T.Y. Hilton continues to ball out.
The Colts' strength is their defense, led by Darius Leonard and rookie safety Julian Blackmon. Blackmon has been a welcome surprise, filling in for the injured Malik Hooker.
Where the Colts may feel good, the Raiders were a decent defense away from losing to the winless Jets. Honestly, they should have lost, but now-fired defensive coordinator Greg Williams decided he wanted to sent the house on a hail mary instead of play prevent defense.
Derek Carr has been quite good and propelled his team with 381 yards and three touchdowns. Henry Ruggs has really developed into a playmaker. Darren Waller exploded for 200 yards and has continued his great comeback story. Josh Jacobs is a monster running back.
Despite all of these things, I will be rolling with the Colts. The Raiders have some of the best wins of the season (vs Saints, at Cheifs), but they have been prone to let downs. I think the Jets, as bad as they are, exposed some issues that a competent team will be able to take advantage of.
| | | | | | | | | | | |
| --- | --- | --- | --- | --- | --- | --- | --- | --- | --- | --- |
| Drew | Jordan | Filip | Shiree | Shane L. | Shane C. | Nick | Will | Derek | Danny | Chris |
| IND | IND | IND | IND | LVR | IND | IND | LVR | IND | IND | IND |
Jordan: Not much to say about this matchup. A winless Jets team comes into Seatle to try and knock off Russell Wilson. I think you know how this story ends.
The Jets were just a play away from winning their first game of the 2020 season. Evidently, they either don't know how to play a lick of defense or they threw the game and lost it on the last play to Henry Ruggs III. There isn't much to look forward to in New York, with the entire franchise in question. Sam Darnold may be seeing his final weeks as the Jets quarterback, with both Trevor Lawrence and Justin Fields looming large in this year's draft. They've got some promise in the receiving core and in the backfield, but nearly every aspect aside from that is lackluster.
The Seahawks have fallen back down to earth and a bit more. They've now lost the division and have gone 3-4 in their last seven. So what's the plan now? We'll, the realization that Wilson can't carry the team to 30 points every week is starting to move to the forefront in Seattle. The defense can't get away with their consistent poor performances anymore. They've improved greatly over the past couple of weeks, but they still struggle to stop the opposing offense, even when it's led by Colt McCoy. The Seahawks have a "get right" game sitting in front of them. They have no choice but to take it and run.
No one in their right mind is predicting the Jets to win this game, even with the recent struggles from the Seahawks. I think Russell Wilson gets back into his groove and we see the Seahawks get back on track for the playoff push. Seahawks by 14.
| | | | | | | | | | | |
| --- | --- | --- | --- | --- | --- | --- | --- | --- | --- | --- |
| Drew | Jordan | Filip | Shiree | Shane L. | Shane C. | Nick | Will | Derek | Danny | Chris |
| SEA | SEA | SEA | SEA | SEA | SEA | SEA | SEA | SEA | SEA | SEA |
Chris: A matchup between two bitter NFC North rivals, the Detroit Lions travel to Green Bay to battle the Packers in one of five late afternoon games in NFL Week 14.
Winners against the Philadelphia Eagles a week ago, Matt Lafleur's group is 4-1 in their last five games as they inch closer to a second straight division title. Providing a bright spot to their fans in a season that has quickly gotten away from them, the Lions trailed the Chicago Bears by ten with three minutes to go in Week 13. Rallying late, Detroit scored two times in the game's final two and a half minutes to secure just their second win since October 25th. The second and final matchup between these two teams after the Packers 42-21 victory in week 2, here's what to look for in this one. 
Rolling on the offensive side of the ball over the past month of the season, the Packers have scored 30 plus points in three straight games. The number one overall scoring offense and the second-ranked overall offense in the league, the team is led by MVP front runner Aaron Rodgers. Enjoying one of his best statistical seasons ever through 13 weeks, the 37-year-old is completing over 68 percent of his passes, leading to 36 touchdown passes to just four interceptions.
Near the bottom of the league in every major statistical category, the Lions have allowed over 400 yards per game to opposing offenses, leading to an average of 29 points per game. After rushing for 168 yards and two scores in their week 2 victory, one matchup to watch for the Packers will be Aaron Jones vs the Lions rush defenses. Struggling against the run all season long, the Lions have allowed over 130 yards per game on the ground, setting the stage for a monster day for the Packers franchise running back. 
Beginning to play better football under interim head coach Darrell Bevell, Detroit came from behind to defeat the Chicago Bears on Sunday. Scoring two touchdowns in the final two minutes and thirty seconds of the game, the team was led by quarterback Matthew Stafford. Throwing for over 402 yards and three scores in the victory, Detroit will need another strong performance from the former number one overall pick if they hope to pull off the upset.
Receiving less than stellar news on the injury front this week, the Lions were without top receiver Kenny Golladay and number one cornerback Jeff Okudah at practice. Both are still working their way back from injury. News to monitor all week long heading into Sunday; if Okudah is forced to miss his third straight game with a shoulder injury, look for second-year defensive back Amani Oruwariye to be tasked with trying to slow down star Packers receiver Davante Adams. Enjoying the best season of his pro career in 2019, Adams has 84 receptions for 1029 yards and three touchdowns in just 10 games played.
Looking to close out their second straight NFC North title with a win and a Vikings loss, expect Matt Lafleur's team to head into this one all business. A much more inspired team following the dismissal of former head coach Matt Patricia and general manager Bob Quinn, the Lions have played the Packers tough at Ford Field over the past few seasons. However, with struggles against the run and the pass, look for Rodgers and company to have their way with an undermanned Lions defense, leading to their 9th victory of the season.
Final Score: Green Bay Packers 35 Detroit Lions 17
| | | | | | | | | | | |
| --- | --- | --- | --- | --- | --- | --- | --- | --- | --- | --- |
| Drew | Jordan | Filip | Shiree | Shane L. | Shane C. | Nick | Will | Derek | Danny | Chris |
| GB | GB | GB | GB | GB | GB | GB | GB | GB | GB | GB |
Danny: There's a chance Drew Brees is available to play this week, but it is looking like Taysom Hill will continue to start for the Saints this week, as they look to hold on to that top seed in the NFC against the struggling Eagles. Malcolm Jenkins gets to come home and face a very different-looking Eagles team than he was on just last season.
On the other side of the field, things are going great. The Eagles look terrific, there's no drama. Just kidding. The Eagles are an absolute disaster right now. A mess they created on their own by the way. Rookie
Jalen Hurts
was named the starter this week and five-year vet
Carson Wentz
was sent to the bench. He has been horrible this year, but so has everything around him. He is being sent to the bench while
Jason Peters
and
Alshon Jeffery
continue to get meaningful snaps even without meaningful contribution and being disasters in their own rights. Hurts provides a unique skillset with his running abilities and has a good arm. The Saints are clearly the better team, and Wentz is clearly the better QB who is struggling right now but Hurts provides a spark to the offense.
Eagles 27
Saints 21
| | | | | | | | | | | |
| --- | --- | --- | --- | --- | --- | --- | --- | --- | --- | --- |
| Drew | Jordan | Filip | Shiree | Shane L. | Shane C. | Nick | Will | Derek | Danny | Chris |
| NO | NO | NO | NO | NO | NO | NO | PHI | NO | PHI | NO |
Shane C.: The Atlanta Falcons travel to Los Angeles to take on the moribund Chargers in what has shoot-out written all over it. The Falcons put forth a solid effort in Week 13 against the New Orleans Saints but they just didn't have enough to overtake an excellent Saints' defense. Matt Ryan has struggled as he has just barely topped fifty percent completion rate in his last three games. The good news for Ryan and company is that the Chargers continue to struggle.
The Chargers have the twenty-seventh ranked defense. And, while they have been better against the pass, they can be exposed in the running game. Setting up nicely for Todd Gurley. Additionally, the Chargers blitz at one of the lowest rates in the league. That said, if the Falcons offensive line can hold up, Ryan could be in line for an excellent afternoon as well. The Chargers saving grace is that they are among the best at stopping wide receivers in their tracks.
The dynamic duo of Justin Herbert and Keenan Allen should feast on the Falcons secondary. The Falcons have the seventeenth ranked defense and have been very good against the run. However, they are fifth-worst at giving up yards after the catch. Setting up nicely for the Chargers' passing game.
As if head coach Anthony Lynn's tenure wasn't already on thin ice. The dismantling at the hands of the Patriots might just be too hard to ignore. Conversely, Falcons interim head coach, Raheem Morris has his team playing solid football and is making a case to keep the job in Atlanta. At the end of the day, it's all about two bad teams battling for pride. For some reason, I keep picking the Chargers. And, not surprisingly, they've disappointed. I'm not going there this week.
Atlanta Falcons 37 Los Angeles Chargers 31
| | | | | | | | | | | |
| --- | --- | --- | --- | --- | --- | --- | --- | --- | --- | --- |
| Drew | Jordan | Filip | Shiree | Shane L. | Shane C. | Nick | Will | Derek | Danny | Chris |
| LAC | ATL | ATL | ATL | ATL | ATL | LAC | ATL | ATL | ATL | ATL |
Drew: The NFC East had two massive upsets last week and one of them featured this Washington Football Team football team. I'll never get used to this name, I hope they get it figured out for 2021.
Alex Smith will be the unanimous Comeback Player of the Year. He and Terry McLaurin have been great thus far, but last week's win is completely due to that defense. Chase Young, Jonathan Allen, Montez Sweat, Da'Ron Payne. How is anyone supposed to do anything against this line?
The 49ers have been maligned by injuries all year. However, when they are actually able to field a football team, they look pretty good. Brandon Aiyuk has been great as has now-fully-healthy Deebo Samuel. The running back situation has been confusing, but they have made due.
Just like with Washington, the defense is great. Fred Warner has grown into an elite linebacker. However, in this battle of 5-7 teams, Washington will come out on top and keep pace in their terrible division.
| | | | | | | | | | | |
| --- | --- | --- | --- | --- | --- | --- | --- | --- | --- | --- |
| Drew | Jordan | Filip | Shiree | Shane L. | Shane C. | Nick | Will | Derek | Danny | Chris |
| WAS | WAS | SF | WAS | WAS | SF | WAS | WAS | WAS | WAS | SF |
Derek: Two heavyweights of the AFC will battle in Buffalo on Sunday night in the NFL Week 14. The Bills host the Steelers in an important game that will tell us a lot heading into the playoffs.
Pittsburgh lost their first game of the season to the Washington Football Team in Week 13 showing that they are beatable and that the AFC is an open race. The Bills defeated the 49ers in dominant fashion on Monday Night showcasing Josh Allen's incredible development this season. Allen had 375 yards and four touchdown passes in the game earning him AFC offensive player of the week for the third time this season. Allen has been playing an elite level of football this season and is leading Buffalo to their most impressive season in years.
Buffalo will have a great opportunity to beat the current number one team in the AFC just a few weeks before the playoffs begin. That type of momentum could carry Buffalo through the playoffs and into a potential rematch with both Pittsburgh and Kansas City.
For Pittsburgh, this game is an opportunity to get back on track in a big way. Buffalo is a great team and beating them on Sunday night would help the Steelers move on from their first loss of 2020. Running back James Conner might return from injury, giving the Steelers' offense a much-needed boost. Buffalo's running offense continues to struggle and it will be another difficult task with the Steelers top-ranked defense coming to town.
It will be interesting to see who comes out on top in this game, but Buffalo may have a slight advantage with momentum and the home field on their side.
| | | | | | | | | | | |
| --- | --- | --- | --- | --- | --- | --- | --- | --- | --- | --- |
| Drew | Jordan | Filip | Shiree | Shane L. | Shane C. | Nick | Will | Derek | Danny | Chris |
| BUF | PIT | BUF | BUF | BUF | PIT | PIT | BUF | BUF | BUF | BUF |
Will: For this Monday night matchup, there is a critical division matchup as the Baltimore Ravens travel to Ohio to take on the Cleveland Browns. This is the second matchup of the season between the two. The first matchup came in Week 1 as the Ravens dismantled the Browns by a score of 38-6. However, both teams are very different now than they were in the beginning of the season. You know that Kevin Stefanski and the Browns are plotting their revenge for this primetime showdown.
The Ravens are coming off of an expected Tuesday night victory over the Dallas Cowboys and are now 7-5 on the year. People were wondering if
Lamar Jackson
would look slower after contracting COVID-19 a couple of weeks prior, but it didn't affect him one bit. He ran for 94 yards including the 37-yard touchdown run in the first quarter. Other than that, the passing game wasn't a big part of the game plan as Jackson threw the ball just seventeen times. With Cleveland having a much better defense than Dallas, Baltimore is going to have to find ways to not be as one-dimensional as they have. Other than Tuesday night's game, Baltimore has looked sluggish of late, in my eyes.
This team is clearly not the same team that went 14-2 last year with the league MVP at quarterback. I truly believe that most defenses are starting to figure out how to contain Lamar Jackson and this Ravens offense. They seem to be declining as their season goes on and are now in danger of not making a playoff spot. This rivalry matchup on Monday will be a huge indicator on where the Ravens will be come January.
On the other side of the table, the Cleveland Browns are slowly but surely becoming one of the hottest teams in the league. Currently riding a four-game win streak, they are 9-3 on the season and have clinched an above-.500 season for the first time since 2007. If I were a fan of the Browns, I wouldn't care what the media says about them being "frauds". For some, this could be the best team they've seen in their lifetime and they shouldn't give credit to the doubters trying to bring them down.
Last week, the Browns looked like they could be a Super Bowl LV contender, at least in the first half. They scored 38 points before the intermission and were up 31 on the Tennessee Titans. The game ended closer than fans would've liked, but a win is a win. In that first half, Baker Mayfield looked untouchable. That was the best football I have seen him play in his career and he proved that this offense is not all about the run game. If Mayfield can continue this level of play for the remaining four games and into the playoffs, they could challenge any team that stands in their way.
I know Baker Mayfield is still striving to prove the haters wrong, it's in his DNA. There's no better time to show the world how good your team is than on Monday Night Football. I am taking Cleveland to win this divisional rivalry game by a score of 27-23.
| | | | | | | | | | | |
| --- | --- | --- | --- | --- | --- | --- | --- | --- | --- | --- |
| Drew | Jordan | Filip | Shiree | Shane L. | Shane C. | Nick | Will | Derek | Danny | Chris |
| CLE | CLE | BAL | CLE | CLE | BAL | CLE | CLE | CLE | CLE | CLE |
Main Photo: