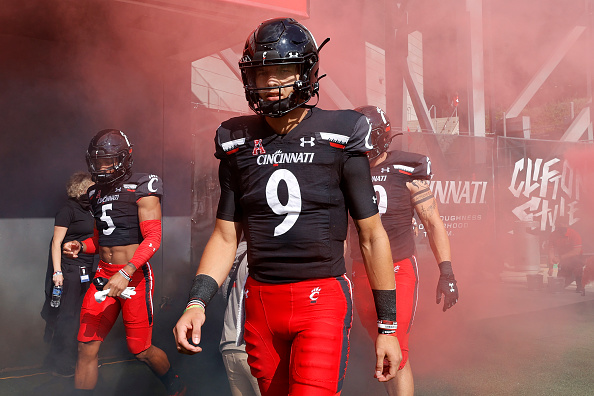 In a year that has been nothing but chaotic and unpredictable, a Group of Five CFP buster would be the crown jewel. Back in September, I took a look at a few potential G5 teams that could crash the prestigious College Football Playoff. Ten weeks later, the CFP picture has become clearer; contenders have solidified themselves, pretenders have been exposed.
Will all of this time passed, let's update the potential Group of Five CFP busters list. Consider it my version of Colin Cowherd's "Where Colin Was Right/Wrong."
Group of Five CFP Busters: Revisited
Tigers, Mountaineers, Golden Knights All Eliminated
Memphis, UCF, and Appalachian State are all very good G5 teams. Both Memphis and UCF have offenses that could put up points against just about any team in the country. Appalachian State is still a very solid team, overall. They just could not get it done when it mattered most.
Unfortunately for G5 teams, one loss eliminates them from CFP and NY6 Bowl contention. Memphis lost to SMU and Cincinnati. UCF lost to Tulsa, Memphis, and Cincinnati. App State lost to Marshall and Coastal Carolina.
Cincinnati Still Perfect
The Bearcats remain the only possible Group of Five CFP buster. At 8-0, Cincinnati has taken care of business and looked good doing it. Junior quarterback Desmond Ridder is getting better and better. Gerrid Doaks is a stud running back who opens up the offense. The Bearcats' defense is legitimately elite.
While it will be argued that Cincinnati has an easy schedule, they have faced high-powered offenses and shut them down. In nearly every game, Cincinnati has both scored more, accumulated more yards, allowed fewer points, and allowed fewer yards than their respective opponents' averages.
Take a look at these numbers. Compare Cincinnati's FBS opponents and how they fared in their games against non-Cincinnati teams against how they performed against Cincinnati themselves. Only against USF did the Bearcats score fewer points or go for fewer yards.
Points Non-Cincy AVG
Points vs Cincy
Yards Non-Cincy AVG
Yards Vs Cincy
Opponent
PF
PA
PF
PA
OFF
DEF
OFF
DEF
Army
33
15
10
24
355
284
276
331
USF
22
39
7
28
335
437
291
332
SMU
42
27
13
42
533
411
290
439
Memphis
41
30
10
49
552
470
321
513
Houston
38
32
10
38
454
420
282
510
ECU
29
32
17
55
405
427
293
653
UCF
44
29
33
36
619
447
359
482
The most glaring are the performances against the high-flying offenses of SMU, Memphis, and UCF.
What's next for Cincinnati?
At 8-0, Cincinnati remains a legitimate threat. They have two regular-season games left on the schedule: AT Temple and AT (25)Tulsa. With a win at Temple, Cincinnati would've clinched a spot in the AAC Title game. Unfortunately, the game was canceled on Wednesday due to COVID-19 concerns at both schools. Considering how Tulsa has been playing thus far, it is not outlandish to expect the Hurricanes to beat Navy and Houston to clinch the other AAC Title game slot.
That's where it gets interesting. Cincinnati and Tulsa would then have to play back-to-back games. It's hard to beat a good team, it's even harder to beat them twice, two weeks in a row. Last year, Cincinnati had the same opportunity against UCF. They lost both games.
Sitting at #7 in the first CFP Rankings, Cincinnati will need to convincingly take care of business and pray for chaos.
Enter Coastal Carolina and Marshall
Even though they are sitting at #20 and #21 in the CFP rankings, respectively, we would be remiss to not talk about these two undefeated G5 teams.
Respect the Herd
Marshall, hailing from the Conference-USA, is sitting at 7-0 and looking pretty good. Although they've had four games postponed due to COVID-19 concerns, the Herd have taken everything in stride and had taken care of business. As of now, their C-USA matchups against FIU and Rice have been rescheduled. Their C-USA game against Charlotte should also get rescheduled, but nothing has been officially been done. That final game was a non-conference game against ECU, so it will likely not be rescheduled.
Their magic number to clinch a C-USA title game birth is one and should be able to coast to a conference championship.
Fear the 'Cleers
Coastal Carolina has come out of nowhere. Also sitting at 7-0, the Chanticleers have taken the Group of Five CFP busters conversation by storm. Interestingly enough, Coastal has one thing that non of these other teams have: a win over a Power Five team. Given, that team was Kansas, so it was like winning another G5 game.
Aside from their win against Appalachian State this past weekend, the crowning achievement thus far has been their win over a then-ranked UL-Lafayette. Coastal will have to earn their Sun Belt championship because it is shaping up to be a rematch with the aforementioned Ragin' Cajuns.
Unfortunately for both of these squads, no matter how well they play in the upcoming weeks, they will be left out of the conversation.
What Has To Happen?
Let's get back to Cincinnati. The Bearcats are the only legitimate Group of Five CFP team. There is a lot of football left to play, so let's look at everything that needs to happen for Cincinnati to shock the world
Take care of business: Self-explanatory. Go 10-0, earn an AAC Title, and look good doing it.
Establish a "Big Three": Alabama and Ohio State must go undefeated. A loss by either team either in-season or in their respective title games would muddy the picture. A one-loss SEC or B1G team (even if they aren't champions, as we have seen in the past) has a legit shot at getting in over UC. Notre Dame beat Clemson in round one. Clemson didn't have Trevor Lawrence. Either Notre Dame needs to win round two, or Clemson needs to absolutely destroy the Irish.
BYU is a problem: Quarterback Zach Wilson has turned into a dark-horse Heisman candidate. The Cougars have dismantled every opponent that has come their way. All that stands in their way of a perfect season is San Diego State. At season's end, Cincinnati and BYU will have one common opponent: Houston. The CFP committee must not have much confidence in them, considering they debut at #14 in the official rankings.
Everyone else, clear out:(5)Texas A&M, (6)Florida, (8)Northwestern, (10)Miami, (15)Oregon. A&M only has one team with a pulse remaining on their schedule in Auburn. Florida will have to play (1)Alabama in the SEC title game. Northwestern looks good, considering they just beat a good-looking Wisconsin team. If they continue, they will match-up against Ohio State. The Buckeyes are 37-2 since 1964 against the Wildcats, including an eight-game win streak. Miami got smacked by Clemson and will likely be the third-best ACC team. As of now, the only decent team remaining on their schedule is North Carolina. Oregon plays in a weak PAC-12. They (as well as, probably, USC for strength of schedule) would have to dazzle and then dominate in their title game.
Strength of Record – UC 4, Texas AM 5, UF 9

Game Control – UF 4, UC 8, Texas AM 17

SOS – Texas AM 36, UF 43, UC 85

FPI – UF 7, Texas AM 10, UC 13

Overall Efficiency – UF 5, UC 11, Texas AM 16

Off Eff – UF 4, Texas AM 13, UC 24

Def Eff – UC 7, Texas AM 36, UF 49

— BearcatJournal.com (@BearcatJournal) November 24, 2020
Never Tell Me The Odds
At #7, Cincinnati officially has the highest-ever ranking for a G5 team. Interestingly enough, they have the fourth-best odds (according to ESPN) to make it to the CFP at 35.7%. Only (1)Alabama (93.5%), (4)Ohio State (72.3%), and (2)Notre Dame (58.8) have better odds. Behind them in the top ten, (3)Clemson (32.5%), (8)Northwestern (13.3%), (6)Florida (12.7%), (5)Texas A&M (12.0%), (10)Miami (FL) (1.2%), and (9)Georgia (0.3%). If there is any hope for a Group of Five CFP buster, it lays solely on the Bearcats' shoulders.
Main Photo:
Embed from Getty Images