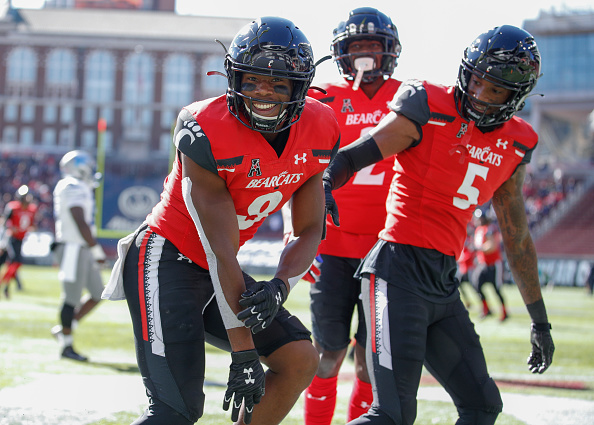 Ever since the inception of the College Football Playoff, Group of 5 teams haven't had a legitimate shot of cracking the CFP top four. Across the six years it's been in existence, only UCF in 2018 even cracked the top ten. And, it took a winning streak of 25 games to even get there! UCF, Boise State, and Memphis have often been included in the Top 25, but nobody has ever gotten close to crashing the CFP party. This season, we have a team that could finally break through. The Cincinnati Bearcats have moved up to sixth in the latest AP Poll, situating them just outside of the top four. Here is the case for a Cincinnati CFP bid.
The Case For a Cincinnati CFP Bid
As a G5 team, the likelihood of a Cincinnati CFP appearance is going to be slim. The committee heavily favors Power 5 teams for many reasons, most of which are well-founded. Despite this, Cincinnati has been playing lights out with the goal of crashing the CFP party. There are a few ways this can happen.
Cincinnati has allowed 5 TDs on the season

-Two were against 3rd and 4th string young guys vs Austin Peay
-1 was a scoop and score defensive TD against Army
-1 was a 16 play drive against top 5 offense SMU
-1 was a 92 yard screen against top 5 O Memphis#BlackCats are elite

— Chad Brendel (@ChadBrendel) November 1, 2020
Bearcats Must Keep Lighting It Up
Austin Peay (W, 55-20)
Through their five games, Cincinnati has played well and has only gotten better. At the beginning of the season, the Bearcats opened up with FCS Austin Peay. While they won 55-20 in pretty convincing fashion, it was far from perfect. On the ground, Cincinnati went for 276 yards and scored five touchdowns. Four of those scores were thanks to senior running back Gerrid Doaks. Doaks has been a welcome replacement for Michael Warren, who left early for the NFL. The leader of the offense is junior quarterback Desmond Ridder. Against Austin Peay, Ridder went for 13-19, 196 yards, and two touchdowns. The defense, which is the money-maker for Luke Fickell, played well as well.
(22) Army (W, 24-10)
Do me a favor. Look up Army's record.
Got it? Yeah, I was also surprised to see that the Black Knights are 6-1 thus far. That one loss is to this Cincinnati Bearcat team. On offense, Army's triple-option attack has averaged 364 yards and four touchdowns per game. Against the best G5 defense, Army managed only 276 yards and a field goal. The touchdown they scored was a defensive scoop-and-score.
On offense, the Bearcats struggled a bit but ended up with 262 yards passing and 69 on the ground. Doaks added a receiving touchdown to his mark and Alabama transfer Jerome Ford scored his first touchdown for the program. Overall, Ridder was beginning to hit his stride, but Army was tough. Considering the Black Knights have only allowed 171 yards per game through the air, 262 isn't too bad.
South Florida (W, 28-7)
Cincinnati stumbled a bit against their first AAC foe of the schedule but still took care of business. Ridder struggled, completing 16-26 passes for 143 yards and two scores, but he turned it over three times. Thankfully for Cincinnati, the run game showed up. Doaks went for 102 yards and a touchdown. However, a major reason Cincy didn't get much by way of yards is due to the fact that they forced five turnovers on defense. Short fields all day. USF is not a great team, but Cincinnati made them look even worse.
At (16) SMU (W, 42-13)
SMU and senior quarterback Shane Buechele were averaging 563 yards and five touchdowns per game heading into this ranked matchup. On defense, the Mustangs were super suspect, allowing 407 yards and three touchdowns per game. How did this game end up?
The Bearcats went for 439 total yards and six touchdowns. Ridder notched up 13-21 for 126 yards and a touchdown. On the ground, Doaks ran for 105 yards and two scores and Ridder added 179 yards and three scores. They gave up two turnovers, so it wasn't perfect, but they did whatever they wanted on offense. On defense, the Bearcats shut down the high-flying Mustangs. Buechele was terrorized and finished 23-44 with 216 yards, a touchdown, and an interception. Holding SMU to 290 yards and only two touchdowns was massive. SMU has an elite G5 offense. Considering they went off for another 555 total yards and seven touchdowns the following week against Navy, it just goes to show how great Cincinnati's defense is. This win moved them up to 18th in the AP Poll.
Memphis (W, 49-10)
Heading into this much-anticipated matchup with Cincinnati, Memphis had been balling out all year. The Tigers picked up where they left off in by averaging 550 yards and five touchdowns per game. Brady White is a monster throwing the ball and managed to out-duel Dillon Gabriel in their fourth game to a 50-49 win. This was impressive considering Gabriel threw for a bonkers 601 yards and five touchdowns.
Their only loss to this point was to SMU in week two. However, the Tigers' defense gives up more yards than they earn. White thew for 316 yards and one touchdown, but that was out of necessity. The Tigers were playing from behind from the get-go and they only managed five rushing yards off of 29 attempts. He was sacked six times.
Ridder played so much better this week. The junior seems to be hitting his stride. Ridder passed for 271 yards off of a 21-26 mark and three touchdowns. Big players step up in big games. It also helps that Ridder (41 yards, two touchdowns), Doaks (77 yards), and Ford (116 yards, two touchdowns) could not be stopped on the ground. Welcome back to action junior wide receiver Alec Pierce. Before exiting the game with a shoulder injury off of a hard fall, Pierce logged 61 yards off of three receptions and a touchdown. Hopefully, Pierce is able to come back for Cincinnati soon because he has the ability to take the top off of defenses. This was evident by his ridiculous catch for his touchdown.
Offensive stars:
⭐️⭐️⭐️ Desmond Ridder (21/26, 271 passing yards, 3 passing TDs, 41 rushing yards, 2 rushing TDs)
⭐️⭐️ Jerome Ford (121 rushing yards, 2 TDs)
⭐️ Alec Pierce (3 catches, 61 yards, 1 TD) pic.twitter.com/tE7dq1psQN

— The Bearcat Outsider (@BearcatOutsider) October 31, 2020
Root For Rivals
The largest argument against including G5 teams in the CFP conversation is their strength of schedule. While this may be fair, there have been some teams (Clemson, notably) who may play only one ranked team all year. Even then, it would have come in the ACC title game. In order for Cincinnati to continue to earn respect, they need SMU, Memphis, and Army to win out. SMU is currently ranked 18th and if Memphis can get back to their high-flying ways, they will be back.
UCF, Houston, and Tulsa all remain on Cincinnati's schedule. Realistically, none of these will be ranked at any time the rest of the way. However, Tulsa (who has already beaten UCF) only has one loss. If they can get to their matchup on December 5 with Cincinnati with only a 16-7 loss to Oklahoma State, look for this to be a ranked matchup. Even if they drop to SMU, this could be a good team.
Pray For Chaos
At the start of the games on Halloween, Cincinnati was sitting at number seven in the AP poll. So that means there are only three teams that need to slip up in order for the Bearcats to sneak on in. Let's look at what Cincinnati needs to happen.
Clemson, Alabama, Ohio State
The priority is for Clemson, Alabama, and Ohio State to ball out and dominate their way to undefeated conference championships. We all know how much the CFP committee loves its cash cows. These three teams are ratings dynamite and are the college football bluebloods. Even if Clemson slips up against Notre Dame or any other lesser foe, they will likely play for the ACC title game. If they fall to Notre Dame next week without Trevor Lawrence, the committee will forgive it if they come back to beat them late with him.
Add in the fact that there has been at least one one-loss team in the playoff each year, there is no margin of error. Both Alabama and Ohio State have made the playoff despite not even winning their division in the past. Cincinnati fans need these three to separate themselves as the top three teams in the nation.
Notre Dame, Oklahoma State, Georgia/Texas A&M/Florida
Here is where it gets hairy. Notre Dame looks promising in their first season playing a real conference schedule (thank you COVID-19 pandemic). However, the way that the ACC is playing this year, there are no divisions, so the top two teams will play for the ACC title game. It's shaping up that it'll be Clemson vs Notre Dame, regardless of this weekend's outcome. Cincinnati needs one team to beat the other twice. The better bet is Clemson winning both, so root for the Tigers.
Oklahoma State already stumbled on Halloween, so perhaps one of the dominoes have fallen. Considering the two top Big 12 teams lost, they have been all but eliminated from contention. The issue will be Georgia, Texas A&M, and Florida. Every year, these teams conflate the rankings to build up other SEC teams and it won't end this year. A&M has a very easy schedule to close out, so it's possible they only have an embarrassing loss to Alabama to their record.
Georgia and Florida play each other next week in a battle of top-ten teams. Georgia needs to lose this game because they have a very easy schedule to close out the year. Not to mention the fact that they are one of the teams ranked above the Bearcats. Unfortunately, Florida also has a cake-walk to close out the year. Each of these three teams needs to finish with two losses. Where will those losses come? They each falter against bad teams yearly, so your guess is as good as mine.
Oregon, Arizona State, BYU
Any conversation that includes the PAC 12 should include Cincinnati. It is agreed upon that the PAC 12 is the worst of the Power 5, so Oregon or Arizona State or whoever decides to win the conference will have to blow the committee away. Oregon is situated at 14th in the AP rankings, so while unlikely, it is possible they enter into the fray. ASU is a dark horse pick to win the conference off of the stellar play of quarterback Jayden Daniels and that stout defense. One loss should eliminate them, realistically.
BYU is where it gets sticky. At 9th in the AP Poll, BYU has about the same chance of crashing the CFP as Cincinnati. They are relying on the same chaos, but they won't have the luxury of a conference championship. Their biggest test will be next week at Boise State. If they can thoroughly shut down the Broncos, look out for the Cougars. Quarterback Zach Wilson is looking like one of the best in the nation is getting some legitimate Heisman hype. Cincinnati needs BYU to fall. This G5/Independent CFP discussion only has room for one team.
Zach Wilson – surgical precision pic.twitter.com/hn2bXSBrc2

— Cam Mellor (@CamMellor) November 1, 2020
So You're Telling Me There's A Chance
After thoroughly trouncing SMU and Memphis, Cincinnati has a 4.4% to make the CFP. That mark is good for tenth-best. Only Alabama (88.3%), Ohio State (85.0%), Clemson (72.3%), Wisconsin (39.9%), Georgia (26.5%), Notre Dame (24.9%), Oregon (17.9%), USC (14.9%), and BYU (13.9%) have better odds.
There is a slim chance, but as lined about above, a Cincinnati CFP appearance is possible. When there are legitimate G5 teams, the discussion for expanding the CFP ramps up. As someone who is willing to watch an Akron vs Wyoming bowl game, I'll always want more football. If it gives an outside shot to a smaller program, I'm all for it.
Main Photo:
Embed from Getty Images