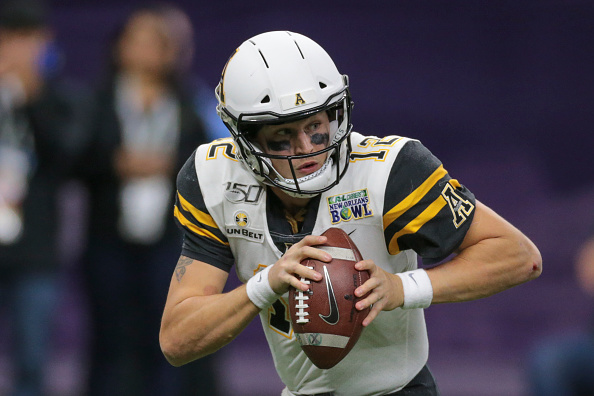 College football favors its large-school conferences. Anyone who has ever watched the game knows this. This makes it terribly difficult for any Group of Five CFP busters to emerge. Did you know that the last non-Notre Dame team from a non-"Power Five" or BCS Automatic Qualifying conference to win the National Title was BYU in 1984? Since the inception of the BCS, non-power conferences have produced great teams that maybe should have had a shot at the title. Even teams that finish undefeated got snubbed: Tulane (1998), Marshall (1998), Utah (2004, 2008), Boise State (2006, 2009), TCU (2010), and UCF (2017).
Every season during the BCS era, there was a conversation about "BCS Busters." Some teams did just that. Utah (2004, 2008), Boise State (2006, 2009), Hawai'i (2007), TCU (2009, 2010), Northern Illinois (2012), and UCF (2013) earned BCS bids. Since moving to the College Football Playoff, no "Group of Five" team has even come close to qualifying for the prestigious invitational. They have made some New Year's Six games, however, so there is some national respect. Houston (2015), Western Michigan (2016), UCF (2017, 2018), and Memphis (2019).
Potential Group of Five CFP Busters
So what is the biggest obstacle for these teams? Strength of schedule. If a Group of Five team doesn't have a strong out of conference win against a P5 team, they are often overlooked. Even if they put up video game numbers and are extremely fun to watch, they will always be overlooked. With how crazy 2020 has been, this could be the perfect opportunity for a G5 team to sneak on in. Let's take a look at some potential Group of Five CFP Busters.
Memphis Tigers (American Athletic Conference)
AAC schools make up the majority of this list. Considering they pride themselves and lay claim to the "Power Six" idea, they better back it up. Since 2014, Memphis has been one of the more exciting teams in the nation and has won ten or more games three times. Last season, the Tigers earned a 12-1 regular-season record and beat AAC rival Cincinnati twice, which is hard to do by any metric. In the Cotton Bowl, they gave B1G foe Penn State everything they could handle, even leading at one point. Eventually, Penn State pulled away and Memphis just could not muster up a comeback.
In 2020, the Tigers have already started off the year with a victory over Arkansas State, 37-24. Replacing Antonio Gibson will be difficult, but sophomore Rodrigues Clark looks to be able to take up the mantle. Look for stud senior quarterback Brady White to light up defenses all year. He came into the year with a 59-20 touchdown-interception ratio for Memphis. He is going to continue to improve on that while spreading it out to Sean Dykes and Kylan Watkins. If they can continue to utilize that offensive firepower, Memphis could be a good pick for a Group of Five CFP buster.
Notable games: vs UCF (Oct. 17), vs Temple (Oct. 24), AT Cincinnati (Oct. 31)
Outside of the Bluebloods of college football like Ohio State, Clemson, and Alabama, UCF has won the most games the last three seasons (35-4). Even with a "weaker" strength of schedule, 35 wins in three years is impressive. In that time, the Knights have won two bowl games (one of which was the NY6 Peach Bowl over Auburn to cap off an undefeated campaign). Plain and simple, UCF has been the beacon of Group of Five excellence by any team not on blue turf the last few years.
I'm sure people are tired of hearing about the 2017 team and how they were the people's champions. This UCF squad could be even better. They return true sophomore phenom Dillon Gabriel who went for 29 touchdowns off of 3653 passing yards. Unfortunately, they will have to replace his favorite target, Gabriel Davis. They return just about everyone else on offense, so I'm sure they will be fine. UCF starts the season ranked 21st in the initial AP Poll, so expect them to continue to rise. They only have ten games this year (nine, if their game with Florida International doesn't get played), so it will be difficult for them to get back to that ten-win plateau and garner enough respect to bust through. If anyone is going to be able to be a Group of Five CFP buster, it is going to be this UCF team. It should be noted that UCF has ten athletes who opted out for the season, so we will have to see if their next men up can do the job.
Notable games: AT Georgia Tech (Sept. 19), AT Memphis (Oct. 17), vs Cincinnati (Nov. 21)
In their last 20 games, Appalachian State has won 19 games. And that one loss was a 24-21 fluke loss to Georgia Southern. The back-to-back Sun Belt Champions have made bowl games the last five years and haven't lost yet. Despite being on their third Head Coach in as many years, Appalachian State will continue to play at a high level and should run through their schedule yet again.
Senior quarterback Zac Thomas returns and was a big reason for the last two seasons of success. Of course, the Mountaineers will have to replace Derrynton Evans, the former third-round NFL draft pick who led the team with 1480 rushing yards and 23 total touchdowns. Senior Marcus Williams, Jr. has large shoes to fill, but considering he is coming off a pair of seasons where he totaled 235 rushing attempts. At least they are filling the hole with someone with experience. Look for Williams and junior Camerun Peoples to tote the rock and set the tone. The question will be whether or not their defense can build off of 2019 where they held eight opponents under 20 points. If they struggle early, do not fret. They allowed 41 points to a 7-6 Charlotte 49ers team and only got better.
Notable games: vs Charlotte (Sept 12), vs UL-Lafeyette (Oct. 7), vs Georgia State (Nov. 14)
For the first time since Tony Pike was the signal-caller, Cincinnati has garnered some nationwide hype. Considering how they performed in 2019, this makes sense. Even though the Bearcats went 11-3, they lost to CFP Semi-Finalist Ohio State and Memphis (once in the regular season, then in the AAC title game). They capped it all off with a dominating win over Boston College in the Birmingham Bowl. Head Coach Luke Fickell earned himself a large contract extension and considering he is 22-5 in his last two seasons, it was earned.
Desmond Ridder will return to lead the Bearcats on offense and will improve on his 38 touchdowns and 4609 career passing yards. Cincinnati did lose Michael Warren, II to the NFL Draft (first-ever Cincinnati player to leave school early for the draft), but Gerrid Doaks and Alabama transfer Jerome Ford should be able to fill those large shoes. The defense will be the key for this team in this uncertain year. The Bearcats allowed only 20 points per game (Ohio State beatdown, notwithstanding). Fickell is a defensive-minded coach. Look for them to lean on one of the best Group of Five defenses to gain steam as a legit Group of Five CFP buster.
Notable games: vs Army (Sept. 26), vs Memphis (Oct. 31), AT UCF (Nov. 21)
Will We Have a Group of Five CFP Team in 2020?
This year will be as good as any to have a G5 representative in the CFP. Considering that the PAC-12 and B1G are not starting on time, at the very least, it could eliminate their best teams from contention. The Mountain West and MAC are not playing, so perhaps the greatest G5 program in the history of college football in Boise State will not pose a risk. Unfortunately, I think the ceiling for any of the Group of Five teams in the current CFP model is to be ranked fifth. As much as I would love to see Memphis, UCF, Appalachian State, Cincinnati, or another G5 team take on Clemson, the committee will never let it happen. The only way to give Group of Five teams a legitimate shot is to expand playoffs. Either way, let's pray for chaos so one of these teams can squeak on in!
Main Photo:
Embed from Getty Images