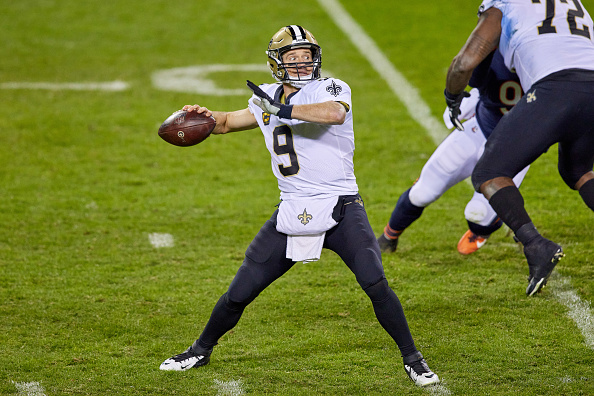 Last week was rough, to say the least. With 14 games to pick, no writer eclipsed ten wins. As the season is hitting its midway point, we have a small handful of teams vying for division leads. Others may or may not be in full tank mode. Who is going to win the NFC (L)East? Let's get into the NFL Week 9 LWOSports staff picks.
With eight games down and eight games to go, the teams on a bye this week are the Cincinnati Bengals, Cleveland Browns, Philadelphia Eagles, and Los Angeles Rams.
Perfectly balanced, as all things should be.
Standings
Luca: 56-31 (8-6 last week)
Filip: 55-32 (7-7)
Drew: 54-33 (9-5)
Will: 54-33) (9-5)
Derek: 54-33 (8-6)
Jordan: 53-34 (8-6)
Shane L.: 53-34 (7-7)
Nick: 52-35 (8-6)
Danny: 50-37 (8-6)
Shane C.: 49-38 (8-6)
Shiree: 41-46 (6-8)
Chris: 37-19 (7-7)
NFL Week 9 LWOSports Staff Picks
Chris: A rematch of last season's NFC Championship Game, the Green Bay Packers travel to Santa Clara to battle the San Francisco 49ers on Thursday Night Football. Looking to avenge their two losses to the 49ers last season, the Packers were steamrolled in both games by San Francisco, losing by 17 and 29 points, respectively. Trending in the opposite direction after a red hot start to the season, Green Bay has dropped two of its last three games, falling out of a top-two seed in the loaded NFC playoff race.
Affected by the injury bug all season long, the 49ers have limped to a 4-4 record through eight weeks of the season. With quarterback Jimmy Garoppolo and star tight end George Kittle landing on the injury reserved list after the team's 37-27 loss to the Seattle Seahawks on Sunday, Kyle Shanahan's team is in for an uphill battle to close out the regular season.
Expected to be without two of their top three running backs heading into Thursday night, the Packers will turn to swiss army knife Tyler Ervin and second-year back Dexter Williams to handle the team's carries if Aaron Jones is unable to go. Looking for a spark in the team's offense behind star receiver Davante Adams, Green Bay struggled to move the ball in the second half in their 28-22 loss to the Minnesota Vikings. With Jones still hindered by a nagging calf injury, look for the 49ers to key in on stopping Adams, opening up the field for someone to make plays behind him.
Struggling against the run on Sunday in an ugly showing for the Packers defense against their divisional rival, Mike Pettine's group allowed Vikings running back Dalvin Cook to rush for 163 yards and four scores. Heading into a matchup with one of the best rushing offenses in the NFL, if Green Bay is unable to stop the potent 49ers rushing attack, it could spell trouble for Aaron Rodgers and company.   
Feeling the effects of a super bowl hangover, San Francisco has been devastated by injuries all season long. With Jimmy Garropolo, the latest member of the team to land on the injured reserve list, the 49ers will turn to backup quarterback Nick Mullens on Thursday Night. Appearing in relief for Garropolo on Sunday, Mullens was solid, throwing for 238 yards and two scores. Joined in the backfield by rookie running back Jamycal Hasty with starting tailback Raheem Mostert and backup Tevin Coleman still not ready to return from injury, the high octane 49ers offense will need strong performances if they hope to knock off the Packers for a third straight game.
Riddled by injuries on the defensive side of the ball, Robert Saleh's group looks like a shell of their former selves. Wreaking havoc on Green Bay's offense during their previous two matchups, the team sacked Rodgers four times, forcing the quarterback into season lows in passing yards in both contests. Without star pash rushers Nick Bosa and Dee Ford along with number one cornerback Richard Sherman, San Francisco's defense could be ripe for the picking for an extra motivated Green Bay offensive group.  
Hungry for revenge against a banged-up San Francisco team, look for Matt Lafleurs's group to roll in this one. If the 49ers can run the ball effectively and keep the high-powered Packers offense on the sidelines, it could lead to success. However, with the injuries beginning to pile up and with Green Bay desperate for a victory to keep pace in the NFC, they will be victorious in this one in the NFL Week 9.
Final Score: Green Bay 33 San Francisco 14 
| | | | | | | | | | | | |
| --- | --- | --- | --- | --- | --- | --- | --- | --- | --- | --- | --- |
| Drew | Jordan | Filip | Shiree | Shane L. | Shane C. | Nick | Will | Derek | Danny | Luca | Chris |
| GB | GB | GB | GB | GB | GB | GB | GB | GB | GB | GB | GB |
Drew: In the NFL Week 9 schedule, we have here a matchup of teams where one came back from a 17-point deficit last week and one who is notorious for giving up big leads.
The Broncos mustered up an impressive come-from-behind win against a divisional foe in Week 7. At the beginning of the season, I had Denver as this year's surprise team in what could've been the best division in football. While that expectation was a bit too high, Drew Lock has some serious young weapons in Jerry Jeudy, Noah Fant, and KJ Hamler. Unfortunately, they only score 21 points per game, good for 27th in the league.
On defense, the Broncos have Bradley Chubb and Alexander Johnson, a pair of studs in the front seven. Of the two sides of the ball, the defense has been better. However, they are middle-of-the-league in points allowed. The bright spot thus far has been holding Kansas City to 286 total yards, albeit in a loss in the snow.
Atlanta still has a top-three receiver in Julio Jones. Together with Calvin Ridley, it could be argued they are the top one-two punch at receiver. With Todd Gurley and Matt Ryan, this offense should be better than it is. Denver gives up 236 yards per game through the air, so Ryan and the offense will be able to have their way.
Defensively, the Falcons are in the same boat. Linebacker Takkarist McKinley was a name brought up multiple times in trade rumors. Considering this year's trade deadline was a dud, you can infer that he was not moved. Though, this was not due to a lack of interest.
This game is a bit of a toss-up. Two decent, explosive offenses versus two exposable defenses. This time around, I'll roll with Denver. All of that young talent should be able to out-score the veterans on the other side.
| | | | | | | | | | | | |
| --- | --- | --- | --- | --- | --- | --- | --- | --- | --- | --- | --- |
| Drew | Jordan | Filip | Shiree | Shane L. | Shane C. | Nick | Will | Derek | Danny | Luca | Chris |
| DEN | ATL | ATL | DEN | ATL | ATL | DEN | DEN | ATL | ATL | ATL | ATL |
Derek: This NFL Week 9, the Seattle Seahawks travel to Buffalo to play the Bills. This is Seattle's first time in Buffalo since 2008. It is also the first time Josh Allen will play against Russell Wilson. Both quarterbacks have been playing at a high level with Wilson being considered by many as the current MVP. Buffalo will have a tough time in this game matching up with Seattle's receivers. Tyler Lockett and D.K. Metcalf are both playing great football this season and Buffalo has had struggles defending the pass this season. They have also struggled against the run and if Chris Carson is healthy for this game, then Buffalo could have their hands full with Seattle's offense.
For Buffalo's offense, Seattle is ranked among the worst pass defenses in football through week eight. Josh Allen should be able to have a solid performance against the Seattle defense despite the return of Jamal Adams. Allen will also have his receivers at full health for the first time in a while. Overall, this game could turn into a shootout and in that scenario, it is hard to bet against Russell Wilson. A Seattle win is likely for this one.
| | | | | | | | | | | | |
| --- | --- | --- | --- | --- | --- | --- | --- | --- | --- | --- | --- |
| Drew | Jordan | Filip | Shiree | Shane L. | Shane C. | Nick | Will | Derek | Danny | Luca | Chris |
| SEA | SEA | SEA | SEA | SEA | SEA | SEA | SEA | SEA | SEA | SEA | SEA |
Will: In this NFL Week 9 matchup, we have the Chicago Bears taking on the AFC South-leading Tennessee Titans.
Thus far, the Bears have had many questions surrounding this team. The biggest question is who they should be starting at the most important position on the field, quarterback.
Mitchell Trubisky
was benched after just two weeks despite starting off the season 2-0. The man who took his job, and arguably the better quarterback,
Nick Foles
, has been mediocre so far and has led them to a 3-3 record in games which he has started.
I am still not sure what to think of this team. They started off 5-1 and people were starting to wonder if they were a threat to the NFC. After dropping two in a row, they need to string a couple of wins together in order to earn the respect they strive for.
Do I think they have a realistic chance to win the super bowl? No, the quarterback situation is too messy for me. However, they still have one of the best defenses in the league and I believe that alone will put them in the playoffs. If Chicago had a quarterback on the same talent level as
Ryan Tannehill
, this team would be dangerous. It doesn't even need to be a guy like
Patrick Mahomes
or
Deshaun Watson
for this team to be good. However, that's not the case as they are currently fighting for a playoff spot in the NFC.
As for the Titans, one could argue they are in the same boat as the Bears. Looking at their completed games, they have faced just two teams that are above .500 and defeated one, the Buffalo Bills. On top of that, they are coming off of a tough loss against the now 2-5-1 Cincinnati Bengals. With one of the best running backs in the league in
Derrick Henry
, the Titans are in a spot like Chicago where they have to prove their worth. In this case, Tennessee must prove that last week's slip up was indeed a fluke and nothing else. Henry and company will be tested significantly against
Akiem Hicks
and the rest of this rough defense.
With the spread being -6 with Tennessee as the favorite, I am just not confident that the Titans to cover the points. However, I am still riding with the beast that is
Derrick Henry
and Tennessee to win this game outright and improve to 6-2.
| | | | | | | | | | | | |
| --- | --- | --- | --- | --- | --- | --- | --- | --- | --- | --- | --- |
| Drew | Jordan | Filip | Shiree | Shane L. | Shane C. | Nick | Will | Derek | Danny | Luca | Chris |
| TEN | TEN | TEN | TEN | TEN | TEN | TEN | TEN | CHI | TEN | TEN | TEN |
Jordan: Elite defense will be aplenty during this game, but the real question is how will the offense on both sides respond to it.
On one hand, the Ravens are coming off of a tough loss against the league-leading Pittsburgh Steelers. Lamar Jackson has looked underwhelming this season and Mark Ingram has certainly started to show his age both in the form of injury and performance. The offense really isn't anything like it was last season. Nonetheless, the Ravens are still 5-2. But, this isn't the dominant force we saw last season and that's to everyone's surprise.
On the other side, the Colts have actually surprised many this season. They also sit at 5-2 but have certainly exceeded expectations. Philip Rivers hs had sparks at times during this year, but it's really their defense that is keeping them atop the league. It has been a bit suspect in the past few weeks, but they've held three teams this year to 11 or fewer points. That's' a sign of a very good defense and the amount of playmakers they have on that side of the ball is indisputable. Jonathan Taylor is questionable for this matchup, but he hasn't looked overly impressive over the past few weeks so it may not be that big of a hit.
This could certainly be a lot closer of a game than many would have expected. I still lean Baltimore here because the talent from Lamar Jackson, Marquise Brown, and emerging J.K. Dobbins could certainly push the Colts defense to the brink. Mix that with an above-average defense competing against a below-average QB and I think you've got a recipe for a close game, but a Ravens win.
| | | | | | | | | | | | |
| --- | --- | --- | --- | --- | --- | --- | --- | --- | --- | --- | --- |
| Drew | Jordan | Filip | Shiree | Shane L. | Shane C. | Nick | Will | Derek | Danny | Luca | Chris |
| IND | BAL | BAL | BAL | BAL | BAL | BAL | BAL | BAL | IND | BAL | BAL |
Shiree: The Panthers have a tough matchup against the Chiefs this week. And, after dropping three straight, you have to wonder if they will win any more games this season. Good news for them, Christian McCaffrey re-enters the lineup this week which takes some pressure off of Teddy Bridgewater.
One thing the Panthers have to fix this NFL Week 9 if they want to win is their fourth-down percentage. During their loss against the Atlanta Falcons last Thursday night, they were 0-2 on those conversions. The Chiefs will surely put the Panthers into plenty of fourth-down situations, so they have to get better at converting. The defense also needs to play flawlessly if the Panthers want a shot. They are giving up way too many big plays and, against a team like Kansas City, could prove to be detrimental. Last week against the Falcons, they gave up three plays of 20 or more yards which gave the Falcons too many opportunities to score. They have to tighten that up against the Chiefs.
What Kansas City has to do is continue to play good defense against the Panthers. Adding McCaffrey to the lineup creates a new and unique scenario for the Chiefs on defense. This is the first time a defense will have to worry about him and Mike Davis in the backfield, which could be a big problem with a team that ranks 25th in the red zone. As of Monday, Sammy Watkins was listed as questionable against the Panthers with a hamstring injury. Not to worry though, there are plenty of offensive weapons for the Panthers to be worried about.
The Chiefs win this one.
| | | | | | | | | | | | |
| --- | --- | --- | --- | --- | --- | --- | --- | --- | --- | --- | --- |
| Drew | Jordan | Filip | Shiree | Shane L. | Shane C. | Nick | Will | Derek | Danny | Luca | Chris |
| KC | KC | KC | KC | KC | KC | KC | KC | KC | KC | KC | KC |
Shane L.: This NFL Week 9 matchup against two division rivals is going to be a good one. The 2-5 Minnesota Vikings are coming off of a huge 28-22 road win against the Green Bay Packers. Dalvin Cook was the star of the show as he ran 30 times for 163 yards and three touchdowns while catching two passes for 63 yards and a touchdown. Kirk Cousins didn't have to contribute much at all as he only completed 11-14 passes for 160 yards and a touchdown.
The Vikings defense was depleted and were banged up all day and somehow they left it all on the field by only giving up 22 points to Aaron Rodgers and his high-powered offense. This looked like more of the team we were expecting all season.
On the other hand, the 3-4 Detroit Lions laid an egg in the fourth quarter against the Indianapolis Colts. After the Lions scored first, the Colts scored 20 unanswered in the second quarter. It was 20-14 Indianapolis at the end of the third quarter and they pulled away from there. Matthew Stafford had a good game as he threw for 336 yards and three touchdowns. 113 of the yards went to Marvin Hall and two of the touchdowns went to Marvin Jones Jr.
I covered the Lions game last week and said the difference in this game would be the defense, which favored the Colts and I was right. I was also right, for the most part, about the gaming being close and it was, until the fourth. A divisional game between two teams fighting for position in the NFC North will be good football to watch. Again, this NFL Week 9 game will be better and closer than a lot of people think.
| | | | | | | | | | | | |
| --- | --- | --- | --- | --- | --- | --- | --- | --- | --- | --- | --- |
| Drew | Jordan | Filip | Shiree | Shane L. | Shane C. | Nick | Will | Derek | Danny | Luca | Chris |
| MIN | MIN | MIN | MIN | MIN | MIN | MIN | MIN | MIN | DET | MIN | MIN |
Drew: There is no denying, this is a pillow fight. In their first matchup, the Giants managed to not lose, 20-19 at home.
On offense, Washington has the Comeback Player of the Year in Alex Smith, running back Antonio Gibson, and receiver Terry McLaurin. That's about it. At 19 points per game, the Football Team has the 30th-ranked scoring offense. Even after benching Dwayne Haskins after only 11 games started. Seems a tad early to bail on a young quarterback, but maybe that's why I'm not making these decisions.
Defense has been Washington's calling card. More specifically, the front seven. What do Chase Young, Ryan Kerrigan, Da'Ron Payne, Jonathan Allen, and Montez Sweat have in common? They're all first-round draft picks. The future is bright for this defense and they will likely terrorize Daniel Jones on every dropback.
Jones led his team to a win over the rival Cowboys last week, but to be fair, who hasn't? The Cowboys are terrible, especially on defense. The Giants' offense is 31st in the league in terms of points per game. Evan Engram and Darius Slayton have been fun to watch, but this offense goes nowhere without Saquon Barkley.
Blake Martinez and Logan Ryan lead the way on defense. While offenses have managed to move the ball well against the unit, they do average 2.5 sacks per game with at least two in each game. Overall, the front seven is stronger than the secondary, but it's not been good enough, obviously.
In this divisional pillowfight, Washington should be able to take care of business at home. This game kicks off at 1:00 p.m. EST. Feel free to watch literally any of the other matchups.
| | | | | | | | | | | | |
| --- | --- | --- | --- | --- | --- | --- | --- | --- | --- | --- | --- |
| Drew | Jordan | Filip | Shiree | Shane L. | Shane C. | Nick | Will | Derek | Danny | Luca | Chris |
| WAS | WAS | WAS | WAS | WAS | WAS | WAS | NYG | NYG | WAS | NYG | WAS |
Shane C.: The Mustache ride is over. Gardner Minshew has been benched for Jake Luton. Oh, I'm sorry not benched…he's ruled out due to a "thumb injury." Jake who? You ask. The illustrious Beaver from Oregon State. Oh, that Jake Luton. That's right, a sixth-round pick that threw for a 62 percent completion rate, 28 touchdowns, and only three interceptions.
All jokes aside, we can bank on Jacksonville riding James Robinson against a Texans defense that is fourth-worst against the run. Additionally, the Texans are in the bottom-third against the pass. That said, it's not unimaginable that Luton puts together a solid game if he can keep from turning the ball over. The Jaguars have offensive weapons and the Texans defense is very beatable. 
The Houston Texans couldn't have asked for a better draw coming out of a bye week. Besides going against a team starting a rookie sixth-round draft pick, J.J. Watt has to be licking his chops. The Jaguars' defense is barely better than the Texans' defense. Just a month ago, the Texans throttled the Jags 30-14. Deshaun Watson, David Johnson, and Will Fuller are in line for a big day and fantasy players are taking notice. That said, it should be noted that the NFL trade deadline has come and gone. And, Fuller's name was being mentioned in a possible deal with the Green Bay Packers. However, that didn't come to fruition. Sounds like more than enough narrative for a Watson to Fuller connection to go for 120 yards and two touchdowns. 
I like this game to go over the total and the Texans to win. 
Texans 38 Jaguars 24
| | | | | | | | | | | | |
| --- | --- | --- | --- | --- | --- | --- | --- | --- | --- | --- | --- |
| Drew | Jordan | Filip | Shiree | Shane L. | Shane C. | Nick | Will | Derek | Danny | Luca | Chris |
| HOU | HOU | HOU | HOU | HOU | HOU | JAX | HOU | HOU | HOU | HOU | HOU |
Danny: The Raiders have built a very good team. After all the down years, and controversial decisions to part with big-time players Khalil Mack and Amari Cooper, this team has restocked its roster and is competing at a high level.
The biggest story is that Jon Gruden seems to have gotten Derek Carr playing at a high level again. On the other side, the Chargers have promising young quarterback Justin Herbert showing why he was a top-ten pick, but the rest of the roster is hurt or not performing well. The Chargers feel like they are a year or two away from truly competing. The Raiders feel like a playoff team, and playoff teams take care of bad teams. That should continue for the Raiders in this NFL Week 9 showdown.
Raiders 31
Chargers 24
| | | | | | | | | | | | |
| --- | --- | --- | --- | --- | --- | --- | --- | --- | --- | --- | --- |
| Drew | Jordan | Filip | Shiree | Shane L. | Shane C. | Nick | Will | Derek | Danny | Luca | Chris |
| LVR | LAC | LVR | LVR | LVR | LAC | LVR | LVR | LAC | LVR | LVR | LAC |
Nick: The matchup between the 7-0 Steelers and 2-6 Cowboys is the biggest mismatch of the week. The two teams couldn't be going more in opposite directions. But this is still a potential trap game the Steelers need to be careful not to overlook.
Although
Ezekiel Elliott
has had a quiet season for his standards (521 YDS, 5 TD), the Steelers will be without
Tyson Alualu
who's been big in run defense. The Steelers are fifth in run defense on the year and should still be fine against an offensive line that's been banged up since the start of the season. The Cowboys announced on Wednesday that either
Cooper Rush
or
Garrett Gilbert
will be starting at quarterback to replace
Ben DiNucci
. Expect
Keith Butler
and the Steelers defensive front to dial up a lot of blitzes. The matchups of
Amari Cooper
and
Michael Gallup
against
Steven Nelson
and
Joe Haden
will be a blast to watch and a big factor in the game. The status of nickel corner
Mike Hilton
is still unknown for Pittsburgh, but against the speedy
CeeDee Lamb
, his services would be a help.
The Steelers offense also has a chance to get hot against a rocky Dallas defense. The Cowboys give up 170.9 yards a game on the ground which is last in the NFL.
James Conner
and
Benny Snell
will get plenty of touches and will do their best to beat Elliot and the Cowboys in the time of possession category. The Steelers should win this game without too much trouble, but anything is possible in the NFL which is what makes this NFL Week 9 game all the more intriguing.
| | | | | | | | | | | | |
| --- | --- | --- | --- | --- | --- | --- | --- | --- | --- | --- | --- |
| Drew | Jordan | Filip | Shiree | Shane L. | Shane C. | Nick | Will | Derek | Danny | Luca | Chris |
| PIT | PIT | PIT | PIT | PIT | PIT | PIT | PIT | PIT | PIT | PIT | PIT |
Filip: In the preseason, this game would have been regarded as a game of no true interest, but that has certainly not been the case. These two teams have been very surprising in a positive way. With the Cardinals having five wins, and the Dolphins with four, both of these teams are in the playoff mix. The headline for this game will be between the two young, talented quarterbacks in Kyler Murray and Tua Tagovailoa
Kyler Murray has played at an elite level throughout this season with him passing for 1,847 passing yards and rushing for 437 yards. The addition of DeAndre Hopkins who has 704 receiving yards has bolstered the Cardinals offense. The two of them are talented and are nightmares to play against. On the defensive side of the ball, the Cardinals have improved after being awful last year. They lost Chandler Jones for the season with an injury, but Budda Baker has stepped up his play and is looking like a Defensive Player of the Year Candidate
Sending it over to the other team, you have the Miami Dolphins who are 1.5 games back of the Buffalo Bills for first place in the AFC East which comes as a surprise. A huge part of the Dolphins' success has been their defense which gives up the fewest points per game in the league. The offense also has played well with the young Myles Gaskin showing off his skill and Ryan Fitzpatrick having his moments, but that came to a stop last week against the Rams. Instead of Ryan Fitzpatrick, it was Tua Tagavailoa who only threw for 93 passing yards, but thankfully for him, his defense stepped up and they won the game. Still, Tagovailoa wasn't impressive at all and it can't continue like this for the Dolphins
With that in mind, looking at this NFL Week 9 matchup specifically, this game should be tight. My biggest concern for this game is the Dolphins defense. They are going up against a high-powered Cardinals team. They will give up points, but can they limit that amount? If they can't stop the Cardinals, then they will have a hard time winning this game, because of Tagovailoa. I don't have enough faith in him to score against this Cardinals defense. With that said, I would have trusted Ryan Fitzpatrick more in this scenario. The Cardinals have a more balanced team with a talented offense and solid defense. For the last time, I don't believe that Tagovailoa will put up enough points, which gives the Cardinals the edge. For that reason they will win
Prediction: Cardinals win 27-20
| | | | | | | | | | | | |
| --- | --- | --- | --- | --- | --- | --- | --- | --- | --- | --- | --- |
| Drew | Jordan | Filip | Shiree | Shane L. | Shane C. | Nick | Will | Derek | Danny | Luca | Chris |
| ARI | ARI | ARI | MIA | ARI | MIA | ARI | ARI | ARI | ARI | MIA | ARI |
Luca: This week, I am taking the Tampa Bay Buccaneers over the New Orleans Saints.
The Bucs offense is led by
Tom Brady
and
Mike Evans
. The offense ranks 14th in total. With the use of three running backs in the offense, the rushing offense ranks 23rd, gaining 102.6 yards per game on the ground. But, the passing offense is the clear strength of the Bucs on offense. They rank eighth, recording 265.8 yards per game through the air. They will face the Saints passing defense that ranks 16th, allowing 237 passing yards per game.
For the Saints offense, they are hopeful that they can get
Michael Thomas
and
Emmanuel Sanders
back. The rushing offense led by
Alvin Kamara
ranks 14th, gaining 119.3 yards per game on the ground. It will be hard to get anything going in the run game for the Saints as they are facing the league's best run stoppers. The Bucs' run defense only allows 70.4 rushing yards per game.
For the passing game, the Saints rank 7th, recording 266.6 passing yards per game. They will face competition in the Bucs' passing defense as they've only allowed 229.1 passing yards per game. Tampa Bay should win this marquee NFL Week 9 matchup.
| | | | | | | | | | | | |
| --- | --- | --- | --- | --- | --- | --- | --- | --- | --- | --- | --- |
| Drew | Jordan | Filip | Shiree | Shane L. | Shane C. | Nick | Will | Derek | Danny | Luca | Chris |
| TB | NO | TB | TB | TB | TB | NO | TB | TB | TB | TB | TB |
Jordan: Not a game many will be watching unless you side with either of these squads. The Patriots are skidding down a steep slope while the Jets are continuing to do what they are best at; losing.
Cam Newton has made it clear off the field he needs to pick it up and he did show it to an extent last week. The Patriots lost a devastating game to the Buffalo Bills last week, when Newton fumbled on what looked like a game-winning drive. The Pats now sit at 2-5 and it has been a very disappointing season for New England. Can they get their season back on track? Sure. But it's not what New England is used too and with a failing offense and banged-up defense, it's a bleak outlook for them.
There's not much to say on the Jets. It's a season they want over as much as possible and there are a lot of questions surrounding Sam Darnold's future. With that being said, they may want to lose this game more than they want to win it. Trevor Lawrence is certainly in the view of Jets management and you've got to think with this roster they are rolling out week after week, they are displaying that want on the field as well.
The Patriots will take this game. Do they look great? No, but it's the Jets. This is the perfect game for the Patriots to get back on track.
| | | | | | | | | | | | |
| --- | --- | --- | --- | --- | --- | --- | --- | --- | --- | --- | --- |
| Drew | Jordan | Filip | Shiree | Shane L. | Shane C. | Nick | Will | Derek | Danny | Luca | Chris |
| NE | NE | NE | NE | NE | NE | NE | NE | NE | NE | NYJ | NE |
Main Photo:
Embed from Getty Images