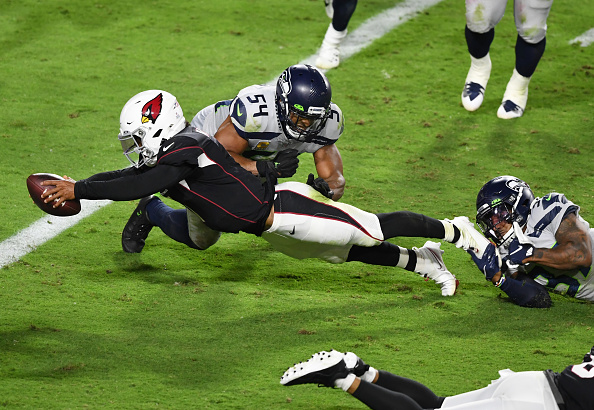 We are nearly halfway through the NFL season and storylines are beginning to unfold. We can see who the Super Bowl LV contenders are. We can see who may or may not be tanking for the next great quarterback. The LWOSports staff reached a consensus on three matchups last week and went 3-0. Additionally, six writers were able to pick ten games correctly. It's time for NFL Week 8!
This week, the Houston Texans, Jacksonville Jaguars, Washington Football Team, and Arizona Cardinals are watching from home for their bye weeks.
Standings
Filip: 48-25 (11-3 last week)
Luca: 48-25 (10-4)
Shane L: 46-27 (9-5)
Derek: 46-27 (9-5)
Drew: 45-28 (11-3)
Jordan 45-28 (9-5)
Will: 45-28 (10-4)
Nick: 44-29 (9-5)
Danny: 42-31 (8-6)
Shane C: 41-32 (11-3)
Shiree: 35-38 (6-8)
Chris: 30-12 (12-2)
NFL Week 8 LWOSports Staff Picks
Shiree: The Falcons visit the Panthers on a short week for another conference game. Since playing against each other 18 days ago, they've switched roles—the Panthers on a two-game losing streak while the Falcons, 1-1, are trying to find their way with their interim head coach.
The Panthers will try to add more wins to their record but it'll have to be without putting Christian McCaffrey back into the lineup. Remember, he had four touchdowns and 156 yards in just two games. Adding him to the backfield with Mike Davis would've make them the two-headed monster that teams have long since forgotten. The challenge, once again, will be what can the defense do? Brian Burns has quietly been a defensive MVP the first six games showing off the ability to keep his hands busy. But can the secondary come up big?
What the Falcons have to do is get their offense going in a major way this week and sustain a lead. Their biggest problem has been them getting lazy once they have one. Last week against the Detroit Lions, Matt Ryan stayed even with Matthew Stafford in every aspect and was even twice as efficient in 3rd down situations. But Atlanta's defense allowed the Lions to march down the field and throw a touchdown as time expired. If they find ways to rectify those mistakes they can start to win some games.
With Mike Davis under the lights Thursday, along with Curtis Samuel and D.J. Moore, the Panthers get this win on a short week.
| | | | | | | | | | | | |
| --- | --- | --- | --- | --- | --- | --- | --- | --- | --- | --- | --- |
| Drew | Jordan | Filip | Shiree | Shane L. | Shane C. | Nick | Will | Derek | Danny | Luca | Chris |
| CAR | ATL | CAR | CAR | CAR | CAR | CAR | CAR | CAR | CAR | CAR | CAR |
Nick: Cincinnati Bengals (1-5-1) fans have to feel let down after losing to their rival, the Cleveland Browns last week by a field goal. In fact, in four of their five losses, it's been by one possession or less. But that said, the Bengals have been competitive nearly every week this season, and Joe Burrow is the reason for that. Burrow has the most completions in the NFL, as well as the most attempts. He's third in passing yards and has looked more poised than your typical rookie.
Meanwhile, the Tennessee Titans (5-1) will look to rebound after suffering a heartbreaking loss in their own right to the Pittsburgh Steelers a week ago. To do so, the league leader in rushing yards
Derrick Henry
will look to rebound after being bottled up by the Steelers. The Bengals are a work in progress defensively and rank near the bottom in passing and running yards allowed. The Titans are a juggernaut in the AFC, and
Ryan Tannehill
has been one of the best quarterbacks in the NFL since he joined the Titans. An amazing statistic for this Titans team to keep in mind is this. In the 16 games since Tannehill took over, their red-zone TD conversion rate is 46 of 55. The Titans should right the ship here.
| | | | | | | | | | | | |
| --- | --- | --- | --- | --- | --- | --- | --- | --- | --- | --- | --- |
| Drew | Jordan | Filip | Shiree | Shane L. | Shane C. | Nick | Will | Derek | Danny | Luca | Chris |
| CIN | CIN | TEN | TEN | TEN | TEN | TEN | TEN | TEN | TEN | TEN | TEN |
Derek: Buffalo and New England have a divisional matchup in Week 8. New England is having issuers at quarterback, having benched Cam Newton last week, while Buffalo has struggled to find the end zone.  Buffalo has a chance to take a stronghold on first place in the AFC East with a victory over New England. This would put Buffalo at 4-0 in divisional games this season and a multiple game lead on second place. For New England, a loss to Buffalo could slide then multiple games behind Miami for second place in the division. This would be a very new situation for New England as they have not finished outside of first in their division since 2008.
Buffalo's defense has struggled in recent weeks but returned to solid form last week against the Jets. New England has had solid defense throughout the season, but their offensive struggles have cost them in several games this season. If Buffalo's defense continues to play better, they could cause more issues for the Patriots' offense. I see Buffalo improving their play from their lackluster performances of late in an emotional matchup with New England as they look to cement themselves as the top dogs in the AFC East.
| | | | | | | | | | | | |
| --- | --- | --- | --- | --- | --- | --- | --- | --- | --- | --- | --- |
| Drew | Jordan | Filip | Shiree | Shane L. | Shane C. | Nick | Will | Derek | Danny | Luca | Chris |
| BUF | NE | BUF | BUF | NE | BUF | BUF | BUF | BUF | BUF | BUF | BUF |
Chane C.: The Las Vegas Raiders face the Cleveland Browns in what should be a high scoring affair. The over/under is currently 54 points and the Browns are a home favorite of two and a half points. The Browns are fresh off a barn burner against in-state rival Cincinnati winning 37-34. However, it came at a cost as the Browns lost Odell Beckham Jr. to a season-ending knee injury.
The Raiders are fresh off a beat down to the hands of the ageless Tom Brady and the Tampa Bay Buccaneers. Although the Raiders offense runs through Josh Jacobs and Darren Waller, Nelson Agholor was the lone bright spot on a disappointing day. While the Raiders have logged impressive wins over the New Orleans Saints and the Kansas City Chiefs they are having trouble finding consistency. However, they are consistent at giving up points to the tune of 30 points per game.
The Browns continue to make noise in the AFC boasting an impressive 5-2 record. However, a closer look reveals that they're doing it with smoke and mirrors. They've given up an average of 29 points in each win. But how long will they be able to keep up that pace? While we aren't mistaking the Raiders for an elite team by any stretch, they've proven they can hang with and beat elite teams. 
The bottom line. This game features two bottom ten defenses which should lead to plenty of offensive fireworks. Josh Jacobs and Kareem Hunt could put on a track meet and the last man standing is the winner. I like the home team Browns to win this game and continue their march towards a playoff birth. 
Browns 31 Raiders 30
| | | | | | | | | | | | |
| --- | --- | --- | --- | --- | --- | --- | --- | --- | --- | --- | --- |
| Drew | Jordan | Filip | Shiree | Shane L. | Shane C. | Nick | Will | Derek | Danny | Luca | Chris |
| CLE | LVR | LVR | LVR | LVR | CLE | CLE | CLE | LVR | LVR | CLE | LVR |
Shane L.: Before the bye week, the Indianapolis Colts came out with a 31-27 comeback win against the Cincinnati Bengals. They improved to 4-2 that week with that steller defense leading the way so far this season. The offense had been mediocre all season as Philip Rivers has only seven touchdowns to six interceptions. Number one wide receiver T.Y. Hilton hasn't put up great numbers this season as he has only 242 yards with no touchdowns. The defense has been carrying the team as they are first in points allowed (14.0), first in total yards (236.3), first in passing yards (159.3), and fourth in rushing yards (77.0).
The Detriot Lions are somehow at .500 at 3-3 after a comeback win against the Atlanta Falcons. Matthew Stafford marched down the field with just over a minute left and delivered a strike to T.J. Hockenson to set up the long game-winning PAT. Kenny Golladay had six catches for 114 yards as he went off for a big day. The Lions offense has almost the same numbers as the Colts on the season but the defense is what sets them apart. Detroit's defense has been near the bottom in almost every category except passing yards. The difference in this game will probably be the defense, which favors the Colts. This game just might be closer than a lot think.
| | | | | | | | | | | | |
| --- | --- | --- | --- | --- | --- | --- | --- | --- | --- | --- | --- |
| Drew | Jordan | Filip | Shiree | Shane L. | Shane C. | Nick | Will | Derek | Danny | Luca | Chris |
| IND | IND | IND | DET | IND | DET | DET | IND | IND | DET | IND | DET |
Chris: A matchup between two teams trending in opposite directions heading into Week 8 of the NFL season, the Minnesota Vikings travel to Green Bay on Sunday to battle the Packers. Losers of their last two games, Mike Zimmer's team heads into the matchup with a record of 1-5 on the season, putting them in the basement of the NFC North. Projected to be one of the premier contenders in the NFC heading into the year, the Vikings have been unable to mask the offseason losses of key players such as Stefon Diggs, Everson Griffen, Trae Waynes, and Linval Joseph.
Flipping the script over to the Packers, 2020 has seen them pick up right where they left off from their 13 win campaign in 2019. Fresh off a 35-20 win over the Houston Texans last Sunday, Matt Lafleur's team is one of the premier offenses in the league through seven weeks, ranking 7th in total yards per game and 2nd in the league in points per game. 
From one of the best to one of the worst, that has been the story for the Vikings defense through seven weeks of the season. Allowing over 460 yards to the Atlanta Falcons in their Week 6 loss, Minnesota's defense has now allowed more than 27 points in each game this season, ranking them 30th in the NFL. In tough once again this week against a red-hot Green Bay offense that is averaging over 32 points per game, the Vikings will begin life without Yannick Ngakoue after he was dealt to the Ravens a week ago. After already putting up 43 points against them during their week one matchup, Minnesota's defense will be in for all they can handle against Aaron Rodgers and company in this one.
Beginning to play better on offense after a miserable start to the season, Kirk Cousins and the Vikings offense have now scored over 20 points during their last three contests. Led by star running back Dalvin Cook, Minnesota currently averages over 139 yards per game on the ground, good for 6th in the league. Heading into a favorable matchup with a Green Bay rush defense that has struggled at points during the season, if the Vikings have any chance at pulling off the upset, they will need to get their rushing attack established early to keep Rodgers and the Green Bay offense on the sidelines.
After a wake-up call in Week 6 at the hands of the red-hot Tampa Bay Buccaneers, the Packers bounced back nicely last Sunday. Defeating the Texans 35-20, Green Bay put up 379 yards of total offense with star receiver Davante Adams hauling in 13 receptions and two touchdowns in the winning effort. Red-hot throughout the season, Rodgers and head coach Matt Lafleur look to be on the same page in their second year together. Looking ahead to a favorable matchup with an undermanned Vikings defense, expect the Packers to move the ball at will in this one.
With starting cornerbacks Cameron Dantzler and Mike Hughes both questionable with injuries, Rodgers and company could be in for a big day once again on Sunday. With starting running back Aaron Jones status still up in the air heading into the game, expect rookie A.J. Dillion and veteran Jamaal Williams to handle the workload for Green Bay. With the Vikings struggling against the run all season long, expect Matt Lafleur and company to come out running the ball on Sunday to set up deep passing shots later in the game.
After early-season struggles, Mike Pettine's group has settled into a groove over the past few weeks on the defensive side of the ball. Heading into the week as the number 15 unit overall, the team will have its hands full with star running back Dalvin Cook and wide receiver Adam Thielen in this one. Currently ranked fifth in the league in rushing, Cook possesses game-changing speed and the ability to score from anywhere on the field, making him a major challenge for Green Bay's group. Expect this game to come down to the battle in the trenches. Currently ranked 12th in the league in sacks per game, averaging over two per contest, if Za'Darius Smith and the Green Bay pass rushers are able to generate consistent pressure on Cousins, it could spell trouble for the Vikings.     
A game between two teams heading in completely opposite directions, the Packers will look to sweep the Vikings for the second year in a row in this one. Looking to build off a 43-34 victory in Week 1, expect this matchup to be much closer. With every game between these two teams always becoming an instant classic with star power all over the field, look for the Packers to roll in this one against one of the most disappointing groups of the 2020 season.
Final Score: Minnesota 17 Green Bay 34
| | | | | | | | | | | | |
| --- | --- | --- | --- | --- | --- | --- | --- | --- | --- | --- | --- |
| Drew | Jordan | Filip | Shiree | Shane L. | Shane C. | Nick | Will | Derek | Danny | Luca | Chris |
| GB | GB | GB | GB | GB | GB | GB | GB | GB | GB | GB | GB |
Will: In this severely lop-sided matchup, the New York Jets are traveling to Missouri to take on the reigning Super Bowl Champion Kansas City Chiefs.
How can I say this as nicely as possible? Well, I'll just say it: the Jets flat out suck. They are one of the worst teams I have ever seen thrown on an NFL field. They are currently 0-7 and aren't improving at all. Last week, the Buffalo Bills were practically giving the Jets the win before taking control and winning 18-10. Buffalo didn't score one touchdown. As if this season wasn't already embarrassing enough, that just adds on to the cake. No matter who they throw in a quarterback, it is almost a guaranteed loss every week. Jets fans, your only hope now is tanking and hopefully drafting star quarterback
Trevor Lawrence
. However, it's not yet a guarantee whether or not he foregoes his senior year. If New York had the first pick, my guess is he stays for his final year of college.
As a completely different and overall better team, the Chiefs are currently 6-1 coming off a blowout road win against the Denver Broncos. Outside of a slip up against the Las Vegas Raiders,
Patrick Mahomes
and the Chiefs haven't seemed to skip a beat from their Super Bowl LIV-winning season a year ago. The Chiefs are looking at this as a second bye week since the Jets are pretty much equivalent to a high school team. The line is currently -19.5 and I would not even consider putting money on the Jets. Kansas City is too good to slip up against such a weak team. I expect to see backup quarterback
Chad Henne
at some point in this game due to the Chiefs blowing them out. This game will not be close.
Like everyone else on the planet, I am picking the Chiefs to blowout the Jets by a score of 38-13.
| | | | | | | | | | | | |
| --- | --- | --- | --- | --- | --- | --- | --- | --- | --- | --- | --- |
| Drew | Jordan | Filip | Shiree | Shane L. | Shane C. | Nick | Will | Derek | Danny | Luca | Chris |
| KC | KC | KC | KC | KC | KC | KC | KC | KC | KC | KC | KC |
Drew: Good news for Miami fans: it's time for the Tua Tagovailoa era to begin! Bad news: he is going to get to know Aaron Donald really, really well. Coming off of a bye week, the Dolphins may have a slight leg up as they will have game-planned and practiced for two weeks.
The Dolphins are 3-3 and have a realistic shot at making playoffs. This fact has resulted in some head-scratching at the quarterback change, but Ryan Fitzpatrick is not the future of the franchise, Tagovailoa is. DeVante Parker is still an elite receiver and tight end Mike Gesicki is becoming a formidable force. The offensive line is a bit suspect because they can't get the run game going and have given up ten sacks. On the other side of the ball, the defense is legit. Averaging 18.8 points allowed per game, Miami is the third-best scoring defense. With guys like Jerome Baker and Xavien Howard, it's easy to see why.
LA, yet again, is going up against a top defense. However, last week, they did not have many issues tearing up the Bears. Jared Goff is a solid quarterback with great weapons in Robert Woods and Cooper Kupp, but the run game needs to get going. Darrell Henderson, Malcolm Brown, and Cam Akers each average more than four yards per carry, but have combined for 799 yards through seven games.
Defensively, the Rams are one of the two defenses better than Miami, allowing 17.7 points per game. Donald is likely going to have a much better day against the Dolphins' line than he did against Chicago. Outside, Jalen Ramsey is going to look to capitalize on any mistake the rookie quarterback makes.
This season, Miami is decent, but their best is in the future. For this matchup, the Rams should prevail. Dolphins fans, do not fret, your time is coming, and it's likely to be glorious.
| | | | | | | | | | | | |
| --- | --- | --- | --- | --- | --- | --- | --- | --- | --- | --- | --- |
| Drew | Jordan | Filip | Shiree | Shane L. | Shane C. | Nick | Will | Derek | Danny | Luca | Chris |
| LAR | LAR | LAR | MIA | LAR | MIA | LAR | LAR | LAR | MIA | MIA | LAR |
Filip: When talking about physical NFL rivalries, a popular one is always mentioned in the Steelers vs Ravens because the games are always tight and have big implications in AFC North. This matchup will be no different, as these two star-studded teams will clash off in Baltimore for a chance to be the answer to the question of who is the best team in the NFL. No matter the final result, these teams will play until the end.
The visitors, the Steelers, are the last undefeated team standing, and one of these wins was a big AFC win against the Titans. Throughout the year, the Steelers defense has played phenomenally, as they allow the least amount of offensive yards per game in the league. On the defense, T.J. Watt, Bud Dupree, and Cameron Heyward bring loads of pressure onto quarterbacks. Once pressured, these quarterbacks can make poor throws, for example, into the hands of Minkah Fitzpatrick, who is a part of the fantastic secondary.
On the other side of the ball, on the offense is where slightly more concern lies for the Steelers. The rushing attack for the Steelers is fine with James Conner who has greatly bounced back from last season and has improved a Steelers run offense from last year. The concern though is with Ben Roethlisberger who looked fine through the first five games of the season, but threw three interceptions against the Titans. It should be said, the interceptions weren't all that bad, but the Steelers need more consistency from him.
Of course, the face of the Ravens franchise is Lamar Jackson, who, after having an MVP season, has greatly struggled in the passing game. Overall, the Ravens offense hasn't been that great, as they rank in the bottom ten of offenses in the league. The positive for the Ravens though is they have the best rushing attack in the league, but that will be hard against the best defense in the league.
The Ravens might struggle on offense, therefore their talented defense might have to force turnovers to get a shorter field for their offense. That defense is surely capable of forcing turnovers especially in the secondary with the likes of Marlon Humphrey and Marcus Peters. They also have a great rookie linebacker by the name of Patrick Queen who is a tackling machine. The biggest weakness on the Ravens had been the lack of pass rush, but that will change as they recently acquired Yannick Ngakoue. This will be his first game in Baltimore, so look for him to impress.
So who will win this playoff-type matchup? Well, both defenses should do their job, so the games will really fall into the hands of the offense. In the end, though, the Ravens rely so heavily on their run, but the Steelers will be able to stop it forcing Lamar Jackson to throw, to which he has been inconsistent. While the Steelers offense might struggle at moments, I believe they have a more balanced offense than the Ravens, which will allow them to score points in multiple ways, giving them the win.
Prediction: Steelers win 27-24
| | | | | | | | | | | | |
| --- | --- | --- | --- | --- | --- | --- | --- | --- | --- | --- | --- |
| Drew | Jordan | Filip | Shiree | Shane L. | Shane C. | Nick | Will | Derek | Danny | Luca | Chris |
| BAL | BAL | PIT | BAL | PIT | BAL | PIT | PIT | PIT | PIT | BAL | PIT |
Jordan: The battle of the youngsters take place in Denver this week. One of the most promising rookies in Justin Herbert takes on one of the more stagnant second-year quarterbacks in Drew Lock.
The Chargers certainly should be better than their record shows, and with some key pieces on defense finally returning, I think they are in for a great second half. As for the Broncos, they've been hit by injury after injury this season and it seems to have really derailed a promising squad.
I'm taking the Chargers in this one not and I expect Herbert to continue his astounding rookie campaign.
| | | | | | | | | | | | |
| --- | --- | --- | --- | --- | --- | --- | --- | --- | --- | --- | --- |
| Drew | Jordan | Filip | Shiree | Shane L. | Shane C. | Nick | Will | Derek | Danny | Luca | Chris |
| LAC | LAC | LAC | LAC | LAC | LAC | LAC | LAC | LAC | LAC | LAC | LAC |
Luca: This week I'll be taking the Chicago Bears over the New Orleans Saints. Importantly, Michael Thomas is likely to not play. I personally believe this game has upset potential.
On offense, the Bears rank 29th, and the Saints rank 11th.
On defense, the Bears rank 10th, and the Saints rank 7th.
The Saints offense is currently led by veteran quarterback
Drew Brees
and running back
Alvin Kamara
. Michael Thomas is hurt and
Emmanuel Sanders
has COVID-19.So, they will be short-handed. For the Saints, they will have to beat the Bears through the ground game with Kamara and
Latavius Murray
. The Bears rank 16th in run defense, allowing 119.9 yards per game. If the Bears find a way to stop that, the Saints will have to begin targeting the running backs out of the backfield,
Jared Cook
, and
Tre'Quan Smith
. The Bears rank 8th in passing defense because of outstanding players like
Khalil Mack
,
Eddie Jackson
, and
Kyle Fuller
. The Saints will have a tough task.
The Bears offense is coming off of a rough performance against the LA Rams.
Nick Foles
struggled immensely behind terrible pass protection. The Bears rank 25th in the NFL in passing offense. Facing a mid-tier passing defense in the Saints, the Bears will have to take advantage of the weapons they have. Head coach
Matt Nagy
's playcalling simply has to be better and more innovative. In the running game, not much has happened for the Bears. They rank as the worst rushing NFL team.
| | | | | | | | | | | | |
| --- | --- | --- | --- | --- | --- | --- | --- | --- | --- | --- | --- |
| Drew | Jordan | Filip | Shiree | Shane L. | Shane C. | Nick | Will | Derek | Danny | Luca | Chris |
| NO | NO | CHI | CHI | NO | NO | NO | NO | NO | NO | CHI | NO |
Drew: Russell Wilson is a madman, but he made a couple of mistakes last week that resulted in an interdivisional loss. "Let Russ Cook" has become a rallying call for Seahawks fans on social media. Unfortunately, Wilson has had to cook, clean, prepare, open, and close the restaurant.
Their issues are not due to a lack of offensive talent, considering D.K. Metcalf is a physical specimen and Tyler Lockett could be WR1 on most other teams. The Seattle defense is not what it once was. They allow 28.7 points per game (23rd out of 32 teams), but have been okay due to the fact that they have the number one scoring offense in the league.
Through their six games, Seattle has only sacked the quarterback nine times. Perhaps this was a deciding factor in trading for one of the Bengals' all-time sack leaders in Carlos Dunlap. Seattle will be fine, considering they don't have a particularly difficult schedule remaining.
The 49ers, on the other hand, have been decimated with injuries to this point and may start to look like how they should. Jimmy Garoppolo is a solid quarterback and his weapons outside are continuing to grow. Rookie Brandon Aiyuk is emerging in the absence of Deebo Samuel. Not to mention, George Kittle is the best tight end in the league.
On defense, San Francisco is led by middle linebacker Fred Warner who leads the team in tackles as well as interceptions. Something will have to give in this matchup, however. The 49ers' defense only allows 19.4 points per game, good for fifth in the league. If Seattle had not lost a heart-breaker last week, I might have been persuaded to consider their chances this week. Unfortunately for them, Russell Wilson is going to come out inspired. I've got Seattle in this one.
| | | | | | | | | | | | |
| --- | --- | --- | --- | --- | --- | --- | --- | --- | --- | --- | --- |
| Drew | Jordan | Filip | Shiree | Shane L. | Shane C. | Nick | Will | Derek | Danny | Luca | Chris |
| SEA | SEA | SEA | SEA | SEA | SEA | SEA | SEA | SEA | SEA | SEA | SEA |
Danny: The Eagles sit atop the NFC East at 2-4-1. This division is just awful to watch right now, but the Eagles are still fighting. They may be getting healthy at the right time. First round pick Jalen Reagor looks like he is coming back this week, and a few more offensive pieces. Dallas is in full sell mode, and they should be. They have the look of a team that has quit on its head coach and has very little life left in them if any at all. The Eagles should be expected to handle their business Sunday night, but it is a divisional game.
Eagles 34
Cowboys 17
| | | | | | | | | | | | |
| --- | --- | --- | --- | --- | --- | --- | --- | --- | --- | --- | --- |
| Drew | Jordan | Filip | Shiree | Shane L. | Shane C. | Nick | Will | Derek | Danny | Luca | Chris |
| PHI | PHI | PHI | PHI | PHI | PHI | PHI | PHI | PHI | PHI | PHI | PHI |
Jordan: A MNF game that may very well become a T(uesday)NF game very soon because of COVID. These teams are quite frankly going in polar opposite directions and can any of us say we are surprised?
The Bucs have finally found their groove after a rough start to the season. Brady and the gang are looking as potent as ever, not to mention the addition of Antonio Brown in the near future will make this offense even more lethal. On the other hand, the Giants are a mess as everyone expected and Daniel Jones has certainly taken a step back from last season. Their offense looks sporadic and confused at times and their defense is in the same boat. This team has very little chance to beat any team in the league, let alone the thriving Bucs.
I'll take Bucs by at least 10 points. Brady is on a roll and the league better watch out.
| | | | | | | | | | | | |
| --- | --- | --- | --- | --- | --- | --- | --- | --- | --- | --- | --- |
| Drew | Jordan | Filip | Shiree | Shane L. | Shane C. | Nick | Will | Derek | Danny | Luca | Chris |
| TB | TB | TB | TB | TB | TB | TB | TB | TB | TB | TB | TB |
Main Photo:
Embed from Getty Images