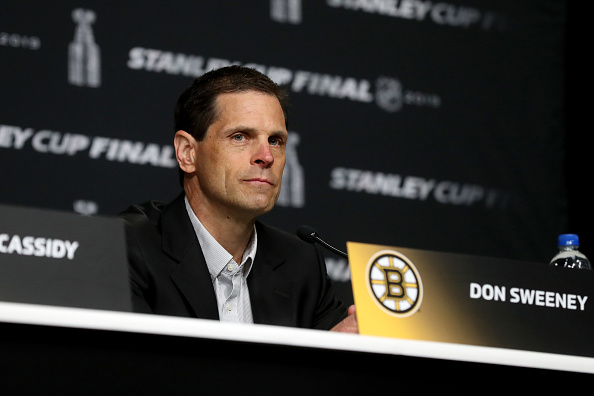 The Boston Bruins free agency period has been very underwhelming. Since their signing of veteran goal-scorer Craig Smith, the Bruins have watched Taylor Hall and Alex Pietrangelo disappear from the free-agent list. Was it an expectation that either of those players would be signing in Boston? No. But, the history of GM Don Sweeney certainly is starting to make fans question whether we signed plan C because A and B walked out the door. As bad as this free agency period has been for them, there are still some significant free agent targets for the Boston Bruins still out there. They may not have the impact of a Hall or Pietrangelo, but they'll certainly give this contender a boost.
Three Remaining Free Agent Targets for the Boston Bruins
Looking at the list of remaining free agents, Mike Hoffman certainly tops it. Hoffman is coming off of a fantastic season in Florida, accumulating 29 goals and 30 assists in just 69 games. Not to mention, Hoffman is UFA reportedly looking for a one-year deal to take him into next year's "payday" free agent year, similar to what Taylor Hall did in Buffalo this year.
Many are overlooking Hoffman because of the recent signing of Smith just a week ago, but it's important to note that W Jake Debrusk has been involved in trade talks for the past month. He's currently an RFA, but a Hoffman signing could have Debrusk on the move rather quickly. After losing Torey Krug, the B's are certainly lacking on the defensive end, so signing Hoffman to a one-year deal in the $6 million dollar range will give them the ability to move Debrusk for some help on the backend.
I truly see this as a "must sign" situation for the Bruins. There is very little risk considering the length of the deal, and you know exactly what you are getting from Hoffman.
A surprising move by the Buffalo Sabers to not tender a qualifying offer has now led to Dominik Kahun's placement in this list. Kahun is just 25-years-old and is coming off of a 31 point season in which he played just 56 games. Kahun is a +18 in his NHL career so far and is an excellent even-strength player, tailing 62 of his 68 career points on 5 v 5.
This certainly wouldn't be a massive signing for the Bruins, but it may give them the opportunity to welcome Jake Debrusk back. Kahun won't hit the over on a $3 million dollar AAV, which would leave the Bruins a minimum of $7.5-8 million to sign Debrusk/Chara back if they choose to do so. So while Kahun doesn't have the offensive prowess that Hoffman may give you, he'll come at a much cheaper cost and he's got some decent potential at only 25.
He's certainly behind Hoffman in terms of priority signings, but if Hoffman gets scooped up I'm pushing hard for a long-term deal for Kahun. He's a diverse player who can play anywhere in the top 9, not to mention he's got experience at every forward position. I'm surprised to see him still on the board and he's one of my favorite free agent targets for the Boston Bruins.
The defensemen pool this offseason was extraordinarily dry, but Sami Vatanen could still be a massive help on the backend for the Bruins. Vatanen totaled just 23 points last season with the Devils, before being traded to Carolina. He's since slowed down considerably since his Anaheim Ducks' days, where he totaled 120 points through four seasons. However, Vatanen is more than capable of playing top-four minutes for the Boston Bruins. He hasn't dipped below 20 minutes of on-ice time in almost six years and although injury history is a concern, you can rely on him to eat up some of those minutes you may be looking to cut back on with Zdeno Chara.
Currently, the Bruins have a very young core of defensemen headed into next season. You'll see the return of Chara, Charlie McAvoy, and Brandon Carlo, with the likely continued emergence of Connor Clifton and also Matt Grzelcyk, if he returns. But, that leaves a fairly large hole in your top six, and counting on injury-prone Kevin Miller or aging John Moore really shouldn't be the answer. Youngsters Jakub Zboril and Jeremy Lauzon would look also to fill that void, but again on a championship-contending team, they may not be ideal starts.
If the Bruins can grab Vatanen on a two-year deal with roughly a $3-3.5 AAV, I'd do it. It'll give them enough space to sign Jake Debrusk back as well, and save them the hassle of having to trade for a defenseman. Not to mention, he would instantly fill the void of Torey Krug at half the cost, even if his point totals won't compare. Vatanen certainly isn't at the top of my list, but he's still got the talent and after the signing of Smith, the free agent targets for the Boston Bruins may need to turn towards the backend.
Still Time to Recover
The Bruins have followed a disappointing end to the 2020 season up with an even more disappointing free agency period. The top free-agent targets for the Boston Bruins have now signed elsewhere, and now the "scraps" are left for the big bad bears. However, it's still a salvageable offseason. There is still a ton of talent left out there and Don Sweeney knows he's on the hot seat following the loss of Krug and mishandling of Hall. This team has a ton of talent on the roster currently, and the Craig Smith signing has really gone under the radar for many. If they can pair that signing with a Hoffman deal and a trade for a top-four defenseman, this will certainly be a recouped offseason for Boston.