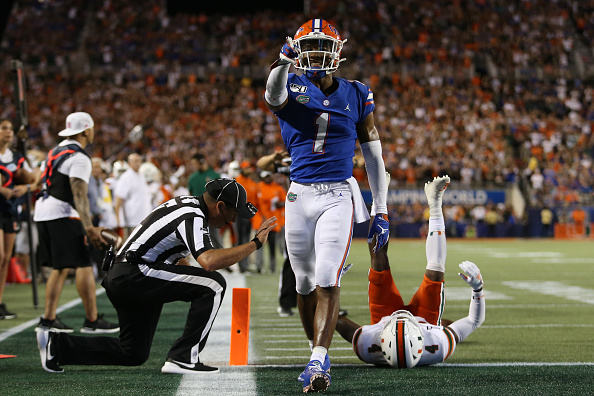 Although the ongoing COVID pandemic has severely affected sports, there is light at the end of the tunnel. The NFL is set to open training camps in July, which is a good sign towards a 2020 season. Teams have held virtual rookie camps and meetings since the draft, but have not been able to hold a full practice. This will be the first real look at these rookies. For the Jacksonville Jaguars staff, this makes camp even more vital. Doug Marrone is likely fighting for his job this season and new offensive coordinator Jay Gruden will get his first chance to work with the offense in person. Jacksonville utilized all 12 of their picks in April, and these impactful Jaguars rookies will be a key to a successful season.
Most Impactful Jacksonville Jaguars Rookies for 2020 Season
Given the current roster, Henderson will likely enter training camp as the team's number one corner. The former Gator has big shoes to fill, inheriting the role previously held by Jalen Ramsey before he was shipped out of town. Although not nearly the personality of Ramsey, Henderson brings an immense talent boost to the secondary. The ninth-overall pick excels in man coverage and will most likely be matched up with the opponent's top receiver every week. Henderson needs to make an immediate impact or it could be another long season in Jacksonville.
With the second of their first-round picks, the Jaguars selected K'Lavon Chaisson to shore up their front seven. Chaisson is a dominant edge player who Jacksonville will pair with star second-year edge Josh Allen. Given the uncertainty surrounding Yannick Ngakoue, Chaisson looks to be in prime position for a big role on defense. During his time at LSU, Chaisson showed an ability to impact both the run and passing games. If he can come in and immediately contribute, the Jacksonville defense will be on track to returning to its Sacksonville form.
Shenault had first-round talent, but a late injury paired with a deep receiver class allowed Jacksonville to steal him in the second round. Shenault is a dynamic player who was utilized both as a receiver and a runner during his college career. In three seasons at Colorado, he totaled over 2200 yards from scrimmage and 17 touchdowns, 7 of which were rushing. The Jaguars have stated their intention to line him up both out wide and in the backfield. This will help keep defenses honest and take some pressure off a second-tier offensive line. Immediate impact from Shenault will be key for Jacksonville. If he is able to produce right from the start, teams will not be able to scheme solely against breakout wide receiver DJ Chark. Success for Shenault will open up the offense as a whole and make life much easier for quarterback Gardner Minshew.
Final Thoughts
Jacksonville's top three picks from April will inherit the high expectations that come with being a high selection. However, they will also feel even more pressure due to the state of the franchise. Choosing to utilize all 12 picks, in addition to the trading of several veterans, has shown the direction the front office wants to go. Change has happened throughout the team, and youth is very prevalent on the roster. The ability of these rookies to step in and perform at a high-level will go a long way towards determining this season. If Henderson, Chaisson, and Shenault can prove their worth quickly, the Jags have a good chance to be playing meaningful games late this season.
Main Photo:
Embed from Getty Images