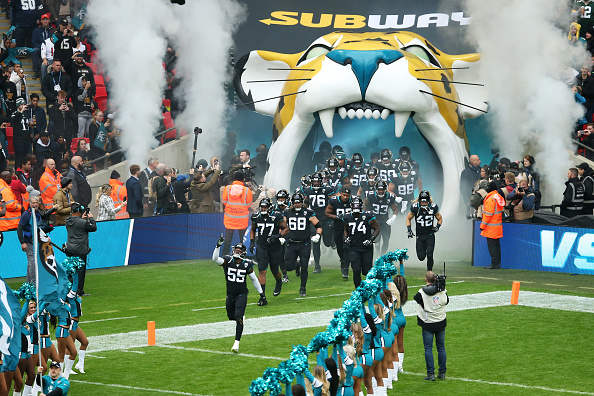 With the draft and free agency behind us, it's time to look towards training camp and the 2020 season. This offseason saw the Jacksonville Jaguars make a giant roster overhaul. Key players such as Calais Campbell and A.J. Bouye were traded away, signaling a youth movement by the front office. Further evidence of this is the fact that Jacksonville used all 12 of their draft picks. With so much turnover, several players will be forced to take on bigger roles this season. Here are the top five Jaguars players that can make this season a success for Jacksonville.
Top Five Jaguars Players for the 2020 Season
Entering his fifth season, Myles Jack will look to bounce back from a poor 2019 season. Jack switched positions from outside to middle linebacker during the 2018 season, and over the past two years has struggled with consistency. 2019 was particularly rough, as Jack often looked out of place and missed tackles more regularly than he should. Doug Marrone stated this offseason that the team will be in a 3-4 defensive look more regularly, which would allow Jack to move back to outside linebacker. Additionally, the drafting of Shaquille Quarterman looks like a move that will allow Jack to focus solely on playing outside which is a more comfortable and natural role for him.
Wide receiver DJ Chark is coming off a breakout sophomore season. During 2019, Chark hauled in 73 passes for over 1000 yards and eight touchdowns on his way to his first Pro Bowl. Chark will be a focal point of the Jacksonville offense, and his ability to further improve on last season will be key to their success. After showing what he can do, Chark will likely be challenged by the opposing team's number one corner every week. Being able to win against top competition will go a long way toward showing that last year was no fluke.
Taven Bryan enters his third season with big shoes to fill. Following the release of Marcell Dareus and trading of Calais Campbell, Bryan will be a mainstay in the middle for the Jacksonville defense. Bryan has been slowly worked into the mix over the past two seasons, only starting nine games and totaling 53 tackles in his career. However, over the second half of the 2019 season, things seemed to start clicking for Bryan. Although he didn't stuff the stat sheet, Bryan looked more comfortable on the field. He showed quicker instincts and was strong against the run, playing for longer stretches. The Jaguars will look for Bryan to continue his growth this season and his performance in year three will give a good indication of what his future in Jacksonville may look like.
Leonard Fournette has been one of the most talked-about Jaguars players this offseason. The team openly shopped the running back for several months, but ultimately decided to keep him on the roster. The Jaguars also declined to pick up Fournette's fifth-year-option, making him a free agent once the 2020 season concludes. Despite this, the team has stated firmly that Fournette remains a focal point of their plans for the upcoming season. The fourth-year back is coming off the best season of his career, setting career marks in rushing yards and receiving yards. However, Fournette disappointed in the touchdown department, finding the end zone only three times the entire season. Improving his numbers from last year will be key to the Jaguars' success, and could increase his payday next offseason.
Possibly no one player will have a more direct effect on the Jaguars' success than quarterback Gardner Minshew. Minshew burst onto the scene last year after quarterback Nick Foles went down in week one with a shoulder injury. the former 6th-round pick looked comfortable and in command from the start, playing very clean games and not forcing the issue. He finished the season throwing for over 3200 yards and 21 touchdowns to only six interceptions in 14 games played. Minshew also showed great pocket awareness throughout the season, avoiding sacks and scrambling to pick up yards often. The one glaring issue is ball security: Minshew put the ball on the ground an alarming 13 times.
The staff has shown a commitment to Minshew, trading Nick Foles to the Chicago Bears and opting not to bring in anyone to push for the starting job. Minshew has the ability to be the best quarterback in Jacksonville since David Garrard. For the Jags to be successful, he needs to find the end zone more often and cutting down on fumbles.
20/20 Vision
These top five Jaguars players will have the biggest effect on the outcome of the 2020 season. However, they are by no means the only players that will help determine the team's level of success. After a disappointing 6-10 season, every player needs to improve. The Jaguars will need to improve in all facets of the game in order to win, and that means development from all 53 players on the roster.
Main Photo: Embed from Getty Images