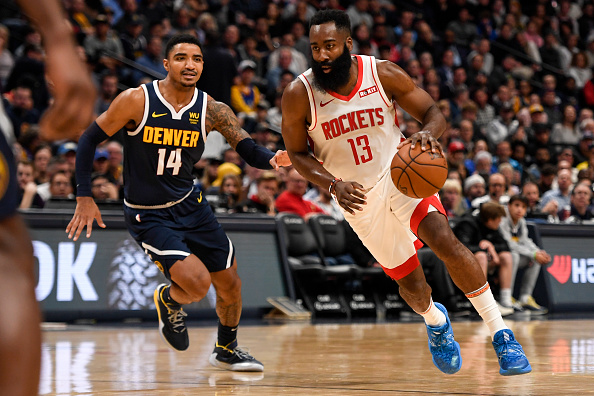 It's been just over a couple of weeks since Adam Silver cut the cord of the NBA season for the time being because of COVID-19. If you want an escape from the real world, you can re-watch old games or put together a list of all-time players. You can even talk about what happened this season until the stoppage and that's what's going to happen here. Many people look at the points per game category as the most important stat in the league. Two players average more than 30 points per game. There are 12 players overall who average over 25 points per game. On this list, we'll look at the top five points per game leaders.
Top Five Points Per Game Leaders In The NBA
5. Damien Lillard (28.9 PPG)
The Portland Trail Blazers are on the outside looking in. They're 3.5 back of the eighth seed. Damien Lillard is the reason why this team is even that close to the eight seed. Lillard and C.J. McCollum make up one of the best backcourts in the NBA today. While playing about 37 minutes a game, Lillard is averaging 28.9 points per game. When the NBA gets going again, the Blazers will find themselves in a tough battle for a playoff spot but they always have a shot with Lillard.
4. Trae Young (29.6 PPG)
In only his second year, Trae Young is lighting the basketball world on fire for the Atlanta Hawks. He increased his points per game totals from 19.1 in year one to 29.6 this year. That is an amazing number in his sophomore season. He's also doing it for a team that has only won 20 games, which is fourth worse in the league. He's not only scoring but passing as he is averaging 9.3 assists a game. He is a young star that certainly in the future of this league.
3. Giannis Antetokounmpo (29.6 PPG)
Giannis Antetokounmpo has been tearing up the league over the past few years. Over the past four years, he's averaged over 20 points a game. He earned the MVP last season while averaging 27.7 points per game and 12.5 rebounds per game. Giannis is having an even better year this season as he is averaging 29.6 points per game and 13.7 rebounds a game. He's yet again the front-runner for MVP is the eyes of many. The Bucks are an outstanding 53-12 but have lost their last three without Giannis. This goes to show you how valuable he is to the Milwaukee Bucks.
2. Bradley Beal (30.5 PPG)
Bradley Beal and John Wall in the past have been known as one of the best if not the best backcourts in the NBA. This season, Beal has been doing it on his own as Wall has been dealing with an injury all year. Much like the Lillard, Beal has kept his team in playoff contention. The Washington Wizards are 5.5 games out of the eighth seed in the East. He's averaging 30.5 points per game, which is his career-best. Beal got snubbed from the all-star game and is out to prove why he should've made it. There's no reason why he can't continue this if the season continues.
1. James Harden (34.4 PPG)
James Harden had a hot start to begin the year. He was neck-and-neck with Giannis for the MVP award but Harden hit a cold spell. Even with that, he is still averaging 34.4 points per game for the season, which is incredible. He's had multiple 50+ points games this season. At one point in the season, he had 32 straight games of 30-point performances. Harden is setting records almost every time he steps on the court. The Houston Rockets are not where they want to be but Harden hasn't stopped his reign of terror.
Other Points Per Game Leaders
Luka Doncic (Dallas Mavericks– 28.7 PPG)
Russell Westbrook (Rockets- 27.5 PPG)
Kawhi Leonard (Los Angeles Clippers– 26.9 PPG)
Anthony Davis (Los Angeles Lakers– 26.7 PPG)
Devin Booker (Phoenix Suns– 26.1 PPG)
Main Photo:
Embed from Getty Images