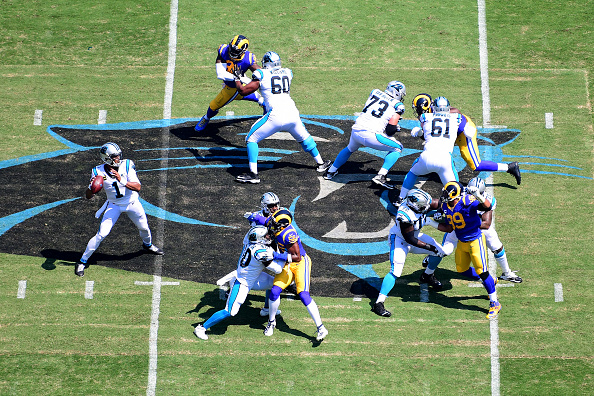 The Carolina Panthers lost their regular-season opener to the Los Angeles Rams 30-27. While there is no immediate worry, the Panthers have plenty they need to fix in week two.
Three Things the Carolina Panthers Need to Fix by Thursday
1. The Offensive Line
The biggest area the Panthers need to address is the offensive line. They went through a major clientele change when Ryan Kalil decided he wanted to retire, only to come back and join the New York Jets. No harm, no foul, I suppose. As his replacement, Carolina decided to sign center Matt Paradis, a four-year veteran to a three-year deal.
During the second half of their game Sunday, the line seemed to do a better job of protecting Cam Newton, but still, they have to be better. They gave up three sacks during that game and from what fans saw during the preseason, Newton will not be able to have a productive year if the line continues that pattern. Has the line lost its confidence in its quarterback? The next game will answer that question.
2. Cam Newton
The Carolina Panthers have got to take a look at Newton if they want to be successful this year. Training camp was an iffy time for the quarterback with him trying to rehabilitate his shoulder and all. He seemed to be throwing well during training camp—a 30-45-yard pass to Curtis Samuel—and just overall reassurance that his shoulder was healed. But that's easy to say when you aren't loaded with pressure. The line did a sufficient enough job containing Aaron Donald on Sunday but Newton clearly still felt some pressure.
Fans know what Newton is capable of but perhaps it's time for him to stop relying solely on his athleticism. Sure, he's one of the most athletic quarterbacks in the game but it can only take him so far. It would be nice to see if Norv Turner and company can help tap into his mind bank. Aside from a few balls that were overthrown, he seemed to get into a grove on the field but he has to also learn how to stop letting the game frustrate him. He has reliable pieces on the field and even if they make mistakes—like Samuel's dropped pass or D.J. Moore's fumble—they need to brush it off and move on to the next drive.
3. Containing the Run and Stopping Conversions
There aren't many bad things to say about the offense; they were clearly the winners in the first game. Tre Boston, making his return with the Panthers, leads the team with nine tackles, while James Bradberry had an interception of his own. They were ballhawks and did a great job of stopping Aaron Donald for most of the game. Having said that, they have to do a better job of containing the run and stopping those third-down conversions.
Jared Goff and Cooper Kupp had Carolina's number in terms of the third downs. Just when you thought the Panthers were shutting the Rams down, Goff would hit Kupp with one of his short passes that would inevitably give them the first down. It's asking the defense to do a lot considering they did a great job keeping the Rams at bay as their offense struggled, but they have to.
Also, it looks like Charlotte Observer's Rick Bonnell gives the Cats an F for the rushing defense, something they should take offense to. Containing the run is huge for these Panthers if they want to keep their team in the competition.
One Isn't done
After Sunday's performance, it's easy to look at all the things that went wrong and try to find the solution. But one isn't done and there is a ton of football left to be played. If the Panthers can start to address some of their issues by Thursday, there could be a major shift for their team. Utilizing Christian McCaffrey has already proved beneficial to this team but Carolina can't rest on that one moral. Other players have to step up or they leave this team to its detriment.
Main Photo:
Embed from Getty Images