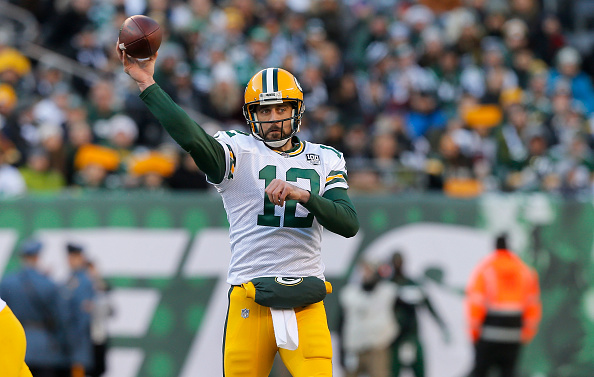 In this part of the divisional quarterback rankings series, we dive deep into the NFC North quarterback rankings for the 2019 season. The NFC North boasts some of the NFL's best quarterback play; from up-and-comer Mitchell Trubisky to steady veterans Matthew Stafford and Kirk Cousins and one of the all-time greats, Aaron Rodgers.
NFC North Rankings for 2019
4. Mitchell Trubisky
Make no mistake, Mitchell Trubisky had a very good 2018. He led the Chicago Bears to an NFC North championship. Head coach Matt Nagy was able to bring out the best in the Bears' offense and Trubisky. Trubisky had some very nice statistics in 2018. He threw for 66 percent completion rate, 24 touchdowns 12 interceptions and 3,223 yards, while also rushing 68 times for 421 yards and three touchdowns. Trubisky also had one game-winning drive to his credit.
At first glance, those are outstanding Fantasy Football statistics (number 15 overall fantasy quarterback with five games over 20 fantasy points). And, if this were an NFC North Fantasy Football ranking, Trubisky would be ranked higher. With that being said, Trubisky threw for more than 250 yards five times. Pretty good, but the Bears ran for 100 or more yards eleven times. Credit Trubisky for his running and playmaking ability, but the Bears' defense (ranked number one in the league) and ability to control the ball were a major factor in the Bears' run to the top of the NFC North.
This is a "show me more" ranking. Can he be the best quarterback in the NFC North? Time will tell. I think he has what it takes. However, if the chips were stacked against him. Does he have the ability to carry the team on his back?
3. Kirk Cousins
Kirk Cousins quietly had an excellent season quarterbacking the Minnesota Vikings. Cousins began the 2019 NFL season with under heavy scrutiny. Not only did he sign a contract for the most guaranteed money (at the time), he had to replace a quarterback, Case Keenum, that had brought the Vikings to the brink of a super bowl. So what did Cousins do? He completed 70% of his passes for 30 touchdowns, 10 interceptions, and 4,298 yards.
Cousins' threw for more than 250 yards six times and the Vikings rushing offense eclipsed the 100-yard mark only five times. The Vikings had the number nine overall defense (down by expectations) so it begs the question should Cousins have been better? I think he proved exactly what he is. And, that is he is a very good quarterback with the ability to manage a game but not the ability to get a team to the next step. The reason being is that he has more weapons surrounding him in Minnesota than he ever had with the Washington Redskins.
Cousins now has one year under his belt in a new town and a new system. He will have the benefit of a fully healthy, dynamic Dalvin Cook, and, an improved offensive line. Expectations are high in Minnesota. They should be!
2. Matthew Stafford
Matthew Stafford, the heart and soul of the Detroit Lions, is coming off a disappointing 2018 season, his worst since 2012. One in which he completed 66% of his passes for 21 touchdowns and 11 interceptions (four of which came in the first game of the season), and 3,777 yards.
However, he had to deal with a new Head Coach, Matt Patricia, a reported injury in his back and to top it off his wife was dealing with a brain tumor. That is enough to reduce mere mortals to a blubbering heap. However, Stafford, the NFC North's new "Iron Man" (respect to Brett Favre), has played in 128 consecutive regular-season games, has 33 game-winning drives to his credit and has passed for more than 4,000 yards in seven consecutive seasons (one of which eclipsed 5,000 yards).
There will be disagreements regarding the Lions' inability to run the ball for the past decade and that Stafford is the product of having to pass therefore padding stats. Additionally, there's the inevitable argument regarding the lack of playoff success. However, Stafford has had to do more with less. The Lions have gone threw much change leading to the 2019 NFL season. Stafford is as steady as they come.
1. Aaron Rodgers
Aaron Rodgers is in the debate for the best, overall quarterback in the NFL. For that matter, he's in the debate for the best NFL quarterback of all time. Although, as a team, the Green Bay Packers had a down year, Rodgers still had another very good season.
Rodgers' entered the 2018 NFL season recovered from an injury that limited him in 2017. He threw for 25 touchdowns against only two interceptions and 4,442 yards with a 62% completion percentage. Although 2018 was down year for the Packers, Rodgers has led Green Bay to seven double-digit win seasons, nine playoff appearances and a Super Bowl victory in his 14 seasons.
However, there is a reason for concern moving forward. Rodgers' has had to deal with injury the past two seasons. There has also been the public turmoil with the past coaching staff and will Rodgers be able to get along with a new head coach, Matt LaFleur? With all of that being said, there isn't a quarterback in the league that is more feared than number twelve with the ball in his hands with under two minutes remaining.
Who Will Wear the NFC North Crown?
The NFC North has some of the best quarterback play in the entire NFL. Each team's fanbase has reason to believe that their team will be the champion of the NFC North. Mitchell Trubisky enters his third season and will look to prove that 2018 was no fluke. Kirk Cousins now has a year under his belt in Minnesota and will look to guide the Vikings back to the top. Matthew Stafford will continue to be the rock for the Detroit Lions and get them over the hump and into playoff contention. Aaron Rodgers has a new head coach and a new lease on life. Can he get them back to playoff prominence? The 2019 NFC North will be a slugfest. Hang on and enjoy the ride.
Main Photo:
Embed from Getty Images