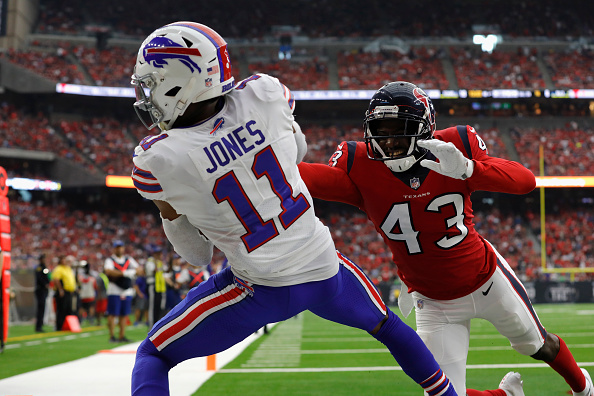 The Buffalo Bills wide receivers look drastically different this season compared to last season. Buffalo added more than four receivers to the position group this off-season making it a wide-open battle at the position. With the Bills' receivers group up in the air heading into the new season, here is a pre-season evaluation of the Buffalo Bills wide receivers.
Bills Wide Receivers Pre-Season Evaluation
The Bills signed John Brown this off-season and he is a perfect fit for second-year quarterback Josh Allen. Brown's speed and deep threat ability will pair well with Allen's arm strength. Brown has played for Arizona and Baltimore before signing with Buffalo. Brown has been unable to fully showcase his skills so far, but Buffalo is a perfect place for him to breakout. In Buffalo, Brown has the chance to become the top receiver he has shown flashes of being. Brown will easily make the 53-man roster and will compete to be Josh Allen's number one target.
The Bills also signed Cole Beasley this off-season. Beasley will compete to be the Bills' slot receiver. Beasley is the oldest receiver on the roster and will provide veteran leadership to the Bills' young group of receivers. The former Cowboy is another receiver who has been unable to show his full abilities and welcomes an open competition like Buffalo's current situation. Beasley is another lock to make the 53-man roster.
This is Jones third season in the NFL following the 2017 NFL draft where Buffalo drafted Jones in the second round. Jones has played all around the offense throughout his time with Buffalo and has a chance to solidify himself in the offense this season. Josh Allen is continuing to progress and Jones has been noticeably more dedicated this off-season to improve his game. Allen and Jones could form a connection this season that would show how valuable Jones is to the Bills' offense.
Foster had a good season with Buffalo last year. He finished second on the Bills in receiving yards as an undrafted free agent. Buffalo released Foster in October and re-signed him in November. In his second half of the season with Buffalo, Foster became Allen's top target and finished the season strong. Foster recorded 541 yards and three touchdowns last season. With his strong finish in his rookie season, Foster has earned himself a solidified spot on the 53-man roster for the upcoming season.
Roberts is the third receiver the Bills brought in this off-season and he is going to be the main kick returner for Buffalo. Roberts impressed on special teams with the Jets and now he will bring his talents to Buffalo. Buffalo landed Roberts this off-season despite multiple other teams being interested in the return specialist. Roberts' elite abilities on special teams should earn him a spot on the 53-man roster.
David Sills signed with Buffalo as an undrafted free agent following the 2019 NFL draft. Sills going undrafted surprised many. Sills started his career at West Virginia as a quarterback. He transitioned to wide receiver for his junior season and recorded 980 receiving yards and 18 touchdowns. His senior season he recorded 986 yards and 15 touchdowns. These two seasons impressed many and it seemed like a guaranteed that he would be drafted. Despite not being taken, Sills landed on an NFL team with Buffalo and will have a real shot of making the 53-man roster.
The Bills claimed McKenzie off waivers from Denver in November last season. McKenzie had a solid role on the offense in the second half of the season recording two rushing touchdowns as a receiver. He also contributed on special teams returning both kickoffs and punts. McKenzie may have trouble making the 53-man roster with the addition of so many receivers during the off-season and with the addition of Andre Roberts, special teams may not be enough to save McKenzie from being released prior to the start of the season.
The Bills drafted McCloud in the 6th round of the 2018 NFL draft. Multiple setbacks including injuries held McCloud back during his rookie season with Buffalo. McCloud only had five receptions in his rookie season and hopes that this season will be better. It is unclear if McCloud will make the Bills' 53-man roster, but if he works hard he might be able to beat out other receivers for the final receiver spot.
Another receiver brought in this off-season by Buffalo is Williams. He had a dominant season in the CFL recording 88 receptions for 1,579 receiving yards and 11 touchdowns. Williams will be an interesting player to watch during the pre-season for Buffalo.
Phillips is another receiver who spent time with Buffalo last season. He spent most of the season as a member of the practice squad. Phillips signed a future contract with Buffalo in December. Phillips will have an uphill battle to make the Bills' 53-man roster, but could definitely find himself in the organization again through the practice squad.
Wrap-up
The Bills will most likely keep six receivers on their 53-man roster. If they really like seven guys then it is possible they could keep that many, but six is more likely. Brown, Beasley, Jones, and Foster are locks to make the final roster in Buffalo. Andre Roberts' abilities on special teams should earn him a spot and undrafted rookie David Sills is a sleeper to earn the final receiver spot. Duke Williams is the player who might make Buffalo consider keeping the seventh receiver due to his size and raw ability. Phillips and McCloud could easily make the Bills' practice squad if they fail to make the 53-man roster.
Main Photo:Embed from Getty Images