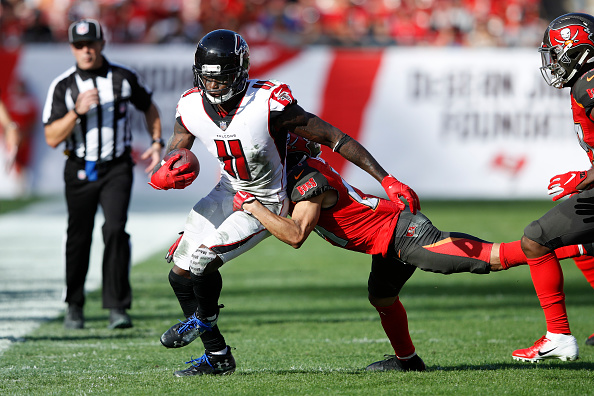 Christian McCaffrey was a fantasy monster in 2018 bringing fantasy glory to many a fantasy owner (including your's truly). Can he do it again? The arrival of Bruce Arians brings high hopes to Tampa Bay. Will his arrival mean fantasy goodness for Jameis Winston and Mike Evans? Devonta Freeman hasn't proven durable. Can we trust him enough to draft him by round five? These are the questions I'll answer in this weeks edition of the 2019 Fantasy Football Outlook: NFC South Edition.
2019 Fantasy Football Outlook: NFC South Edition
New Orleans Saints
The age-less Drew Brees is returning for his nineteenth season. He finished 2018 as the overall QB8 in which he averaged twenty FP (fantasy points)) per game. But, is the seemingly high powered New Orleans Saints fantasy fool's gold? One only needs to look at Brees' stats. He completed an incredible 74% of his passes. However, he attempted 489 passes his lowest since his fourth year in the league. He passed for 32 touchdowns against only five interceptions (the lowest total of his outstanding career).
Given Brees' incredible 2018 season there were some trends that suggest fantasy owners take caution. Brees produced single-digit FP in four separate games, in 2018, two of which were weeks 13 and 15. And in week 14 he produced a paltry 14 FP. These came during the heat of Fantasy playoffs which were sure to disappoint fantasy owners. Astute fantasy owners may have recognized that the Saints were in the midst of a three-game road trip during weeks 13-15 and may have benched Brees in favor of a quarterback in more favorable match-ups.
Alvin Kamara will head into 2019 as a sure-fire first-round draft pick. He posted double-digit fantasy points in every game but two (point per reception scoring formats) and three in standard scoring. Fantasy owners may question his usage as the Saints replaced Mark Ingram with Latavius Murray. However, even after Ingram returned to the team after suspension Kamara averaged 15-20 touches in a backfield timeshare. With that being said, Kamara should continue to see 15 or more touches/targets per game even with Murray.
Can we expect the same output from Murray playing in largely the same role as he was used to in Minnesota? I think it's safe to say the answer is yes, especially in Sean Payton's offensive system. Ingram ran the ball 10-15 times per game and I don't see that changing with Murray. His value is as a handcuff to Kamara if Kamara were to go down with an injury.
Michael Thomas will be in the discussion as the top overall wide receiver taken in drafts. The only thing holding him back is the fact that Payton and Brees like to spread the ball around and do different things on offense. Thomas' caught everything thrown his way (85% catch rate). He helped propel many fantasy owners toward their respective playoffs going for double-digit FP in all but one week (PPR scoring) and three weeks (standard scoring) through the first eleven weeks of the season. However, he picked the wrong time to go through a fantasy swoon, especially in standard scoring, as he failed to reach double-digit FP during most fantasy playoffs (He did hit double-digit PPR points in Weeks 14, 15, and 16).
Outside of Thomas, there is little to like fantasy-wise. The Saints added Dez Bryant and have a recovering Cameron Meredith. Keith Kirkwood is still on the roster and offers little fantasy value. Taysom Hill, listed as a quarterback in most leagues, is a gadget play vulture and offers nothing more than frustration for fantasy owners. The Saints added Jared Cook, tight end, in free agency (Oakland Raiders). If Cook establishes himself as a reliable third-down target, if the Saints want to preserve the health of Kamara, he could emerge as a TE1 until then I view him as a TE2.
Atlanta Falcons
Matt Ryan was quietly the fifth overall fantasy quarterback in 2018. While some fantasy owners draft sexier picks (Patrick Mahomes, Baker Mayfield, Andrew Luck, maybe even Kyler Murray) astute fantasy owners will wait out the draft building out their line-ups and scoop the likes of Ryan later in drafts.
Ryan posted not less than 20 FP in a total of twelve weeks (weeks one and 13, eight and nine FP respectively. And weeks five and 11, 15 and 16 FP). That type of consistency is exactly what fantasy owners want from a QB1. While the Falcons like to run with Devonta Freeman, they love to air it out, especially with their stable of wide receivers highlighted by Julio Jones.
Freeman enters 2019 fresh off groin surgery that placed him on injured reserve in mid-October. He only saw action in two games in 2018. Fantasy owners (and the Falcons) will be hoping for the 2015 and 2016 version of Freeman when he carried the ball over 200 times, ran for over 1,000 yards and scored 11 touchdowns in both of the seasons. He also has the ability to catch the ball out of the backfield, 97 targets in 2015 and even with Tevin Coleman taking third-down duty he had 65 and 47 targets in 2016 and 2017. Injury concerns, rightfully so, will know him down, draft boards. Coleman out of the picture leaves little to worry about as far timeshare is concerned.
Coleman's departure in free agency (49ers) leaves "Judge" Ito Smith to split carries with Freeman. The Falcons have Brian Hill, added Kenjon Barner and drafted Qadree Ollison (fifth round). Smith may be the hand-cuff to Freeman, beyond that the back-ups offer little value.
Julio Jones, "…but he doesn't catch touchdowns!", was the narrative entering the 2018 season. And it stuck through the first seven games. Although the targets, receptions, and yards were worthy of a WR1 in point per reception (PPR) leagues, owners had to be feeling a bit let down in standard scoring and touchdown-only leagues. That all changed after the Falcons week eight bye. Jones began to get the touchdown love that everyone had hoped for. He recorded touchdowns in consecutive weeks nine through eleven and again in weeks fourteen through sixteen.
Calvin Ridley, the rookie out of Alabama erupted in the Falcons offense catching six touchdowns in weeks two through four. However, as can happen to rookies, the rest of the year was inconsistent as far as fantasy production is concerned. He would go on to record a  touchdown and double-digit FP in only four weeks, the rest of the year. His value is as a WR 3 however, if Jones misses any time his value will skyrocket. Mohamed Sanu and Justin Gage will rotate as the third wide receiver in the offense. I will leave them on the waiver wire. However, Sanu will be a must-add in case of injury.
Carolina Panthers
2018 season Cam Newton was a model of consistency. Fantasy owners were able to count on, at a minimum, a twenty FP output. However, as the season began to wain so did Cam's ability to get the ball to receivers other than Christian McCaffrey. It was then revealed that he was dealing with a shoulder issue and confirmed at the end of the season. He will enter 2019 fresh off shoulder surgery. He's slated to begin throwing in mini-camp and the team expects him to be available for the start of the season, as reported by panthers.com, however, shoulder injuries are tricky. Proceed with caution on draft day.
McCaffrey was probably the MVP for many a fantasy owner (including yours truly). In PPR scoring formats he went for less than 20 FP in only four weeks (and three of those were scores in the teens). He will be one of the top running backs drafted in all fantasy leagues. Even with Newton's shoulder concern, it shouldn't matter who is quarterbacking the Panthers. Draft McCaffrey as an RB1 with confidence.
This is where it gets a little dicey for the Panthers. They have an emerging D.J. Moore, entering his second year, who showed enough promise that they let Devin Funchess walk in free agency. Although Moore only recorded two touchdowns he was an average of six times a game. His value was definitely higher in PPR formats. And, they have, speedster, Curtis Samuel, many of whom are very high on entering 2019 due to his ability to create with the ball in his hands. After those two the Panthers added cast-offs Aldrick Robinson, Torrey Smith and Chris Hogan in free agency. Tight end stalwart, Greg Olsen, is returning for his twelfth season and can be counted on for five to eight targets per game, when healthy.
The concerns with Cam's shoulder will have me shying away from the passing game. With that being said I think McCaffrey will get all the touches/targets he can handle and would not be surprised if he duplicates his 2018 season.
Tampa Bay Buccaneers
Jameis Winston, in my opinion, is one of those fantasy quarterbacks you stash on the bench for matchup purposes. You know he'll have those games where he has to pass to keep up with opposing teams. Because they lack a running game the Buccaneers will have to pass more than they want to. The arrival of Bruce Arians could be the answer to Winston being a more consistent quarterback and if that's the case it could be a boon for fantasy owners. Winston has value in Best Ball leagues and is nothing more than a streaming quarterback in all other formats.
The running back situation leaves little to be desired. Ronald Jones, drafted in the second round (38th overall) in 2018, was unable to instill confidence in the coaching staff. And, Peyton Barber is nothing more than a bench filler. He scored double-digit FP in five games. Predicting those games is difficult because of how much they pass the ball.
This is where it gets interesting, fantasy-wise. The Buccaneers have one of the better wide receivers in the league, Mike Evans, and up and coming Chris Godwin. Evans amassed double-digit fantasy points in all but four games and Godwin was able to get to double-digit FP (PPR scoring) in eight games. The Buc's will be without slot receiver Adam Humphries (Buffalo Bills) and added former first-round pick Breshad Perriman to fill the role.
Evans is a WR1 that will be available in second and possibly third rounds of fantasy drafts and I view Godwin as a low-end WR3. If Arians can coax David Johnson-like production out of Jones fantasy owners drafting him will exalt?
The Last Word
There is some fantasy goodness in the NFC South, as I expect the likes of Christian McCaffrey, Alvin Kamara, Julio Jones, and Mike Evans to continue to dominate their respective positions in fantasy drafts. I'll be keeping my eye on Cam Newton and Drew Brees. Can they overcome injury and fend off Father Time, respectively. I'm intrigued with the arrival of Bruce Arians in Tampa Bay and the effect he has on Jameis Winston.
Previous Fantasy Football Outlooks:
Main Photo:
Embed from Getty Images