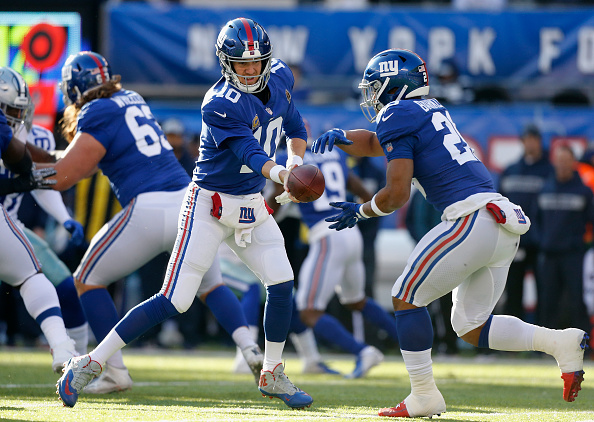 This week's Fantasy Football Outlook I preview the NFC East. Saquon Barkley from the New York Giants and Ezekiel Elliott from the Dallas Cowboys are sure-fire first round draft picks. Can Carson Wentz avoid injury for the third consecutive year? And which rookies should we be on the lookout for?
2019 NFC East Fantasy Football Outlook
Dallas Cowboys
Dak Prescott, on the precipice of a contract extension, will go into 2019 as the unquestioned leader. His confidence grew throughout the year in no small part to the edition of Amari Cooper, As questions from fans and media questioned his ability to lead the Cowboys. For those who draft Prescott be aware that there will be a few "Zeke games."
The Cowboys were 3-5 after week eight before they traded for Cooper. Questions surrounded Prescott. The Cowboys went an amazing 7-1. Fantasy wise Cooper was very underwhelming weeks 1-5. He scored no more than 13 points, with the lone exception of an 18 FP (fantasy points) output week four against Detroit. Prescott posted +20 points in consecutive weeks (weeks 6/7).  Prescott's average number of passes per game went up by just a few. Cooper's arrival, however, accounted for a greater increase in receptions. He passed for >270 yards five times (455 yds and 387 in those games), and he scored 20+ fantasy points with Cooper. I like Prescott as a QB2 to start. I think there's potential for QB1 once he shows more consistency.
Ezekiel Elliott (I drafted him fourth overall last year), was as solid a first round pick in most fantasy drafts could hope for. Weeks 10-14, if you had Elliott, you rode an average of 30 (point per reception) fantasy points throughout your fantasy playoffs. (I needed a WR1 and traded him for Mike Thomas, who disappointed.)  Hopefully, he brought you a fantasy title in the process.
Even though Prescott's numbers increased at the arrival of Amari Cooper, Cooper's fantasy numbers did not. Cooper had two monster games, week 12 Cooper posted 38 PPR fantasy points and week 14 he posted 49. You could consider him barely average in the other weeks. He scored 13 fantasy points in two games and 6 in the others. Those big ones were during the fantasy playoffs. And the return of Jason Witten, fresh off a Monday Night hiatus. There will be a close eye on Witten being able to make it through a full year. However, he was an iron man. In 14 straight seasons, 2004-2017, Witten missed only two games.
Philadelphia Eagles
Questions will now surround Carson Wentz's ability to stay healthy. He hasn't been able to finish seasons in two consecutive years. He will begin the 2019 campaign after recovering from a back injury that ended his 2018 season. Wentz returned from injury week three and by week four seemed to be back to form. Wentz posted solid stat lines and fantasy points (FP) averaging 21 points through weeks 4-10, by contrast, he ended the season with a couple of duds when most fantasy leagues are entering their fantasy playoffs. Because of the ceiling, he possesses I would be willing to draft Wentz as my QB1.
The Eagles traded for Jordan Howard and then drafted Miles Sanders (second round, 2019 draft). I hate teams that run a committee. I get the feeling that Howard will keep the spot warm before Sanders is ready to take over full time. Howard can wear down defenses when given the chance. The Bears gave Howard 16-20 carries X times. He was able to get to double-digit fantasy points X times. Sanders offers a more dynamic weapon out of the backfield. He can be a featured back that can catch the ball out of the backfield. He'll be sought after in dynasty leagues. If Howard is available late in drafts and you have room on the bench he could be worth an add as RB 3/4. The Eagles could look to lean on the running game to preserve the health of Wentz.
Zach Ertz and wide receiver Alshon Jeffery will highlight the Eagles passing game. Ertz was as consistent a fantasy performer as you could have asked for. He averaged nearly 10 targets per game (the Saints game was an outlier of three targets), topped 100 yards five times and averaged double-digit fantasy points (point per reception scoring) in every game but 5. Wentz topped 20 FP seven times (with a 40 point and 35 point games). Unfortunately, during weeks 13-15 he put up duds not topping eight FP which could have cost your team fantasy glory. Talented, second-year tight end Dallas Goedert figures to have more of a role in the offense. He's no more than a bench player in dynasty leagues. Ertz is firmly a TE1 and Goedert will be a must add if Ertz goes down.
The Eagles wideouts will be more of a crap-shoot. Jeffery and DeSean Jackson will be outside and Nelson Agholor in the slot. While the Eagles boast an above average receiving corp it will be difficult to pin down which one you'll want to draft. Fantasy owners were hesitant with Jeffery as he missed the first three weeks recovering from injury. Jeffery started strong and had three very good games with Wentz under center. He went for over 20 fantasy points in those games (weeks 4,6,7). His play warranted optimism but he would not surpass double-digit fantasy points during the fantasy season until weeks 14 and 15 (17 and 24 PPR points).
Jackson returns to Philly and will be on the outside opposite Jeffrey. He is an explosive play waiting to happen. In Tampa, he averaged 6 targets per game and he was better in some scoring systems (PPE) than others (standard scoring). The question will be, does he maintain that type of consistency? Agholor seems to be the odd man out in this scenario and should be left on the waiver wire. The Eagles also drafted JJ Arcega-Whiteside in the second round. He's a talented wide receiver out of Stanford that should be drafted in all dynasty leagues.
Target Wentz, QB1, and Ertz, TE1, I like Jeffrey as a WR3 and I view the running backs cautiously. Keep an eye on the running game. I expect the Eagles to ease Sanders into the mix. I like Howard as an RB3 to start and will look to draft Sanders in dynasty leagues.
New York Giants
All eyes will be on Eli Manning and how soon he's replaced by Daniel Jones. While Manning had some solid fantasy performances (six games at or near 20 fantasy points) he did not instill optimism in the fantasy community. Saquan Barkley's ability to catch the ball out of the backfield is correlated in Manning's success.  As the Giants look to integrate Jones into their system I will let Manning sit on waiver wires without a thought. I will be equally hesitant with Jones as he will be in the "prove it" stage.
The Giants offense will revolve around Saquon Barkley. Barkley, in PPR formats, scored less than 20 fantasy points only four times. Barkley's contribution to the passing game cannot be understated. Barkley averaged at least seven targets per game. He should continue to see a heavy workload especially with the absence of Odell Beckham. If Jones takes over sooner than expected, Barkley will be his safety valve. Barkley should be in consideration for the number one overall selection.
The passing game will focus around Sterling Shepard, Golden Tate and tight end Evan Engram. Even with the absence of Beckham, the Giants offense should remain similar to last year. Shepherd received a consistent 6-9 targets per game but didn't offer much fantasy wise other than a couple of decent games, not enough to count on even from a WR3.
The addition of Tate will be interesting as he is one of the best slot receivers in the NFL with his outstanding ability to gain yards after the catch. He was an excellent contributor to fantasy owners (PPR leagues) while in Detroit. The difference is that Detroit did not have a running game to rely on and the Giants lean heavily on Barkley. I expect a small downgrade to Tate's production. I like Tate as a WR3 and Shepherd as WR4 on your bench but you may find better value elsewhere.
Evan Engram was drafted as a TE1. He failed to live up to expectations, after a breakout rookie year, in his sophomore campaign. Even so, Engram topped double-digit fantasy points in only two games and missed five games to injury. Engram then flashed why he was a coveted tight end, in fantasy, by surpassing double-digit fantasy points in the last four weeks of the season by gaining at least 75 yards and posting double-digit fantasy points.  Engram and Manning need to continue their rapport if the Giants want to preserve Barkley's health. Draft Engram as a TE1.
Washington Redskins
The Redskins had little to offer fantasy football wise in 2018. Alex Smith was an efficient game manager but had produced little fantasy wise. Adrian Peterson. He was a low-end RB2 at best. Peterson topped double-digit fantasy points six times (20 points in two of those contests). Fantasy owners were hopeful for a healthy Jordan Reed at tight end. He lasted until week 13. He only had value in PPR scoring formats as he topped double-digit fantasy points five times (only two receiving touchdowns). Vernon Davis contributed a couple of decent games but should have been on the waiver wire in most leagues even during the last weeks of the year with Reed out.
There was not one receiver worth rostering if you're in a league of 12 members or less. Josh Doctson led Redskins' receivers with 78 targets and 44 receptions. No receiver caught more than two touchdowns on the year. Doctson is a deep sleeper in fantasy drafts. If he emerges as a favored target move him up your draft boards.
However, with all of that being said, there are some intriguing pieces in Washington to keep an eye on. That starts with the return of Derrius Guice. Just a year ago, mock drafters, had Guice pegged as the first rookie drafted. The Redskins would be wise to handle him the same way the Minnesota Vikings handled Dalvin Cook. Guice should take the featured role by the second half of the year. Add to that 2019 first round draft pick Dwayne Haskins. If he develops into what the Redskins hope the two should make for a very formidable duo. I will watch Guice's progress this summer. Recency bias may push him down, draft boards. He could end up being a low-end RB2.
The piece the Redskins are missing is a number one wide receiver. They have very little invested in the position and will be relying on Doctson, Paul Richardson, and a few under the radar free agent signings. The Redskins drafted Terry McLaurin in the third round out of Ohio State. He gives Haskins built-in chemistry and will be worth watching as an add to dynasty rosters.
The Last Word
I'm intrigued by Carson Wentz. How will he return from injury? I expect Saquon Barkley to finish the year as a top-five overall running back. Quite possibly the number one overall running back. Finally, As Jerry's World Turns, so will the days of the Dallas Cowboys. Will they be the next team that contracts and discord derail the potential fantasy goodness that awaits fantasy owners?
Main Photo:
Embed from Getty Images