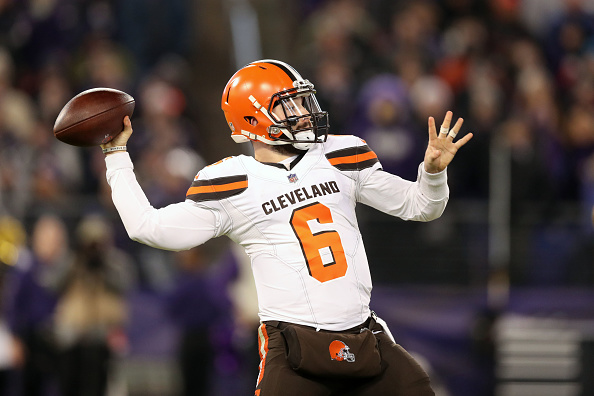 In this fantasy football outlook installment, I'll preview each team from the AFC North and their players relevant to fantasy football.
The Cleveland Browns are the new darlings of the AFC North. Deft drafting and splash signings have vaulted the once-moribund franchise into the fore of both real life prognostication and the fantasy football world. Two stars have left Pittsburgh, but two could be ready to emerge. We'll get a taste of the dynamic Lamar Jackson for a full year in Baltimore and did Cincinnati do anything to move the needle?
2019 AFC North Fantasy Football Outlook
Baltimore Ravens
This team is going to run and then run some more. Lamar Jackson, 32nd overall in the 2018 draft, took over for an injured Joe Flacco week 11. Jackson accounted for 13 total touchdowns: six passing and seven rushing. If your league puts a premium on yardage, one point per 10 yards passing/rushing/receiving, then I would take Lamar Jackson as a solid back-up quarterback (QB2). Of the final seven games that Jackson started, he rushed for more than 70 yards five times. However, he passed for more than 200 yards only once. Jackson did not attempt more than 25 passes in a game and only passed for a 57% completion percentage. Jackson topped 20 fantasy points (FP) in three of those games.
The Ravens signed Mark Ingram in free agency and still have Gus Edwards, Javorious Allen, and Kenneth Dixon. The Ravens will pound the ball with a combination of these running backs to try to preserve Lamar Jackson's health. If Ingram wins the job outright, which is expected, then he would have value as a low end running back two based on volume alone. You could expect 13-15 touches from him and goal line work.
John Brown and Michael Crabtree have moved on and with them 42 and 54 receptions respectively. Willie Snead will be Jackson's top target. He had 62 receptions for 651 yards and only one touchdown. The Raven's offense lends itself to the short passing game which should benefit Snead. I view Snead as a low-end WR3. The Ravens drafted Marquise Brown (25th overall) and Miles Boykin (third Round). Brown, though small, is a speed merchant and Boykin is a big body on the outside. Both players are viable in dynasty leagues. Until Jackson can prove he's more than just a glorified running back, I won't be touching the Ravens' passing game.
The Ravens invested heavily in the tight end position in the 2018 draft by taking Hayden Hurst (25th) and Mark Andrews (86th). Both players did little fantasy wise and they also have Nick Boyle, who caught 23 passes. I'm letting other owners take these players. Hurst or Andrews are worth being stashed in dynasty leagues, hoping one develops a rapport with Jackson.
Pittsburgh Steelers
All eyes will be on Ben Roethlisberger this year. The overriding question will be: Can Roethlisberger carry this team without it's stars? Ben should be drafted as a QB1. He threw for over 5,000 yards and 34 touchdowns. Roethlisberger attempted less than 30 passes only three times in 2018. The offense will continue to rely on Roethlisberger's arm.
James Conner proved more than capable of taking on the featured running back role while Le'Veon Bell held out. He rushed for nearly 1,000 yards (getting at least 15 touches per game) before giving way to injury. He also proved adept in the passing game averaging more than four targets per game. I'm looking at Conner as a solid RB2 with RB1 upside. The only question regarding Conner is his ability to hold up over the full length of a season. Jalen Samuel and Benny Snell will back up Conner. Pay attention to both, Samuel and Snell, during the pre-season as one of them should be taken as insurance to a potential Conner injury.
JuJu Smith-Schuster will be the clear cut number one receiver in the Steelers' offense. He received 166 targets (4th overall) as the number two wide receiver behind Antonio Brown (168 targets for second overall). I'm drafting him as a WR1 and will look to add him in the second round of fantasy drafts. Keep an eye on James Washington (second year) and Donte Moncrief (free agency). Secondary targets in the Steelers' offense tend to have value. Vance McDonald could emerge as a nice receiving option, with the loss of Jesse James to free agency (Detroit Lions). McDonald had 50 catches (with 72 targets) and four touchdowns. Teams will rotate their defense to Smith-Schuster which will force Ben to find his tertiary targets. McDonald should be a nice safety valve and I'm going to consider him a low-end TE1.
Cleveland Browns
The hype train has left the station and it should be a fun ride. Baker Mayfield set the bar high for himself entering his second year.  It didn't take long for Mayfield to wrest the starting job from Tyrod Taylor. The Browns were forced to insert Mayfield into the line-up week four due to his, obvious, dynamic play-making ability. Mayfield went on to have one of the best rookie seasons of any quarterback in NFL history. Mayfield threw for just over 3700 yards in the 13 games that he appeared. He passed for 27 touchdowns, three times he threw for more than 300 yards (only two games under 200 yards) and had at least 30 pass attempts in 10 of 13 games.
I'm hesitant to anoint Mayfield a QB1 in fantasy football. He only posted more than 20 FP in six out of 14 starts that he made. He does have upside with his running ability although he did not have a single rushing touchdown. It is very difficult to overlook the addition of Odell Beckham Jr. along with the talented skill position players already in place. If he's available in later rounds he'd be difficult to pass on. And, don't underestimate the arrival of offensive coordinator Todd Monken. He ran the most pass-heavy offense of 2018 and 3rd ranked offense in terms of total offense.
Nick Chubb will begin the season as the Browns' featured back. He will get the bulk of the snaps and depending on the matchup could see upwards of 20 carries per game. Chubb's talent was on display week four against the Raiders, as he took hand-offs 63 and 41 yards for touchdowns. He had 18 or more touches in seven out of 10 games after earning the starting job in week seven. Chubb could go overlooked because of all the attention that will be paid to Mayfield and Odell Beckham. I like Chubb as a solid RB2 with RB1 upside. Keep an eye on Kareem Hunt and how the Browns implement him into the offense after his suspension ends.
Odell Beckham's arrival in Cleveland will be a hot topic week in and week out. This offense has the makings of fantasy gold. Beckham scored double-digit fantasy points in all but one game that he played (he missed four to injury). He was the 10th overall fantasy wide receive for 2018. Fantasy owners in re-draft leagues will most likely look to draft Beckham in the 1st or second round.
The arrival of Beckham will most likely diminish the value of Landry and Njoku. Landry had five games of more than 100 yards and scored double-digit fantasy points (point per reception scoring) in 12 games. Antonio Callaway is a boom or bust player. He has the potential for a long touch down at any time. The problem is that it happens so infrequently. I like OBJ as a WR1 but will be watching carefully the connection between him and Mayfield. David Njoku should be viewed as a low-end TE1. He averaged two to five receptions per game and scored four touchdowns.
Cincinnati Bengals
When it comes to Andy Dalton, buyer beware. Yes, you can expect a game or two where he will get at least 30 FP. He actually had five games with at least 20 FP out of the 11 that he started. That might be ok in a best ball league if the entire quarterback pool is rostered, but that won't get you a championship in most leagues. I view Dalton as a QB2.
Some fantasy prognosticators might rank Joe Mixon as a low-end RB1. I have him firmly as an RB2. He played in 14 of 16 games in 2018. Mixon topped 100 yards rushing in four of those games. He has more value in PPR formats, as he has shown the ability to catch the ball out of the backfield. Mixon went for double-digit (PPR) fantasy points in all but two games that he played and went for over 20 points three times. He's the type of running back to target as an RB1 if you like to draft wide receivers first and your league has PPR scoring format.
A.J. Green and Tyler Boyd headline a very good group of wide receivers. I still consider Green a solid WR1 based on targets and the fact that the Bengals will have to throw to keep up with their opponent. He reached double-digit fantasy points in 8/8 games but missed the second half of the season due to injury. His injury history will put a shadow of doubt in many fantasy owners when it comes time to draft him. If he's healthy he could be had at a great value in your draft.
Tyler Boyd's best production was when Green was on the field opposite him. Boyd posted double-digit fantasy points (standard scoring) in five of eight games with Green and only one game without him (he missed the last two games to injury). Consider Boyd a solid WR3.
The Bengals really need to have a healthy Tyler Eifert. Eifert makes for a solid TE1 when healthy. The problem is fantasy owners can't rely on him to be healthy. Eifert is worth a gamble as your second drafted tight end. If he were to stay healthy, he would be very attractive trade bait for a tight end needy team. Leave, back-up, C.J. Uzomah on the waiver wire only to be picked up in case of emergency. He was serviceable to the team, but not for fantasy purposes.
Last Word
I'm intrigued by Lamar Jackson's potential as a passer not just as a runner. I expect JuJu Smith-Schuster to make people thankful Antonio Brown is in Oakland. Finally, just like everyone else, I can't wait to see what comes to fruition in Cleveland.
Main Photo:
Embed from Getty Images